Washington Heights and Inwood with Kids: Top 35 Things to Do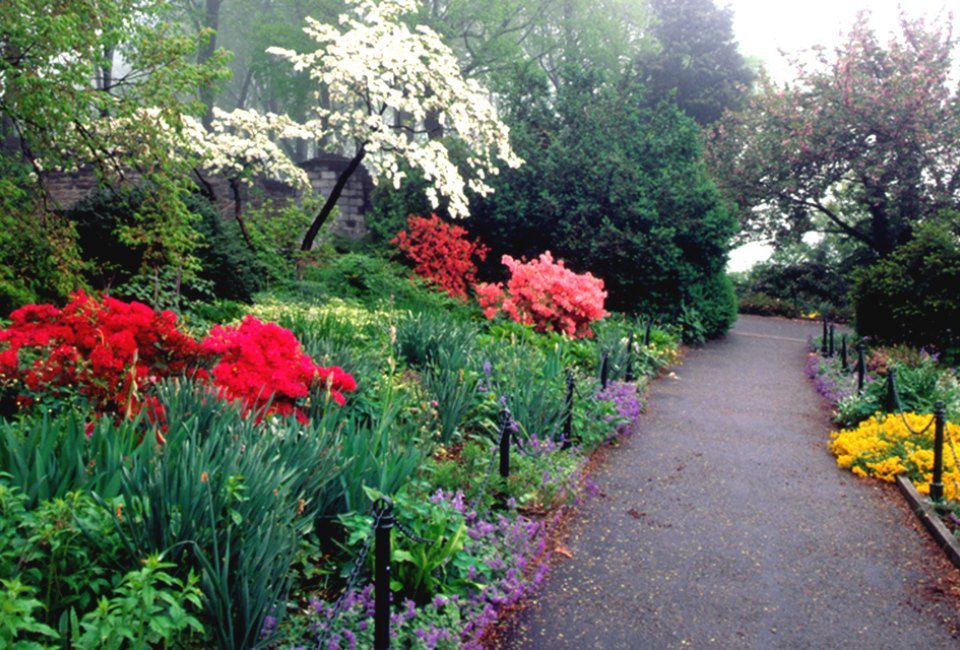 2/21/18
- By
Raven Snook
Two distinct neighborhoods make up the northernmost tip of Manhattan: Washington Heights and Inwood. Although these NYC nabes are constantly lumped together, they are really two unique areas that happen to share a lot of incredible history.
The Heights is a mix of multigenerational Hispanic families and young artists and families attracted to prewar apartment buildings and lovely parks. The area overflows with colorful Latino restaurants, shops, and cultural groups, and boasts multiple riverfront green spaces, notably Fort Washington Park, home to the famed Little Red Lighthouse, and Fort Tryon Park, where you'll find the Metropolitan Museum's medieval art mecca, the Cloisters.
Inwood is a quieter residential area that's quite tight-knit. Many family-friendly businesses are owned and operated by locals, like Indian Road Cafe, Bread and Yoga, and apothecary/soda fountain Dichter Pharmacy, which dates back to the 1940s.
Read on for all the top spots for kids in these Manhattan neighborhoods, from playgrounds to great eats.
The Inwood Kids Yahoo Group has been going strong since 2003, and the hard-working Friends of Indian Hill Road Playground helped get the play spot a gorgeous renovation in 2010, making it a highlight of Inwood Hill Park.

Because of their hilly geography and proximity to two rivers, both neighborhoods saw lots of action during the Revolutionary War. The Battle of Fort Washington is commemorated every fall in Fort Washington Park, and the historic Morris-Jumel Mansion served as headquarters for General George Washington during the Battle of Harlem Heights. Meanwhile, Inwood Hill Park was a former Lenape encampment and is supposedly where Native Americans sold Manhattan to Peter Minuit.
Washington Heights and Inwood have both old- and new-school offerings for families. For the purposes of this post, our geographical boundaries are 155th Street to the northern tip of Manhattan, between the Harlem and Hudson Rivers.
1. Explore winding, tree-lined paths in the 67-acre Fort Tryon Park and take in stunning views of the Hudson River, the Palisades, and the lower Hudson Valley.

2. Head to Fort Washington Park to see the famous Little Red Lighthouse and the Great Gray Bridge from the popular 1942 children's book—lighthouse tours are held on the second Saturday of the month from June to October and during the annual fall family festival. The park is loaded with great playgrounds, too.
3. Mark the coming of spring with the annual shearing of the title plant in Fort Tryon Park's lovely Heather Garden.

4. Marvel at the series of gorgeous 15th-century "Unicorn Tapestries," a highlight of the Cloisters museum and gardens located in Fort Tryon Park.
5. Cheer on jousting knights, bow to the ladies of the court, and gnaw on a turkey leg at the annual autumn Medieval Festival in Fort Tryon Park.
6. Grab an outdoor table for brunch at New Leaf Restaurant in Fort Tryon Park.
7. Marvel at the landmarked wooden rowhouses on the cobblestone Sylvan Terrace.
RELATED: Family Adventures in Upper Manhattan: Dyckman Farmhouse, the Little Red Lighthouse & the George Washington Bridge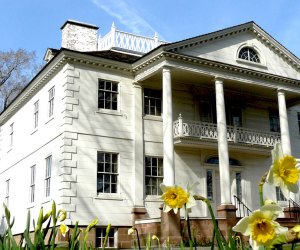 Visit the Morris-Jumel Mansion, home to George Washington's headquarters in 1776, for Colonial-era fun. Photo by Trish Mayo
8. Try your hand at colonial crafts at Manhattan's oldest house, Morris-Jumel Mansion, which was George Washington's Revolutionary War headquarters in 1776.
9. Commemorate the Battle of Fort Washington by watching a Revolutionary War demo in Fort Washington Park in November.
10. Discover hidden gem Swindler Cove at Sherman Creek Park, a waterfront green space on the Harlem River that boasts a saltwater marsh, lots of urban wildlife, nature trails, a children's garden and a boathouse with youth rowing programs.
11. Learn about Latino culture at the Hispanic Society of America Museum and Library, also home to Mexican cultural organization Mano a Mano, which produces a big Day of the Dead festival every November.
12. See Washington Heights kids star in original political performances as part of the People's Theatre Project.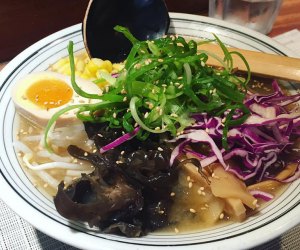 Kids will dig the noodles at Tampopo Ramen. Photo courtesy the restaurant
13. Enjoy a hearty bowl of noodles, veggies, and broth (even picky eaters dig this combo) at Tampopo Ramen. Tip: Seating is limited, so stop by during lunch if possible.
14. Check out Juan Bosch Plaza in Highbridge Park, a flowing green space along the Harlem River.
15. Romp in the Native American-themed Indian Road Playground in Inwood Hill Park—we really like the sandpit with the shade cover.
16. Search for evidence of Inwood Hill Park's Native American past in the forest, salt marsh and caves, including the alleged spot where they sold Manhattan to the Dutch.
17. See Native American culture in action at the annual spring Drums Along the Hudson celebration in Inwood Hill Park.
18. Or explore everything else the 196-acre Inwood Hill Park has to offer including playgrounds, ball fields, and waterfront access for canoeing and kayaking.
RELATED: Upper West Side with Kids: 30 Top Things to Do in this Manhattan Neighborhood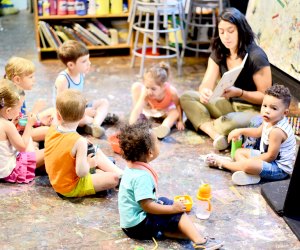 Drop-in for creative classes at Scribble Art Workshop. Photo courtesy the venue
19. Get creative with Scribble Art Workshop, which offers classes for toddlers through tweens in Inwood.
20. Find enrichment programs for all ages, from toddlers to teens and children with special needs, at the YM & YWHA of Washington Heights and Inwood.
21. Enjoy toddler storytime, children's art workshops and family movies at the Inwood, Washington Heights, and Fort Washington libraries.
22. Picnic in the grassy Isham Park, known for its role in the American Revolution, and browse its Saturday greenmarket.
23. Keep your eyes peeled for the new fancy food collective coming to 183rd Street and Broadway in early 2018, North End Food Hall.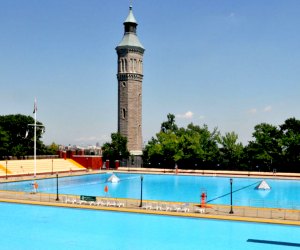 The two Highbridge Pools are spacious and a neighborhood draw in the summer. Photo courtesy of NYC Parks
24. Take a dip in the pristine Highbridge Park Pool, one of our favorites in the city, which offers picturesque views—and an Olympic-size wading pool for tots.
25. See what's playing at the Pied Piper Children's Theatre of NYC, or, if your kid's a drama queen, find out about auditions.
26. Hit up the new hot spot in town, The Uptown Garrison, for a cozy atmosphere, brick-oven pizza, and an adult beverage.
27. Sip on an egg cream at Dichter Pharmacy, an old-fashioned soda fountain that has been in the community since 1945.
28. Try eclectic cuisine (everything from American to Middle Eastern to European) at Indian Road Cafe, which also offers kids' meals starting at $6.50.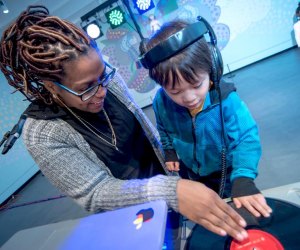 The Sugar Hill Children's Museum is FREE for kids ages 8 and under. Photo by Michael Palma for the museum
29. This one just makes the cut border-wise, but make sure to check out Sugar Hill Children's Museum of Art & Storytelling, where kids can move freely in the wide-open spaces, get curious with various art forms (DJing!), and deep-dive in the art studio, which is full of endless supplies. It even offers summer camp.
30. Catch classic plays and children's concerts at the Inwood Hill Park Peninsula as part of Moose Hall Theatre Company's summer Inwood Shakespeare Festival.
31. Get a quick caffeine fix and baked good at the family-owned Darling Coffee.
32. Sign up for a variety of kids' classes like music, drama, capoeira, cooking and yoga at Bread and Yoga, including baby and parenting classes.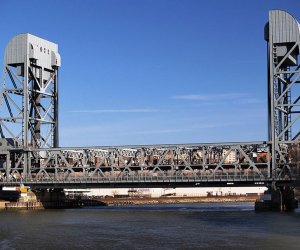 Skip the 1 train to walk across the Broadway Bridge. Photo courtesy of Wikimedia Commons
33. Walk across the Broadway Bridge to history-filled Marble Hill, the only part of Manhattan connected to the U.S. mainland.
34. Take in a show at the historic and breathtaking United Palace Theater. It screens classics like My Fair Lady and Chitty Chitty Bang Bang and more modern films, such as Wall-E.
35. Step back in time at the Dyckman Farmhouse, a Dutch Colonial-style farmhouse turned museum that was built in 1784.
Top photo: Embrace spring in the Fort Tryon heather garden. Photo courtesy of the park
Click Here to Sign Up!