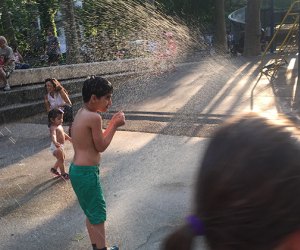 Sprinkler Season at NYC Playgrounds: When it Starts and More
When does the city turn on the sprinklers in NYC parks? That's a question we get asked every year as the weather starts to heat up. It's getting to be that time when going to the playground can pretty much guarantee getting wet. All of those sprinklers, fountains, rivers and other cool water features will be spouting soon. In fact, we were surprised to find the water already on one hot day recently at our favorite play spot. I had no towel or change of clothes for my son, but try explaining that to a 1-and-a-half-year-old.

Now it's no big deal for kids to play in their diapers, really. But to spare you having to strap a soaking wet toddler into a stroller as I did, here is some information that can help prepare you for sprinkler season.
When do the sprinklers tun on?
The Parks Department says its employees turn on the playground water features, or "spray showers," when the temperature reaches 80 degrees. However, individual park supervisors can decide to turn them on even if it's a few degrees shy of that. So check the forecast before you head out the door and pack accordingly.

If your local sprinklers aren't on but you want them to be, try contacting the supervisor. The information should be posted somewhere in the park. If you pass by a playground and see the sprinklers are on, you can expect them to stay on for the whole day, unless there is a storm or some dramatic change in the weather.

Be prepared. What to pack:
Aside from the obvious towel and dry clothes, you may want to bring some other gear to the park if your kids will be playing in the water, like shoes or sandals that can get wet. Also, some playgrounds don't have much shade so bring sunblock, hats or one of those SPF shirts to help protect from the sun.

Also, learn from experienced moms and bring an empty yogurt container or plastic cup as a free, disposable water toy that will entertain toddlers and preschoolers endlessly as they fill it up with water and dump it out.

What about water quality?
The Parks Department says most of its sprinklers use drinking water so you shouldn't be too worried if your child swallows some (like the girl we saw collecting water in a bucket and chugging it). Also, you don't need to bathe or rinse your child off immediately after playing, unless you want to of course!

Where to find playgrounds with sprinklers
The city operates hundreds of spray showers throughout the five boroughs, so it shouldn't be too hard to find some relief on those steamy days summer will surely bring. You can search for playgrounds with sprinklers by zip code or borough on the Parks Department website.

We've compiled a list of our favorite playgrounds for having buckets of fun in the water. Check it out and share your favorite spots in the comments.
Find more seasonal activities in our Summer Fun Guide.
This post was originally published in May 2010.
Photo by Shira Kronzon.