Easy Last-Minute Halloween Costumes for Kids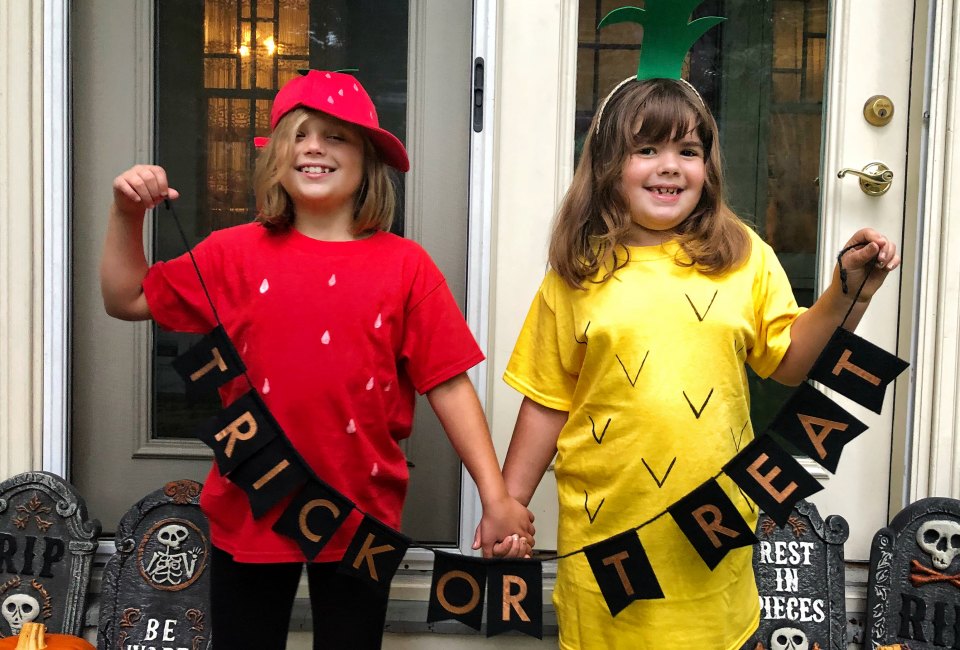 10/22/18
- By
Ally Noel
Maybe your daughter changed her mind about her Halloween costume for the bazillionth time. Or maybe your son got an invite to a last-minute Halloween party. Or maybe you're just a proud member of the Procrastination Club. Whatever your case may be, we've found the easiest Halloween costumes for kids that even a non-crafty mom or dad can pull together on the fly.
Most of the costumes on our list don't call for an arm's-length list of crafting supplies or Halloween props: Headbands, pom-poms, markers, solid t-shirts, and a glue gun can go a long way with a little imagination. In fact, these DIY kids' costumes are so easy, you might just have time to whip up a few frighteningly tasty Halloween treats, too.
And for Halloween activities near you, check out our Local Halloween Fun & Activities Guide.
Gum Ball Machine Costume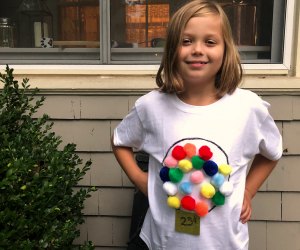 This no-sew costume can come together in about 15 minutes. Draw a black circle on a white t-shirt with a permanent marker. Using a glue gun, adhere multi-colored pom-poms (your "gumballs") inside the circle. Pair with red pants, leggings, or a tutu and your son or daughter will be the sweetest thing around.
Duct Tape Skeleton Costume
Combine black pants and shirt with some carefully placed white duct tape, and you can transform just about anyone into a skeleton. Check out the tutorial on Crafts by Amanda for a detailed how-to.
Cat Costume

Don't let this PAWsitively adorable black cat cross your path.
This cat costume takes about 5 minutes to create. We cut out the ear shapes out of black craft foam sheets and hot glued them onto a headband. A giant pipe cleaner made the purrrr-fect tail.
Bunch of Grapes Costume
If you can blow up a balloon, you can make this super-easy grape costume from Huckleberry Love. She simply used safety pins to attach purple balloons to a purple leotard.
Jellyfish Costume

Light up the night with this awesome jellyfish costume. Image courtesy of Crazy for DIY
Safety first with this awesome DIY! You can ditch the flashlight and still be seen down the block in this awesome jellyfish costume. Watch Crazy for DIY turn an umbrella, cellophane, and some LED lights into an aquatic masterpiece.
Cow Costume
Don't have time to sew an elaborate cow costume? Not to worry—your lack of sewing skills won't keep this costume from being udder-ly adorable. This No Sew Cow Costume comes together in about 30 minutes or less.
Pineapple and Strawberry Costumes

These two are the sweetest in their pineapple and strawberry costumes!
You can make these costumes almost as quickly as you actually cut up a real fruit salad. Using solid colored t-shirts, draw on strawberry seeds and pineapple spikes with fabric markers. Cut the appropriate leaf shape out of felt or craft foam sheets and hot glue onto a baseball cap or hairband.
Scarecrow Costume
If you have a pair of overalls and a flannel shirt, you're halfway there! Hot glue or pin fabric scraps onto your overalls to create patches. Complete the look by adding some pieces of fake straw from the craft store.
Chocolate Kiss Costume
This idea from Purewow might just be the sweetest costume I've ever seen. The materials required for this one are probably as last-minute as you can get! If you have a roll of tinfoil and some string, then you can transform your little one into a chocolate kiss in no time at all.
Spider Costume

This little creepy crawlie is 100% adorable.

I'm fairly certain this itsy bitsy spider wouldn't have scared Miss Muffet away. We stuffed a pair of black tube socks to create the spider legs on this baby costume. Simply sew the socks onto the back of a black onesie to complete the look.
Sugar Skull Costume
Hot glue craft-store flowers onto a headband to create a one of a kind flower crown for a Day of the Dead-inspired creation. Add some face paint and pair it with a black dress and you are ready to celebrate. Follow this Sugar Skull Makeup Tutorial for a detailed how-to.
Ketchup and Mustard Costumes

This duo will own Halloween night! Image courtesy of World Traveling Baby via Instagram
Play ketchup with your best friend with this awesome costume from World Traveling Baby. This ketchup and mustard costume is perfect for best friends or siblings. Print out tomato ketchup or yellow mustard clip-art in the appropriate size and pin or glue it onto a solid red and yellow t-shirts or onesies. 

Except where noted, photos by the author.

Sign up for our free
newsletters.
Mommy Poppins is a family activity website that helps people find things to do with kids.
©
2023
MommyPoppins. All Rights Reserved.
mp-prod4-v4.32.99
We use cookies and other data collection technologies to provide the best experience for our customers.
Learn More