75 Fun Halloween Activities for Kids: Halloween Crafts and Treats for Spooky Fun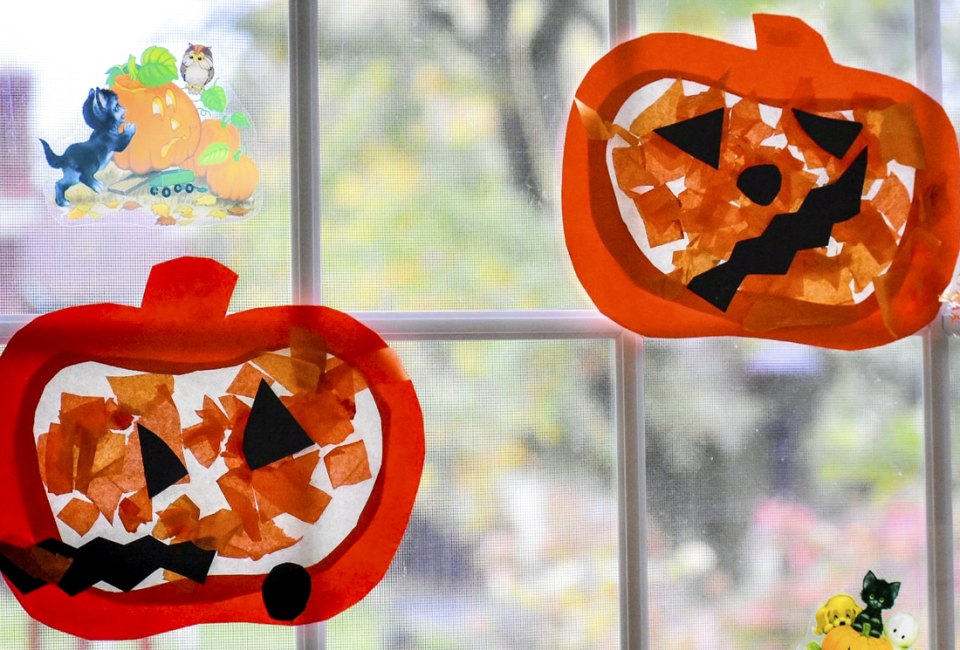 9/13/22
- By
Ally Noel
These Halloween activities and outings, Halloween crafts for kids, Halloween treats, and more will keep your crew hauntingly busy until it's time to trick-or-treat!
Once you have picked out your costume and carved your pumpkin, what else is there to do? So much! We have rounded up our favorite family Halloween activities that will keep the pumpkin spice flowing all month long. We've got all your Halloween bases covered with a little bit of everything from spooky s'mores to learning how to dance the Monster Mash. So set up an outdoor movie and whip up a batch of scarecrow snack mix, and let's get this (Halloween) party started!
For more Halloween fun, from Halloween jokes for kids to the best Halloween movies for kids—and more—check out our Halloween Activities Guide for Families.
And for Halloween activities near you, check out our Local Halloween Fun & Activities Guide!

Decorate some pots and you can fill them with flowers or candy.
Halloween Crafts for Kids
1. Monster Slime
Create creepy Halloween slime by adding googly eyes, decorating slime jars like pumpkins, or coloring the slime orange or black. Use any of our 5 simple slime recipes as a base!
2. Halloween Pots
Give basic terracotta pots an extra coat of creepy by decorating them like pumpkins, candy corn, or Frankenstein.
3. Make a Trick-or-Treat Tote
Skip the plastic trick-or-treat buckets, and up-cycle an old t-shirt into a homemade tote.
4. Cheesecloth Ghost
Cheesecloth and liquid starch come together to make this spooky little ghost.
5. Candy Picture Frame
After Halloween, save those candy wrappers and make this fun memento picture frame.
RELATED: 10 Fun Light Experiments for Toddlers and Preschoolers

Paint some recycled jars and you have an adorably spooky new light! Photo courtesy of Crafts by Amanda
6. Halloween Luminary Jars
These luminary jars look perfect on a mantle, lining the sidewalk, or just perched on top of a bookshelf. And the best part is, they are super easy to make!
7. Spooky Spiders
Make the cutest little spiders you have ever seen. These little critters will win over even the biggest arachnophobe.
RELATED: 30 Easy Paper Crafts for Kids for an Arty Day at Home

Jewelry goes spooky when you make these custom bracelets.
8. Spooky Stacks
Pick a Halloween phrase like "Hocus Pocus" or "Witch's Brew" and make your own spooky stack of bracelets.
9. Yarn Ghosts
With a tassel of yarn, you can make these little yarn ghosts. String a bunch of them together to make a ghostly garland.
10. Monster Mash Wreath
Even young crafters enjoy making this Monster Mash Wreath. Pom poms, glue, and some googly eyes will make any door instantly spooky.
RELATED: Crafts for Kids: 100 Awesome Art Projects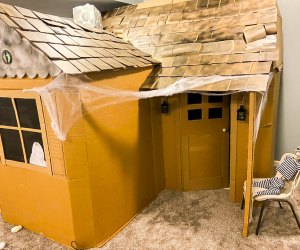 Make a creepy cardboard box haunted house out of recycled boxes! Photo courtesy of catharticcrafting.com
11. Cardboard Box Haunted House
Spook up a cardboard box house with a coat of black paint, and a few Halloween decorations.
12. Shadow Puppets
Tell your own spooky stories with the help of these printable Halloween shadow puppets.
RELATED: No-Bake Dessert Recipes Easy Enough for Kids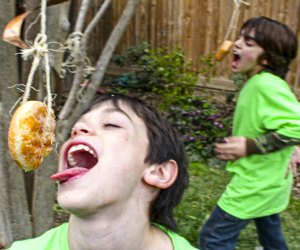 Even sweeter than bobbing for apples: donut on a string. Photo by Woodley Wonder Works, via Flickr (CC BY-NC-ND 2.0)
Halloween Activities for Toddlers through Tweens
13. Donuts on a String
Without using their hands, challenge the kids to try to grab a bite of a donut on a string. This is fun whether you're trying to entertain one kid or 100!
14. Eyeball Scavenger Hunt
Hide plastic eyeballs just about anywhere and see how many your kids can find in one minute. Get more Halloween scavenger hunt ideas here.
15. Toilet Paper Mummy Wrap
Start by dividing family or friends into teams. Using rolls of toilet paper, see who can wrap up a teammate like a mummy the fastest.
16. Glow-in-the-Dark Scavenger Hunt
Place clues in bottles with glow sticks and hide them in your home and outdoors. When the sun goes down, go on a glow-in-the-dark scavenger hunt, where each clue leads you to the next hidden bottle and clue. Get more Halloween scavenger hunt ideas here.
17. Witches Broom Limbo
Swap out a limbo stick for a witches broom, crank the Halloween tunes, and see how low everyone can go!
18. Mystery Boxes
Peeled grapes become eyeballs, steamed cauliflower can be brains. Let imaginations run wild when you play pass the mystery boxes.
19. Pumpkin Ring Toss
Think of this as a good ol' fashioned ring toss but with pumpkins! Pumpkin stems become the target in this classic yard game.
20. Bobbing for Apples
Bobbing for apples dates back to the 14th century. To set up this Halloween classic, fill a tub with water and let the bobbing begin!
21. Eyeball Spoon Race
With a permanent marker, turn a ping pong ball into an eyeball. Try to balance the eyeball on a wooden spoon while racing across the kitchen or yard.
22. Zombie Run
A zombie run is fun to set up on the way up to your front door, at a party, or just for fun. Once it's ready, kids run through a chalk gauntlet of hungry zombies looking for brains!
RELATED: Build an Indoor Obstacle Course for Kids in 7 Easy Steps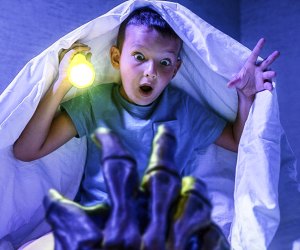 Make some blanket tents in the living room, then tell some terrifying tales. Photo courtesy of Bigstock
Halloween Activities for the Family
23. Have a Spooky Story Night
We rounded up the best not-so-scary ghost stories and spooky stories for kids of all ages. So pass out the flashlights, make some blanket tents in the living room, and tell an atmospheric tale or two.
24. Watch a Halloween Movie
Whether you want a good scare or a sweetly spooky flick, check out one of these 30 Halloween movies to get your family in the spirit.
25. Decorate Your Home
Whether you go all out with packs of skeletons artfully placed on your lawn or keep things simple with some cobwebs on the bushes, spend some time with the family decorating your home for the spooky season.
26. Make a Last-Minute Costume
No time? No problem! With a glue gun and some solid colored t-shirts, make one of these last-minute costumes.
27. Go on a Spooky House Tour
With a little research, find the most over-the-top houses in your neighborhood! The Nextdoor app has a handy treat map that will guide you along the way.
28. Set up an Outdoor Movie
Nothing is spookier than watching a spooky movie outside, in the dark! Don't forget blankets and flashlights.
RELATED: 50 Best Kids' Movies for Family Movie Night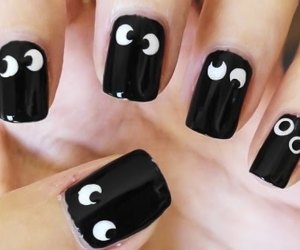 Fingers and toes can get a festive look. Photo by @missjenfabulous, courtesy of mykidstime.com
29. Give Yourself a Halloween Manicure
Give your nails a little pop for spooky season with one of these easy Halloween nail ideas.
30. Tour a Historic Cemetery
Every town has a spooky side. See what you can discover about past residents with a graveyard walk.
31. Have a Pet Costume Parade
Why should humans always get to have all the fun? Get your four-legged friends all dressed up and host a parade around the neighborhood.
32. Carve a Pumpkin
You can go basic with triangle eyes and mouth, or try one of these awesome pumpkin carving stencils.
RELATED: 101 Kids' Halloween Costume Ideas

You never know what you'll find in the pumpkin patch.
33. Go Pumpkin Picking
Find a local farm and plan a fun family day in the pumpkin patch.
34. Paint a Pumpkin
Pumpkin painting is a perfect activity for toddlers. With no sharp knives to worry about, younger kids can have fun with stickers, paints, and other decorations.
35. Make a Scarecrow
Grab some old clothes, and start stuffing! There is nothing quite like a homemade scarecrow.
36. "Boo" a Neighbor
This is one of our favorite Halloween activities. Think of it like reverse trick-or-treating! "Boo-ing" is when you make a little basket of treats to leave by a neighbor's door. It's a fun way to spread a little Halloween cheer!
37. Learn the Monster Mash
Did you know that the Monster Mash is an actual dance? Check out this tutorial and learn all the steps!
38. Make a Pumpkin-Cano
Baking soda reactions are always a crowd pleaser! Watch your seasonal squash sizzle and erupt when you fill a pumpkin with baking soda and a little vinegar.
39. Host a Smash Bash
Just because Halloween is over, doesn't mean the party has to stop. A Smash Bash is basically a Halloween after-party. Take all your leftover pumpkins and give them a good drop or smash and watch them explode!
RELATED: 20 Kid-Friendly Pumpkin Recipes for Fall

An orange tablecloth makes a great backdrop for a Halloween photo booth. Then decorate to your heart's content.
40. Make a Halloween Photo Booth
Kids are all dressed up, so it's time to set the scene! Make a photo booth so everyone has an official spot to take a photo.
41. Halloween Charades
Perfect for family game night, Halloween charades get everyone up and moving.
42. Neighborhood Scavenger Hunt
Make a list of spooky items to find around your neighborhood, like pumpkins, witch hats, and skeleton bones. Get more Halloween scavenger hunt ideas here.
43. Halloween Pinata
What is Halloween without candy? Grab a Halloween-themed pinata from the party store and have fun with this trick-or-treat alternative.
RELATED: 64 Easy Science Experiments for Kids to Do at Home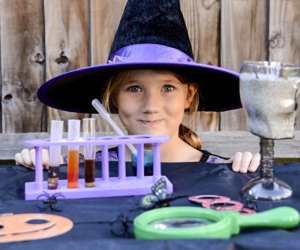 Science gets spooky when you brew up a witch or wizard potion. Photo courtesy of sciencesparks.com, via Pinterest
44. Wizard's Potions
Double double toil and trouble—what makes a witch's cauldron bubble? Grab yourself a little eye of newt and make your very own magical potions.
45. Halloween Jokes
Add some funny bones to any Halloween celebration. Try out a few of our Halloween jokes.
46. Mirror Messages
Using soap, write a spooky message like "I see you" on a mirror. When your unsuspecting victim steps out of the steamy shower, they can suddenly see this message from the great beyond.
RELATED: 5 Fun Mocktail Recipes for Kids Celebrations

Kids adore these sweet Candy Corn Punch treats.
Easy Halloween Treats for Kids
47. Candy Corn Punch
Place some frozen pineapple chunks on the bottom of a glass and fill with orange soda. Make sure you leave room for a hearty dollop of whipped cream. Garnish with candy corn. This treat is sickeningly sweet for adults but beloved by kids.
48. Scarecrow Snack Mix
Mix up a bunch of your favorite sweet and salty snacks like pretzels, chocolate chips, and candy corn to make this festive snack mix.
49. Marshmallow Pretzel Skeletons
These bone-tingling treats are almost as fun to make as they are to eat!

A pudding bar is so much fun for making your own graveyard desserts.
50. Graveyard Pudding Bar
Dig right into a cup of graveyard pudding. Serve individual cups of chocolate pudding covered in graveyard dirt (chocolate cookie crumbs), and let kids pick their own ghoulish fixings from a buffet of creepy toppings like candy pumpkins, cookie graves, googly eyes, and gummy worms.
51. Apple Nachos
Apple Nachos are our new favorite snack! Slice up a few apples, drizzle them with peanut butter, and sprinkle a few chocolate chips on top. You can also use raisins, caramel, nuts, or any other toppings that sound yummy.
52. Ghost Pizzas
Up your Halloween pizza game by adding deliciously ghostly blobs of mozzarella cheese. Little pits of olive make the perfect eyes and mouth.

Who doesn't want to eat a tasty eyeball?
53. Eyeball Cake Pops
Put a fork in it! Red velvet cake will up the gross factor in these delicious eyeball cake pops.
54. Candy Apple Bar
Serve slices of apples on a stick and let kids dip them into store-bought apple dip.
55. Graveyard Taco Dip
Dive right into this delicious graveyard-inspired taco dip.

Twisting open some Oreos is as difficult as this cute cake decoration gets.
56. Eyeball Cake
A couple of carefully placed Oreos and candy eyeballs will transform any cake into a creepy confection.
57. Candy Corn Pudding
Use food coloring to turn vanilla pudding yellow and orange. Create layers in a clear cup to make it look like candy corn.

Don't throw out your pumpkin seeds! They make tasty and healthy snacks.
58. Roast Pumpkin Seeds
Don't toss those seeds after carving your pumpkin! Clean them up and rinse them off, then let the seeds dry out a bit. Toss with a little oil and salt and roast in a 350-degree oven for 10-30 minutes. Spice things up a bit by adding some cinnamon sugar or garlic salt instead of just plain salt.
59. Ghost Cupcake Cones
Boo! Ghost cupcake cones are the perfect seasonal treat.
60. Apple Monster Mouths
It's not a trick—these apple monster mouths are yummy and healthy Halloween treats! And they're so cute, kids won't care that they're healthy.

Do the Monster Mash while whipping up these yummy brownies.
61. Monster Mash Brownies
A box of brownie mix becomes slightly sinister with a few strategically placed eyeballs.
62. Vampire Donuts
Place a pair of plastic vampire teeth in a cider donut to make these vampire donuts.
63. Halloween Fairy Bread
All you need is a Halloween-themed cookie cutter and some festive sprinkles to create this easy snack.
64. Ghost S'Mores
Ghost Peeps make these s'mores extra spooky

Why pick one candy when you can get a "hand" full? Ba dum bum.
65. Halloween Treat Hands
Fill latex gloves with candy and other Halloween treats.
66. Candy Corn Fruit Parfait
Turn orange slices, pineapple chunks, and a little vanilla yogurt into a candy corn-inspired healthy snack.
67. Bloody Shirley Temple
These gruesome mocktails are to die for.
68. Rice Krispie Monsters
Candy melts and decorative eyeballs make boring old Rice Krispie treats come alive.
69. Halloween Popcorn Balls
Mix together some colorful candy sprinkles and Halloween candy to make these Halloween popcorn balls.
70. Ghost Lollipops
Get a nice round lollipop, like a Tootsie Pop or Blow Pop, and wrap it in a tissue. Tie with a piece of string and you have a ghost lollipop.

These haunted houses were decorated with favorite Trader Joe's treats.
71. Haunted Gingerbread House Party
Why should Christmas get to have all the fun? Turn any gingerbread house into a haunted mansion by using black and orange icing and adding a few spooky touches.
72. Creepy Crawly Ice Cubes
Freeze plastic bugs or gummy eyeballs into ice cube trays to add a surprise sinister spin to everyday ice cubes.

Any dessert board becomes Halloween-ready when you add a few favorite seasonal candies.
73. Halloween Dessert Boards
Give one of these classic desert boards some Halloween flair by adding pumpkin ice cream, Halloween candies, and pumpkin spice waffles.
74. Make Rock Candy
Sugar, water, and a few more items found at home are all you need to turn your kitchen into a rock candy laboratory. For all those mad scientists this Halloween...
75. Creepy Witch Finger Cookies
Cookie dough and almond fingernails come together to make creepy (but delicious) witch fingers. These green ones up the ick-factor with some green food coloring and red gel.
Photos by the author unless noted.