20 Kid-Friendly Pumpkin Recipes for Fall and All Year Long
Everyone loves a great pumpkin bread recipe, but pumpkin consumption shouldn't begin and end there—there are loads of tasty pumpkin recipes for every meal of the day. Although pumpkin is often found in rich desserts, it's actually full of important nutrients for kids. Pumpkin is packed with iron, potassium, fiber, vitamin A, and vitamin C, and is made up of 94% water, making it low in calories. From pumpkin muffins to pumpkin pancakes, we've rounded up some of our favorite kid-friendly pumpkin recipes.
For more great recipes for kids, visit our Guide To Easy Recipes for Kids, with great fall recipes like these 6 Apple Recipes Kids Can Make and our favorite Halloween Treats for Kids.
Beyond Pumpkin Bread: Great Pumpkin Recipes for Kids
These recipes are great for breakfast, dessert, snacks, or to bring along to a Halloween party.
1. Pumpkin Pancakes
Pumpkin pancakes are an easy way to add a little fall feeling to your breakfast. These pumpkin pancakes are light and fluffy—with the extra sweetness from the pumpkin, your kids might even forget to ask for syrup.
OUR LATEST VIDEOS
2. Pumpkin Bars
Pumpkin Bars are a quick and easy pumpkin dessert. With a hint of maple syrup and a delicious cream cheese frosting, this is one pumpkin treat that the whole family will enjoy.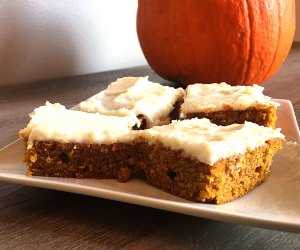 Pumpkin Bars gild the gourd with some fluffy frosting. Photo courtesy of the author
3. Pumpkin Cream Cheese Muffins
If you've ever had a Pumpkin Cream Cheese Muffin from Starbucks, this recipe is as close as you can get at home. The muffin has a sweet crumble on top and a yummy cream cheese surprise baked into the middle.
4. Pumpkin Juice
For all the Harry Potter fans out there, this one is for you. This Pumpkin Juice recipe is a close copycat to the version found at the Wizarding World of Harry Potter. Enjoy a cup on Halloween or during a Harry Potter marathon. Cheers, Potterheads!

For kids who don't love the texture of pumpkin pie, try this Pumpkin Pie Shake. Photo courtesy of Oxmoor House
5. Pumpkin Pie Shake
For a little Halloween spice with dessert, give these Pumpkin Pie Milkshakes a try. This recipe for pumpkin pie shakes tastes just like a pumpkin pie. This is an easy one to make in larger batches for visiting friends on Halloween night or for a Halloween party.
6. Pumpkin Pie Parfait
This Pumpkin Pie Parfait recipe is a fun Halloween treat for breakfast or dessert. With layers of Greek yogurt and sweet pumpkin, kids might request this breakfast all year long. The pumpkin adds a nice dose of fiber and protein to their morning, too.
7. Pumpkin-Apple Muffins
When you think of fall, you likely think of pumpkins and apples. Put them together with this Pumpkin-Apple Muffin recipe and you have a delicious fall treat that's perfect for breakfast or snack time.

Pumpkin Pasta is a pretty and tasty break from boring marinara. Photo courtesy of My Kids Lick the Bowl
8. Pumpkin Pasta
This recipe for Pumpkin Pasta is a great way to sneak in an extra serving of vegetables at dinner time. The sweetness of the pumpkin makes a nice change from marinara sauce, and some kids who think they only like buttered noodles will fall for this delicious sauce. The pumpkin even colors the noodles orange, which is sure to be a Halloween hit.
9. Pumpkin Oatmeal
This recipe for Pumpkin Oatmeal is a yummy way to add a hint of fall into your little one's breakfast. With the naturally sweet pumpkin and a hint of cinnamon, this makes a quick, easy, delicious, and nutritious breakfast for the whole family.
10. Easy Pumpkin Brownies
People can not live on pumpkin alone. So if you crave a little chocolate, but want to sneak in some fall flavor as well as pumpkin's nutrient punch, this pumpkin brownie recipe is perfect. With just 2 ingredients, kids can even whip these up without any help from grownups.
11. Chocolate Chip Pumpkin Bread
No list of great pumpkin recipes would be complete without a pumpkin bread recipe, and this one is the best. Kids love the sprinkling of chocolate chips, and the dash of orange juice makes a perfect complement to the pumpkin. With our apologies for using this word, it's the moistest and most delicious pumpkin bread ever.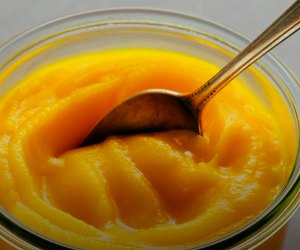 Roasted Pumpkin Puree is a baby food that will have parents licking the spoon. Photo courtesy of the Minimalist Baker
For the Little Pumpkins: Baby and Toddler Pumpkin Recipes
Pumpkin is one of the best first foods for babies. It's sweet and has a smooth texture that blends well with almost any other fruit or vegetable combination. Pumpkin is also super easy to roast and mash. You can whip it into a puree or roast & slice it as finger food. Here's a list of sweet and delicious recipes for your littlest pumpkins that are so good, your big kids will eat them, too.
12. Roasted Pumpkin Puree
Your little one can eat this Roasted Pumpkin Puree recipe plain, or mixed with other fruits and vegetables, for a delicious baby food that's packed with nutrition.
13. Easy Roasted Pumpkin
Roasted pumpkin is a delicious meal the whole family will enjoy. If you have a little one, this Roasted Pumpkin recipe is a great first food. Once the pumpkin is roasted and soft, you can cut it into spears that an older baby can pick up and eat all by themselves. Adults can enjoy this same roasted pumpkin as a side with dinner, just add more salt and some spices after serving baby's portion.
14. Pumpkin Applesauce
If you have a little applesauce lover at home, they'll love this recipe for Pumpkin Applesauce. This recipe combines applesauce with sweet, earthy pumpkin. All you need is a pumpkin, some apples, spices, and water to make this all-natural meal for your baby.
15. Pumpkin and Oat Balls
This recipe for no-bake Pumpkin and Oat Balls can be made with or without chocolate chips. They're gooey and delicious for babies, toddlers, kids, and adults. This is a super easy one to keep in the fridge for a quick breakfast or snack on the go.
16. Toast with Pumpkin Butter
Toast with pumpkin butter is a yummy fall treat for little ones. Whip up this 20-minute Pumpkin Butter recipe on the weekend and store it in the fridge all week long. Cut toast into strips so they are easy for small toddlers to pick up and grab. English muffins are also a tasty option.
17. Tropical Pumpkin Puree
This recipe for Tropical Pumpkin Baby Food Puree is a fun twist on a classic pumpkin puree. This puree is made with earthy pumpkin and juicy pineapple. The coconut is really flavorful and adds even more vitamins and antioxidants.

Pumpkin Yogurt Prune Puree sneaks untold nutrients into baby's meal. Photo courtesy of Baby Foode
18. Pumpkin, Yogurt, and Prune Baby Food Puree
If your baby loves yogurt, try this recipe for Pumpkin, Yogurt, and Prune Puree. This baby food only takes 15 minutes to make. It's also jam-packed with vitamin A, iron, potassium, and protein (and that's only from the pumpkin). The yogurt adds some dairy and calcium while the prunes are full of additional electrolytes. The electrolytes in prunes are known to help with digestion.
19. Pumpkin Hummus
Toast and crackers can sometimes be dry for a small baby to swallow. A little hummus adds moisture and helps prevent choking. This seasonal Pumpkin Hummus recipe is quick to prepare, sweet, savory, and full of iron and protein.
20. Honey Butter Roasted Pumpkin
The American Academy of Pediatrics recommends waiting until after your baby turns one to introduce honey. Once it's safe to do so, this yummy Honey Butter Roasted Pumpkin recipe is a great way to introduce the goodness of honey to your little one. This is also a delicious side dish to serve on a cool fall night.