15 Halloween Activities That Make Great Trick-or-Treat Alternatives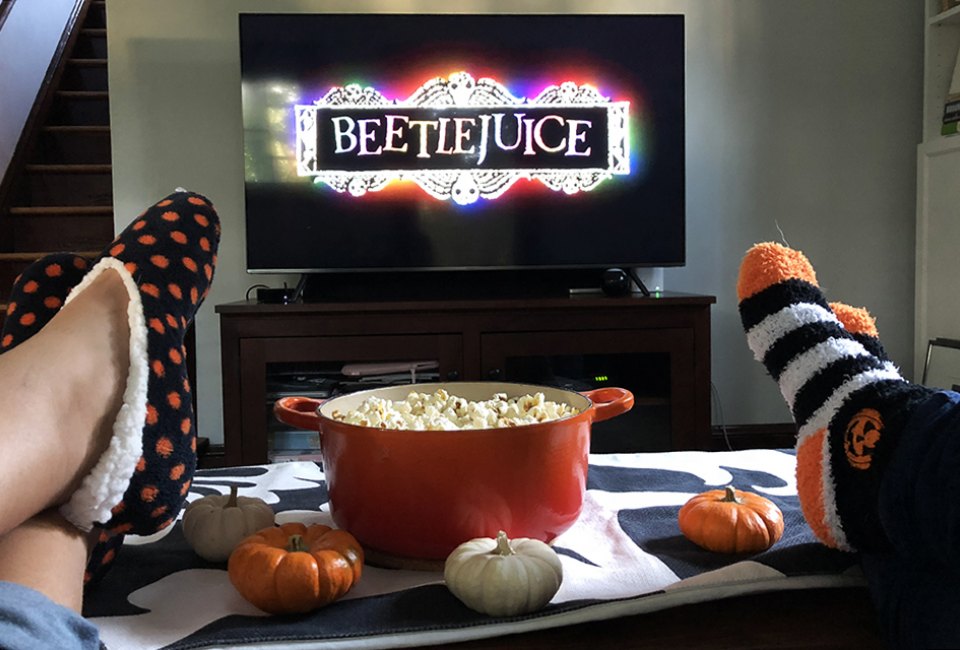 10/11/20
- By
Kimberly Rae Miller
The good news: Halloween is happening this year. The less good news: It's happening a little differently than usual for many of us. When the CDC issued its Halloween guidelines in late September, the government health organization confirmed what many of us were thinking: traditional trick-or-treating may just be too risky this year.
Of course, not all families feel that way and will continue with the annual door-to-door candy grab kids love so much. But if you are choosing to stay home and celebrate Halloween in a socially distanced manner, these fun Halloween activities can be done at home, virtually, or with a small group. Some of these pandemic-era Halloween activities are sure to become family traditions because they're just that fun. There's even a way to turn the boring old indoors into a spooky but totally safe haunted house with a new FREE AR experience from Netflix.
Visit our Halloween Guide or events page for more Halloween activities.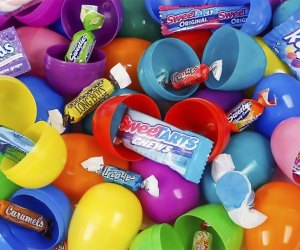 Dig out those plastic Easter eggs, fill with candy, and send kids on a Halloween candy hunt. Photo by Mommy Poppins
1. Organize a Candy Hunt
Go ahead and repurpose those plastic eggs you use at Easter as "pumpkin seeds" and take kids on a Halloween candy hunt in your home, yard, or neighborhood, depending on your comfort level.
2. Costume Parade ... At a Distance
March in a socially distanced costume parade. Store-bought or homemade, nothing makes kids prouder than showing off their Halloween costume. If your neighborhood has a social media page dedicated to local parents, finding participants won't be hard at all, after all, everyone is scrambling to make Halloween 2020 memorable.
By now most of us have settled into our own little social bubbles. If you have a small group of friends or family you're comfortable socializing with during the pandemic, why not throw an outdoor (Halloween masks required) party that will outshine any day of trick-or-treating, complete with a pumpkin carving contest where everyone is set up at their own station.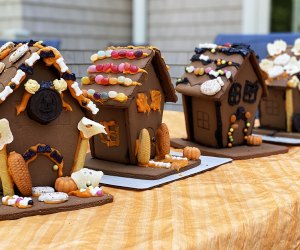 Have a Halloween gingerbread house decorating contest. Photo by Ally Noel
Play the Mummy Wrap with masks or family only, set up a round of socially-distanced, outdoor pumpkin bowling among the neighborhood kids, or choose another idea from among these 25 Halloween games for kids.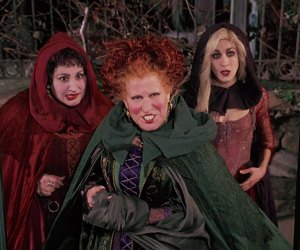 Make the night a family movie party with a Halloween classic like Hocus Pocus. Photo courtesy of Disney
Stock up on popcorn, candy, and caramel apples and enjoy a night of at-home Halloween-themed entertainment. Disney+, Amazon Prime, Netflix, Hulu, and Freeform are all loaded with family-friendly Halloween-themed movies. Drive-in movies are also still happening around much of the country, so you could fill those plastic pumpkins with your favorite treats and go out to the movies…from the safety of your car. Our events calendars are filled with local drive-in movie options playing throughout the fall, with family-friendly favorites like Beetlejuice, Hocus Pocus, Ghostbusters, Moster House, Goosebumps, and more.
6. Secret Pumpkin Draw
Draw names among friends or neighbors ahead of the big day. Drop off Halloween care packages for your littles to open on Halloween.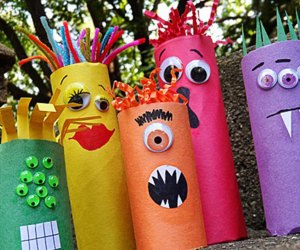 Get crafty with Halloween ghouls and monster crafts.
7. Halloween Crafts
Cut out ghosts, black cats, jack-o-lanterns, and witches' hats for a spooky craft to do together at home. Make a ghoul family with toddlers or popsicle stick monsters.
8. Candy Station
Not up for going door-to-door, but still want to make sure the neighborhood kids have a solid stash of sugar to get them through the fall? Create a candy station at the end of your driveway with goody bag giveaways or create a PVC candy shoot so you can deliver candy without contact.
9. Schedule a Cameo
Cameo is a service that puts real people in touch with their favorite actors, musicians, or public figures for a personalized shout out. Schedule a Halloween greeting from your kids' favorite hero/ine or bad guys, like Kathy Najimy (Hocus Pocus), Kimberly J. Brown (Halloweentown), Jonathan Freeman (the voice of Jafar in Aladdin), or even the twins from The Shining (probably more of a treat for the grown-ups).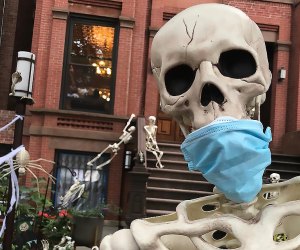 Stroll the neighborhood looking for the best Halloween decorations. Photo by Fay Koplovitz

10. Halloween Decorations Crawl
Scope out all the spooky Halloween décor your neighborhood has to offer by taking the kids on a frightfully fun scavenger hunt. Whoever finds the scariest stuff wins a King Size candy bar of their choosing.
11. Zoom Costume Party
If you're keeping things contained to immediate family, consider hosting a virtual costume party with your spookiest friends or just show off to the grandparents during a Halloween night Zoom call. Challenge your crew to stay in character the whole time.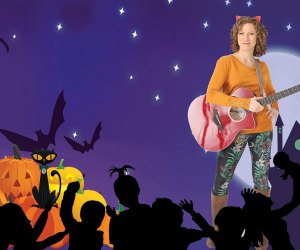 Celebrate Halloween with virtual events like a Laurie Berkner concert. Photo courtesy of the artist
12. Tune in Virtual Halloween Parades, Concerts, and More
The best part about the proliferation of virtual entertainment is that we can suddenly join in with all sorts of events taking place in far-flung locations. This Halloween, join famed children's musician Laurie Berkner for a Virtual Family Concert and Halloween Party. Kids should sign in ready to dance and with their favorite stuffed animals in hand.
Teens will thrill to participate in the famed Village Halloween Parade and Ball. It goes virtual in 2020 with a Facebook Live party for all. Young theater lovers will enjoy the cabaret of performances by New York actors, dancers, and singers. Arrive in your most fabulous costume.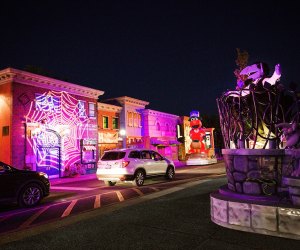 Take a spooky drive-thru one of the new haunted houses and fests cropping up in 2020. Photo courtesy of Sesame Place
13. Drive-thru Haunted House
Haunted houses are so 2019. In 2020, we do haunted drive-thrus. From New York to Orlando to Los Angeles, there are drive-thru spooky fests and haunted houses happening across the country. There are some big ones in Texas, too! Visit our events listings to find local haunted roads where ghastly ghoulies guide you through their spooky surroundings. Some drive-thru haunted houses offer a mysterious theme that allows you to play detective while a dastardly deed unfolds right outside your window.
14. Drive-by Trick or Treat
Plan a reverse trick-or-treating block party. Kids can hang out on their lawn in their costumes while cars drive by and throw candy from a safe distance.
15. Make Your Own Haunted House
Spend the day decorating the house with your kids and encourage them to plan a night of haunted hijinks. When the sun goes down, parents, grandparents, siblings, or friends can walk through this haunted creation for an at-home haunted house. Or, download this fun (and totally free) AR experience from Netflix that unleashes friendly ghouls all over your house!
Click Here to Sign Up!
i