Create a Virtual Haunted House at Home this Halloween with Netflix
10/27/20
- By
Jessica Laird
Yes, Halloween is likely to look a little different this year across much of the country, but there are so many ways to bring the spooky family fun home—and Netflix is on it. Together with Snapchat, Netflix is using a touch of technology to help turn your home into a lively (and not too scary) haunted house filled with surprises for you and your kiddos.
So, how does it work? Head to NetflixHauntsYourHouse.com to download and print a collection of Halloween-themed Snapcodes. Place the codes around your home in suggested locations, and on Halloween day they'll come alive using AR (augmented reality). Start with the first Snapcode, where you and your little ones meet your tour guide, "Blue Moon." Then follow the codes in order, holding your phone up to each one with the Snapchat camera open, and your house will be transformed into a family-friendly spooktacular filled with "real" live monsters and ghouls.
We don't want to give too much away, but be prepared to encounter some familiar Netflix faces getting into the holiday spirit, like Witch & Friends from "Room on the Broom" and Trogg Monster from "Gnome Alone." Oh, and make sure to catch the last Snapcode for a real spook you won't want to miss!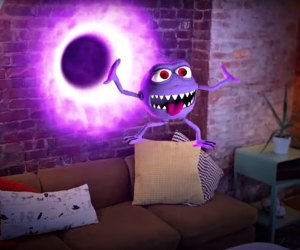 On Halloween, the Snapcodes come to life, creating a virtual haunted house filled with familiar Netflix faces.
Of course, the All Hallows' Eve fun certainly doesn't need to stop there. Catch more of your favorite haunted house characters in these much loved kids' movies and shows available on Netflix—perfect for Halloween night with the whole family:
Remember, you can start getting your very own haunted house set up now by visiting NetflixHauntsYourHouse.com!

Sign up for our free
newsletters.
Mommy Poppins is a family activity website that helps people find things to do with kids.
©
2023
MommyPoppins. All Rights Reserved.
mp-prod4-v4.32.99
We use cookies and other data collection technologies to provide the best experience for our customers.
Learn More