CDC Issues Halloween Guidelines for 2020: Is It Safe to Trick or Treat?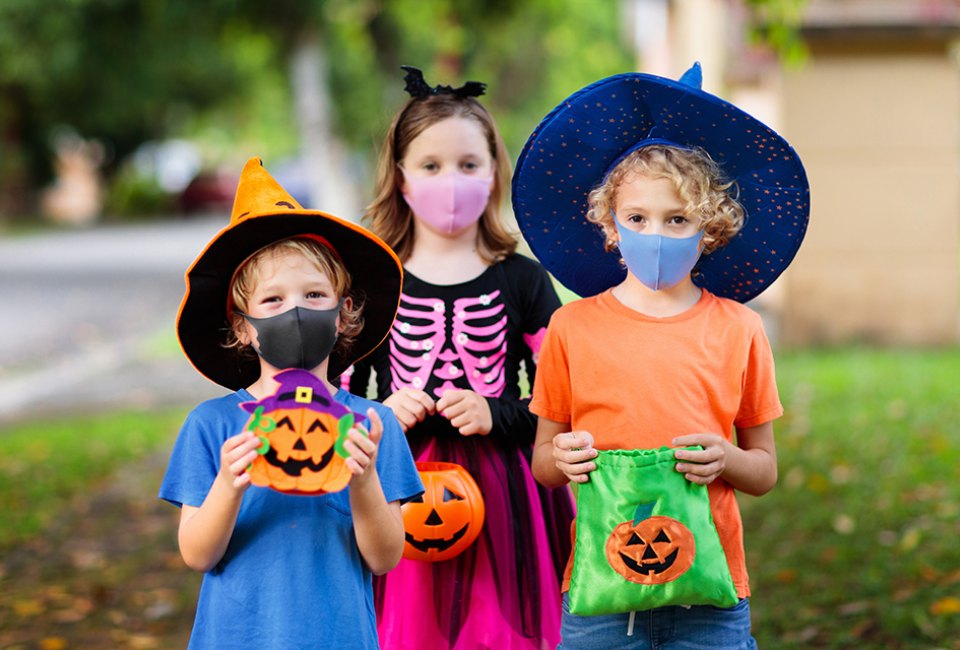 9/24/20
- By
Liz Alterman
The Centers for Disease Control and Prevention (CDC) recently released guidelines for Halloween safety — and it doesn't look good for trick-or-treating.
The pandemic has drastically changed how we live our daily lives, including all our favorite fall and winter holidays. With Halloween right around the corner and Thanksgiving, Hanukkah, and Christmas close behind, these new guidelines from the CDC and pediatricians aim to keep kids and families safe while enjoying modified celebrations.
High-risk Halloween Activities
The new CDC Halloween guidelines sort through typical seasonal activities, placing each in a risk category from low to high, and firmly putting traditional door-to-door trick-or-treating in the high-risk bucket. Also deemed high risk by the CDC were indoor costume parties, crowded indoor haunted houses, large trunk-or-treat celebrations, and fall hayrides and wagon rides with strangers. All of these "high-risk" Halloween activities might help to spread the virus, said the agency.
The CDC cautions that if you or your family members have COVID-19 or have been exposed to someone with the virus, you definitely shouldn't participate in any in-person Halloween festivities.
Even if you're healthy, Dr. Bita Nasseri, a Los Angeles-based physician and mom of three, said if your city or neighborhood has a high number of confirmed COVID cases, it's best to skip trick-or-treating this year. Dr. Dyan Hes, medical director of New York-based Gramercy Pediatrics agreed.
"As far as trick or treating, sadly, I think this would be too risky," said Dr. Hes. "Kids would naturally form large groups, and no one knows the health status of the people in each home. I would say it's a hard pass for now, and my daughter is going to hate me for this."
Dr. Nasseri added that if your community has low to no COVID cases, the best option is to have a trick-or-treating pod and only visit the houses of those in your pod.
"Make sure that each parent that is handing out candy is wearing gloves to limit direct contact," she said.
Safer Halloween Activities
To stay healthy and minimize the potential for coronavirus exposure or spread, the CDC offers a number of tips, as well as lower risk activities. It places one-way trick-or-treating in its moderate-risk category, and suggested offering individually-wrap treat bags and lining them up so kids can grab and go while social distancing. If you're preparing the treat bags, the CDC advised washing your hands with soap and water for at least 20 seconds before and after preparing the treat bags.
Dr. Nasseri noted that germs can live on surfaces, including candy wrappers, for up to 72 hours.
"In order to keep children safe, do not give them their treats until the 72 hours have passed," she said. "You can also keep a couple of pieces of their favorite candy in your home to give them after trick-or-treating so that they can enjoy them in the meantime."
If you decide to skip traditional trick-or-treating this year, that does not mean that the holiday can't still be fun for kids.
A small group outdoor costume party and outdoor Halloween movie viewing were both listed as a more moderate-risk activity by the CDC as long as everyone stays 6 feet apart. It also cautions against the use of costume masks in place of cloth masks unless it makes use of two or more layers of cloth, covers the mouth and nose, and doesn't leave gaps. Do not double up with a costume mask and a cloth mask either, says the CDC, or breathing issues could occur.
"I recommend inviting over a small handful of classmates for an outdoor gathering if you have space for social distancing and enforce mask wearing," Dr. Nasseri suggested. "It is important that both children and adults confirm that they have no symptoms and that they have not been in contact with individuals that are COVID positive or experiencing any symptoms before attending the outdoor event."
Lowest Risk Halloween Activities
The CDC recommends the following low-risk, home-based activities to really minimize the virus' spread this Halloween.
Host a virtual Halloween costume contest
Enjoy a Halloween movie night with your immediate family
Organize a scavenger hunt search inside your home with family members
Decorate or carve pumpkins at home
"Parents can place a bowl of candy in each room and have their child 'trick-or-treat' in the house," Dr. Nasseri advised. "To make the experience extra festive, you can decorate each room in a different Halloween theme or celebrate by baking Halloween cookies and decorating them with the family. This ensures that children are safe but also allows them to partake in festivities."
You can still enjoy other favorite fall activities—with a few caveats.
"I think pumpkin picking is fine if the number of people let into the field at one time are controlled," said Dr. Hes. "There can also be rules in place that you can only touch the pumpkin if you are going to buy it. Everyone over 2 years old should be masked at the pumpkin patch. There should be no crowds. It should be like going to a supermarket."
The CDC placed going to the pumpkin patch or apple orchard into its moderate risk category as long as everyone was wearing masks, using hand sanitizer, and maintaining social distancing.
Holiday Safety Guidelines
As Thanksgiving and the December holidays approach, it's tempting to gather with friends and extended family, but keeping everyone healthy—especially at the height of flu season—is crucial. With that in mind, the CDC offers the following low-risk alternatives to traditional Thanksgiving festivities:
Host a small dinner with only people who live in your household.
Host a virtual dinner with friends and family.
Shop online rather than in person on the day after Thanksgiving or the next Monday.
Watch sporting events, parades, and movies from home.
Host a small outdoor dinner with family and friends who live in your community.
While the holiday season might look a bit different this year, it's still possible to have fun with the kids and celebrate in ways that minimize the spread of the virus.