Spooky and Sweet Halloween Face Masks for Kids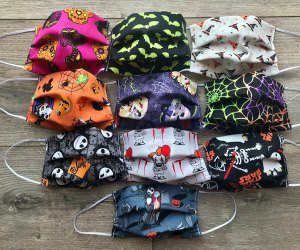 The CDC might be warning against trick-or-treating in 2020, but there are elements of Halloween that seem ready-made for our new pandemic lifestyles. After all, it is one of the few holidays that takes place almost entirely outdoors and includes the option to wear a mask. Win.
We've rounded up 10 top spots to shop for Halloween face masks for kids. Wear them all month long or as a costume accessory on the big night.
Remember, as coronavirus continues to circulate, the CDC recommends maintaining social distance of 6 feet or more with anyone not in your household and to always wear a dual-layer, cloth face mask when interacting with others. Here are the latest CDC recommendations on Halloween face masks:
A costume mask (such as for Halloween) is not a substitute for a cloth mask. A costume mask should not be used unless it is made of two or more layers of breathable fabric that covers the mouth and nose and doesn't leave gaps around the face.
Do not wear a costume mask over a protective cloth mask because it can be dangerous if the costume mask makes it hard to breathe. Instead, consider using a Halloween-themed cloth mask.
The government health agency has also said that in addition to trick-or-treating, large crowds who can't social distance and indoor events are too high-risk this year. Outdoor Halloween parties with social distancing are considered moderate risk. but there's nothing in the guidelines that says we can't dress up in full ghoul-gear for low-key Halloween activities.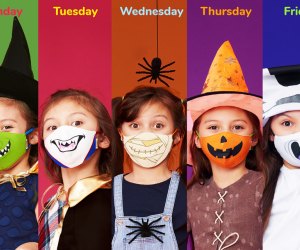 Crayola Halloween non-medical mask packs come with 5 face masks for each day of the school week.
The popular two-layer Crayola face masks are back with some fun new spooky designs, including a mummy, witch, and ghost. Reviewers recommend the "kid" sizes for toddlers and preschoolers, while the "teen/adult" sizes might be more likely to fit your older kids. Check Crayola's size specs before purchasing. A nose clip and adjustable elastic help keep them in place.

Pick your favorite Disney character costume and face mask.
Pick a Disney character for your costume and accessorize with a related face mask from the Disney shop. Or, there are several Halloween-themed face masks for kids available, too, including pumpkins, candy corn, and one that says, Boo, as well as a Nightmare Before Christmas two-pack. Most are made of two-layers of polyester and come in varying sizes.
These Halloween face masks for kids from Oriental Trading Co. turn children into spooky jack-o-lanterns! It comes in an affordable six pack, so you could even hand them out to the neighborhood kids. These masks are made with two layers of cotton and polyester.
Accesorize with flying ghosts, a pumpkin, or cat face with one of these child-size Halloween face masks from Party City. All are triple layer.

oJackArt makes adjustable Halloween masks sized to fit toddlers and up.
Catch these handmade triple-layer Halloween masks on Etsy before they sell out. Pick from the trick-or-treating themed mask or the pumpkins. Includes adjustable elastic loops, filter pocket, and is sized to fit toddlers and up.
This Etsy shop has more than a dozen Halloween face mask styles available in kid and toddler sizes, as well as adults if you're going for that family matchy-matchy look. Includes filter pocket and two-layer breathable cotton.
Dressing up as some type of animal this Halloween? Old Navy's triple-layer, three-packs of Critter Face Masks for kids make for a cute and cuddly option for little kids. Some of them do have sharp teeth for a bit of a fright.
Whether your little one wants to go as Elsa or Yoda, this Etsy shop probably has a face mask to match. Check out its many child-size masks for Star Wars, Disney princesses, superheroes, and all things mouse-related. The masks are dual-layer, adjustable, and include a filter pocket.

LittleNerds makes Halloween face masks sized to fit ages 2-5 or 6-12.
These dual-layer, adjustable face masks for kids come in spooky skulls just right for Halloween, colorful superhero themes, and gamer favorites. Designs are selling out fast at this Esty shop, so we're hoping she adds more in time for the season.
Your teens can pick from among a black forest, mummies, glow-in-the dark vampire fangs, black cats, and more design-centric Halloween face masks at this Etsy shop. Masks are dual-layer, adjustable, and fully cover the nose and chin with a 3D design.