Halloween in Salem, MA: Spooky, Not-Too-Scary Activities for Kids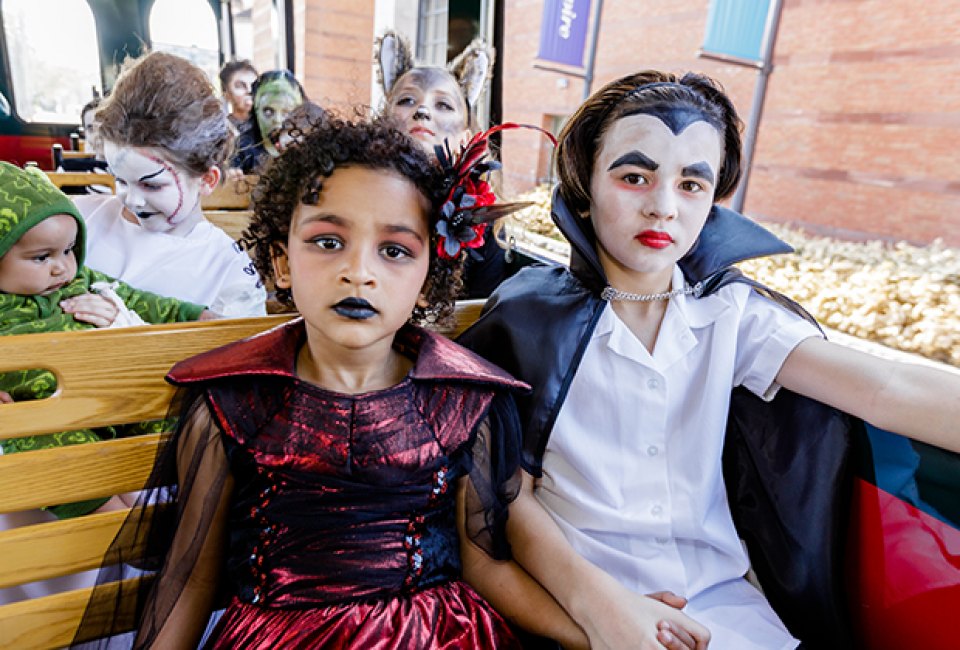 9/30/19
- By
Kelley Heyworth
If your kids are Halloween-obsessed like mine, you know how lucky you are to live close to what may be the country's Halloween capital: Salem. Despite what you might have heard about "Witch City," it's not all scary stuff. Many of the events happening in Salem over the next month are tailor-made for families, replacing most of the tricks with treats. There's a Wednesday program just for kids, and some old favorites have slowly become more fun than frightening over the years. If you've never done fall in Salem, it's time!
Wicked Wednesdays
October 2, 9, 16, 23
Salem devotes October Wednesdays to family fun, with lots of programming for kids at various spots around town. There will be musicians, face-painting, kid-friendly walking tours, and interactive events geared for the under-12 crowd. Each Wednesday will be different. Some highlights happening each week include Halloween crafts at the Salem Maritime Historic Site, Make-Your-Own Pumpkin Collages at The Witchery, Salem Kids' Tours (see more details below), and free admission to do a navigation/scavenger hunt game at The House of Seven Gables. Free-$
Haunted Happenings Grand Parade
October 3
The festive Grand Parade in Salem serves as the official kick-off of the Halloween season in the city. Free
Mayor's Night Out
October 4
Halloween may still be a few weeks away, but kids can trick or treat with Salem's mayor, Kimberley Driscoll, during the Mayor's Night Out. free
Lanterns in the Village
October 4
See Pioneer Village aglow with jack-o-lanterns while you sip warm cider and cocoa. Buy tickets soon here—this cool event sells out! $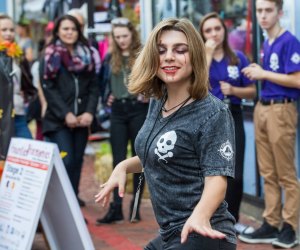 A capella street performances and a midday competition make October 13th a frightfully musical day in Salem. Photo courtesy of Haunted Harmonies
Haunted Harmonies
October 5
Bringing young vocal groups from all over New England, this a capella singing competition with spontaneous performances throughout downtown Salem throughout the day. Think Pitch Perfect...with costumes and a Halloween twist.
Great Salem Pumpkin Walk
October 17
This self-guided tour leads families through more than three dozen local businesses to find spectacularly decorated pumpkins in each location. Start at the Witch House on Essex Street.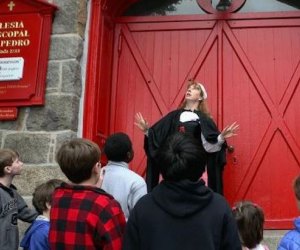 Salem Kids' Tours are designed especially for families so kids can learn the not-too-scary side of history of Salem. Photo courtesy of Salem Haunted Happenings
Salem Kids Tours
Various days, September and October
Best for ages 5 and up, this Salem walking tour designed expressly for families is a one-hour stroll with an animated, costumed guide who shares the story of Salem and the history of witchcraft in a kid-friendly way. $
Black Cat Historic Day Tours
Saturdays and Sundays through November 3
This walking tour around Salem, best for ages 6 and up, is less than a mile total, making it another good choice for kids. It will feature ancient burial grounds, interesting architecture, some historic information about witches, and some spooky stories. $
Haunted Biz Baz Street Fair
October 5-6
Entertainers, street performers, music, crafts, and food fill Essex Street while families mill around, in costume or not. Free
Frightening Family Flicks at 289 Derby Street
October 5, 12, 19, 26, 6pm
Bring a blanket to Charlotte Forten Park Saturdays in October to catch four family-friendly, not-too-scary flicks that are sure to get you in the Halloween spirit. Free
10/5: The Addams Family
​10/12: Coco
10/19: ParaNorman
10/26: Hocus Pocus
Halloween Finale Fireworks
October 31, 10:15pm
It's late, yes, but do we really expect our kids to be in bed at a reasonable hour after all those Skittles? The show will take place over the North River.
Keep in mind that many events sell out quickly, so buy tickets in advance when you can. And for the full calendar Halloween events, including some scarier stuff for older kids, check out the Haunted Happenings listings.
Top photo courtesy of Salem Haunted Happenings
Places featured in this article: