Outdoor Birthday Party Ideas for Kids' Birthday Parties in the Summer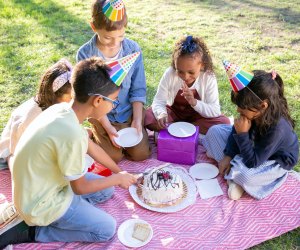 We put together a list of 11 sizzling kids' birthday party themes for outdoor party ideas, including activity suggestions, decoration ideas, and some memorable munchies that will make your kid's summer birthday party the event of the season.
Since many kids with a summer birthday don't get to celebrate during the school year and some friends may be out of town, we need to go all out with epic outdoor birthday party ideas sure to make the birthday child feel special. A kids' birthday party is all about creativity and we've got loads of inspired ideas that more than make up for missing cupcakes at school.
Take all the fun (and the mess) under the sun with these awesome outdoor birthday party ideas, all with a summertime twist, such as camping, fairy par-tea, outdoor movies, and lawn games. Get everything you need to complete your party, from the Perfect Kids' Birthday Cake Idea for Every Party to Birthday Party Favors that Go Beyond the Goody Bag at our Birthday Party Ideas Guide.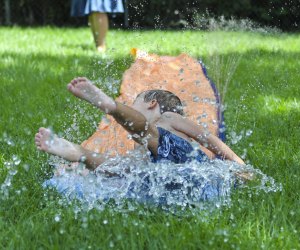 Sprinklers, water games, or water slides make for a Splash Bash. Photo by Lars Plougmann/CC BY-NC-ND 2.0
Outdoor Birthday Party Idea #1: Splash Bash
Summer birthday party ideas always start with soaking sprinklers on a hot day! All it takes is a little bit of water to create buckets of fun at this kids' birthday party theme: Splash Bash!
Activities: Set up kiddie pools and sprinklers for everyone to splash around in. Younger kids will have fun filling and spilling containers, while older kids will enjoy water guns and balloons. Everyone can have some fun making these simple pool noodle boats and setting sail for adventure. Slip-n-slides, water blasters, water balloons, and baby pools (or large backyard pools) are great ways to soak your party in fun!
Decor: Make sure all your decorations are waterproof—paper products won't do well once they're wet. You can even blow up and put out rafts for kids to lounge on during cake time.
RELATED: 25 Outdoor Water Games to Keep Kids Cool on Hot Summer Days

Squirt gun painting is a perfect outdoor activity for an art party. Photo by Ally Noel
Outdoor Birthday Party Idea #2: Messy Arty Party
Clean up is a breeze for an outdoor birthday party idea like art! Tell your guests to dress for a mess and let the creativity flow.
Activities: When mess is not a hindrance, the possibilities for fun are endless. Cover the ground with a drop cloth and let your guests splatter paint all over it, or fill balloons with paint and let them pop. Water gun painting is another option, and it's the perfect mixture of two favorite summer pastimes: squirt guns and painting (try Goblies loaded with play paint goo). These bubble wrap games make for some seriously hilarious and messy fun, too. Make cleaning up your guests part of the fun by running through the sprinklers at the end of the party.
Decor: Keep the artistic juices flowing in your summer birthday party decorations. Decorate with bright primary colors or serve your food on artist palettes. Art supplies, such as crayons, markers, or a watercolor set make a great party favor.
Outdoor Birthday Party Idea #3: Outdoor Movie Night
This summer birthday party idea comes together so easily for kids of any age. Ask your guests to bring their own blankets, quilts, or lawn chairs to make sure you have enough seating, and set up an outdoor movie night so kids get a chance to watch a movie under the stars. Not sure what movie to watch? Choose from our giant list of the Best Summer Kids Movies for Family Movie Night.
Activity: Obviously, the movie is the star of the show at this kids' birthday party. You can purchase an outdoor screen, or make your own using a white sheet. Make sure to test out the projector and sound system well in advance of the party to fix any technical problems.
Decor: String up a few twinkle lights and a decadent snack bar with all the usual movie snacks to pull this theme together.
RELATED: Beyond the Goody Bag: 10 Great Birthday Party Favors for Kids

Gather around the campfire for s'mores at an outdoor camping birthday party. Photo courtesy of Virginia State Parks
Outdoor Birthday Party Idea #4: Camping Party
Set up camp in the great outdoors and invite friends to gather 'round the backyard fire pit. Dress up this cozy backyard camping party with staples from the outdoor section of the sports store; use lanterns, flashlights, and other camping gear to create the perfect camping spot right in your backyard.
Activity: You don't actually have to sleep in a tent to have fun camping. Invite your guests to arrive about an hour before sunset to get the party started. Make a classic camp craft like tie-dye or friendship bracelets, and then light a campfire for s'mores. Once the sun has set, it's time to tell some campfire stories and play a round (or two) of flashlight tag.
Decor: Besides the flashlights and campfire, you might add sleeping bags and a tent or two for the kids to play in. A s'mores' station will up your party food, too. Load it up with flavored marshmallows, cookies, peanut butter cups, and anything else you can smush into a s'more. Other eats might include trail mix, grilled hot dogs, and other classic camp food.
Outdoor Birthday Party Idea #5: Lawn Game Party
Let the games begin! When the sun is shining, who wants to sit around inside playing board games? Transform the backyard with larger-than-life games for a lawn game birthday party for kids.
Activities: DIY or buy giant-sized lawn games for everyone to enjoy. You can create an oversize Twister board by spray painting the grass red, yellow, blue, and red. Set up corn hole and giant Jenga and Connect 4. For tweens and teens, host the party at nightfall for a glow-in-the-dark lawn party. Hand out glow sticks and add a little "glow" to all your games, including ring toss and glow stick tic-tac-toe. You can even add a little extra kick to whiffle ball by inserting a glow stick into the porous ball. And don't forget about all the classic outdoor games that don't take much more equipment than your imagination.
Decor: Use the Twister game (or another favorite game) as inspiration for the decorations. This Twister cake is a pretty simple semi-homemade option using premade colored fondant. A twister game board makes a pretty awesome tablecloth as well. Party favors can include mini versions of any of the games.
RELATED: Classic Outdoor Games for Kids

Ninjas in training and aspiring super spies love an outdoor obstacle course party. Image courtesy of Jac of All Things
Outdoor Birthday Party Idea #6: Obstacle Course
On your mark, get set...go! If you have a budding American Ninja Warrior in your house, then this party is for you.
Activities: Pool noodles, rope, buckets, a plank of wood, caution tape, streamers, and a lot of planning is what it takes to build a backyard obstacle course. Of course, there are a lot of ways to personalize this party with activities your kid prefers, including particular games. Kids can also dress like superheroes, ninjas, or spies as they attempt the course. Got a Wimpy Kid fan? You can make an obstacle course Rowley would love.
Decor: Hand out reusable water bottles (maybe filled with a couple of treats) as great party favors. Keep the decor simple, making the obstacle course the star, or play up a particular activity included in the course.
RELATED: Ultimate Summer Bucket List Ideas for Kids

A little magic and wings make for a magical fairy garden party. Photo by Alan Jones /CC BY 2.0
Outdoor Birthday Party Idea #7: Fairy Garden Par-Tea
Grab your wings and head to the backyard for this magical outdoor tea party. Fueled by the power of imagination, the Fairy Garden Par-Tea is the perfect reason to bring out your glitter.
Activities: Use real flowers, mason jars, and your imagination to create mini fairy gardens terrariums during this kids' party. A wand-making station is a must at this fairy summer birthday party idea. Use sticks, flowers, grasses, and ribbons to create nature wands.
Decor: Encourage guests to come dressed as fairies. Rename food and snacks with creative, magical names: Banana chips are "chipmunk chips," water or lemonade are "morning dew," and pretzel sticks are "twigs." The terrarium and nature wand easily become the take-home party craft and favor in one.
Outdoor Birthday Party Idea #8: Color Wars
Color wars is a beloved summer camp event and the perfect theme for a summer birthday party! It's a fun way to foster team unity and creativity, while letting kids burn out their energy.
Activities: Create three to four color teams (based on how many guests are coming) and hand out bandanas in the respective colors to each child (use matching face paint as well). Each color must come up with its own team cheer and create a team logo or sign. Additional activities include playing dizzy bat (where kids put their foreheads to an upright baseball bat and run around it five times before running back to their teams in a straight line) and launching color powder balls as the last activity of the day (be prepared, it gets messy).
Decor: Serve foods that represent the team colors: Strawberry and watermelon skewers for Team Red, blueberry and blackberry skewers for Team Blue, banana and pineapple for Team Yellow, and kiwi and green grapes for Team Green. You can also set up an arts and crafts table stocked with everything kids need to be a few of these rainbow crafts.
RELATED: Birthday Freebies for Kids

Hosting a Pirate Party outside means loads of room to walk the plank! Photo by Barney Moss/CC BY 2.0
Outdoor Birthday Party Idea #9: Pirate Party
Avast ye mateys, it's time to talk, walk, dress and have fun like a pirate during this summer birthday party idea!
Activities: Put out arts and craft supplies, including long foam pieces, so kids can create their own swords and eyepatches (make sure there's an adult around to help with the fitting). Have kids walk the plank—set out cardboard "plank" and let them jump into a foam pit or baby pool. Kids can also create their own pirate names, do a backyard treasure hunt, and play capture the (pirate) flag!
Decor: Hang a skull and bone flag, speak in pirate jargon, and use lots of black, white, and red. Of course, make sure to serve Pirate's Booty, as well as Goldfish (otherwise known as "shark bait") and blue Jell-O. Let the sword craft project serve as the party favor. For cake, try making a pirate cake, pirate ship cake, or treasure chest cake filled with chocolate doubloons and candy jewelry.
Outdoor Birthday Party Idea #10: Summer Olympics
Let the Summer Olympics serve as inspiration for this wonderful outdoor birthday party idea. Come up with your takes on classic Olympic events.
Activities: If you want to take it to the next level, have each child represent the country of his or her choosing ... or better yet, have them create their own country names. Then children can compete in activities like hula hoop, bubble blowing, wheelbarrow races, shaving cream long squirt, and more.
Decor: Create the Olympic rings by using hula hoops, pool toys, or posters. Creative snacks include "gold medals," (made with Golden Oreos and fruit by the foot chain) and Olympic flames (fill ice cream wafer cones with Cheetos). Make your own sheet cake, cover in white icing, and use M&Ms to create the five Olympic rings on top.

A kiddie splash pool is the center of a beach-themed party, and kids of all ages have fun getting wet! by Paul Schultz/CC BY 2.0
Outdoor Birthday Party Idea #11: Beach Babies
Whether you live near the beach or in a land-locked city, a beach theme is fun for any backyard kids' birthday party.
Activities: Fill up a few baby pools with sand and stick shovels, buckets, and shaping tools inside—then throw a sand castle contest. A willing adult can dress like a mermaid and kids can play Find the Mermaid outside. Create a sand art station and let each child's creation serve as their party favor. Borrow surfboards and boogie boards for kids to practice their best surfer poses.
Decor: Decorate the backyard with lots of beach gear like beach balls, beach umbrellas, colorful buckets, and plastic sunglasses. You can even get a sound machine and play ocean sounds during the party for a realistic effect. Serve popsicles of all shapes and sizes to cool kids off and fit the theme!
All images by the author except where noted