15 Ideas for a Fun Winter Olympics Party with Kids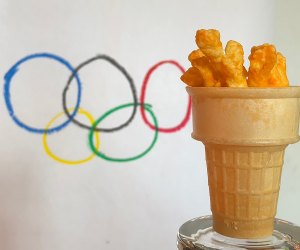 In addition to being incredibly cool and thrilling—flips off the halfpipe! football-field-length ski jumps! a sport actually named skeleton!—the Winter Olympics offer a time to come together with family and friends and feel pride in our country's athletes. Most importantly, in the Olympic spirit, the Games allow us to connect with other cultures. I say that calls for a celebration of Olympic proportions! Here are 15 ideas for a kid-centered Winter Olympics party; we've chosen simple, inexpensive, and fun ways to get together and celebrate the excitement of the Olympics, cultural understanding, wintertime, and family time.
DECORATIONS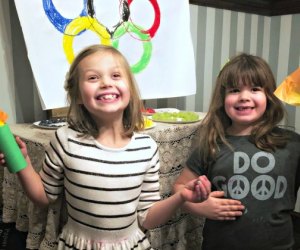 For decor, think rings and "torches."
1. Use white poster board or a long sheet of paper (from your kid's easel) for some official looking signage. Draw the Olympic rings, using two different sized plates as your guide for the inner part and the outer part of the rings. Hang up your Olympic flag in a central location or drape your Olympic table runner on the food table.
2. Make a banner from this Winter Olympics events printable by Dolled Up Design, or get a banner of international flags from the party store.
3. Party stores and Amazon have fabulous international flag themed paper goods, but you could also go with plates, napkins, cups, and plasticwear in solid Olympic ring colors—red, cobalt, yellow, green, and black.
ACTIVITIES & GAMES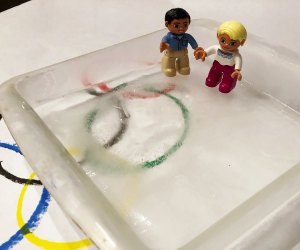 The Pyrex dish doesn't even need a Zamboni to be smooth enough for skating.
4. Get out some energy with balloon hockey! It's easy to play and surprisingly engaging for kids of all ages. We transformed some long cardboard tubes (from wrapping paper) and cardboard squares into "hockey sticks." Simply cut two rectangles out of cardboard and tape them to one end of the cardboard tubes. We used packing tape, but duct tape would probably create a more sturdy stick. You can use an empty box as a goal, or just mark off an area on the floor. Add a black balloon to make a perfect indoor puck that won't knock any teeth out.
5. Create an obstacle course and have parents and kids race through, holding a "torch" made of an ice cream cone filled with Cheetos. If they spill any, they have to start at the beginning again. Or, to add a crafty element, make your own paper torches out of empty toilet paper tubes and yellow, orange and red tissue paper.
6. A couple of days before the party, help your kids make miniature Olympic competition venues. We made a ski slope, a skeleton run, and an ice rink. For tutorials, take a look at the mini ski slope and mini ice rink from Toddler Approved. When it's party time, pull out the little plastic people your kids have stashed all over the house and use them as tiny athletes who are competing. Glide them on the mini ice rink or tape on some popsicle-stick skis and race them down the mini ski slope (my son also put his Playmobil people in milk bottle caps for a tubing race).
7. Who isn't intrigued by curling? Try a mini-version of the sport with this Tabletop Curling printable from CBC Parents. Or if you want to go simpler, cheaper, and way sillier, try Pom Pom Curling from Family Fun/Parents.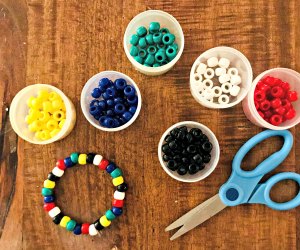 These Olympic-ring-color bracelets are fun to make and can be worn again and again as the Games go on.
8. Set out an assortment of pony beads in Olympic-themed colors, some stretchy beading string, and safe scissors. Kids can make black, red, green, blue, and yellow beaded bracelets to wear through the Olympic season.
9. Craft some Olympic torches: We had our guests create their own personal torch when they arrived. These came together pretty quickly using flame-colored tissue paper and a toilet paper roll. We kept ours rather plain, but you could dazzle them up a little bit with glitter and gold.
10. After the kids play whatever games you've set out, reward them with gold medals. To make them (in advance), use gold chocolate coins or jar tops and ribbon. Attach the ribbon to the gold coin with hot glue. We happened to have some patriotic ribbon (like this), but you can use any ribbon, really.
FOOD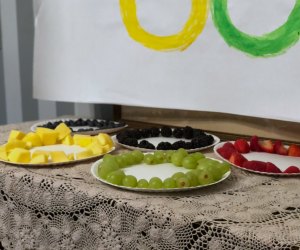 This Olympic-ring-inspired fruit tray couldn't be easier to assemble.
11. When kids are involved, you can't go wrong with Olympic ring pizza and Olympic torches made from ice cream cones filled with Cheetos or popcorn (both from Living Well Spending Less).
12. Why not honor the food of our host country, South Korea? Korean Beef and Rice is a real crowd-pleaser: Working off this delectable recipe from Cookies & Cups, we used an Instant Pot to get the beef nice and tender, but this recipe can be made ahead of time in a slow cooker as well. The aromatic flavors of garlic, ginger, and citrus made our mouths water. We served ours over rice, but I can totally see this being made into a tacos with some kimchi and scallions to add some multicultural flair.
13. If you have friends who want to contribute to the feast, an international potluck is a no-brainer for an Olympics party. Ask your guests to bring a dish to represent their country of origin or any country they feel connected to in some way. You can get some little international flag toothpicks at a party store to mark each dish.
14. We are celebrating physical feats, so some health-conscious food is approrpriate: Our Olympic ring fruit tray was a hit with the kids!
15. Top off the evening's culinary delights with the apex of winter treats, a hot cocoa bar. Keep the cocoa warming in a crock pot, surrounded by decadent mix-ins and toppings like white chocolate chips, crushed peppermint, mini marshmallows, chocolate dipped spoons, and whipped cream. Serve with easy-to-make Korean sesame seed cookies, also known as ggae gwa ja (thanks, Genius Kitchen!).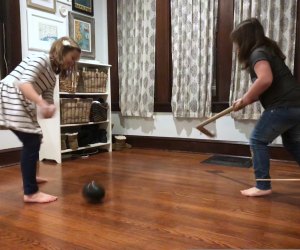 Wrapping paper tubes and balloons combine for a safe and simple game of floor hockey.
Originally written by Tara D in 2014, updated by Ally Noel in 2018; photos by Mommy Poppins