The Adventures of Tortoise & Hare The Next Generation
The Sheen Center

The Very Hungry Caterpillar Show
DR2 Theatre

NYC Easter Brunch Cruise 2023
Event Cruises NYC
Sign up for our free newsletters.
How to Turn Your Backyard or Neighborhood Into an Interactive Adventure Map This Summer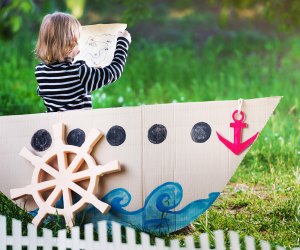 7/6/21
- By
Jessica Laird
Fight summer slump by creating an interactive adventure map with your kids that turns your backyard, neighborhood, or nearby park into a one-of-kind adventure!
Taking inspiration from Rowley Jefferson's Awesome Friendly Adventure—a sharp, funny, fantastical addition to the Diary of a Wimpy Kid series from #1 international bestselling author Jeff Kinney—a hands-on map can take kids on a journey of epic proportions. Read on to find out how to make your map and where you can snag Rowley Jefferson's other chart-topping books, plus the rest of the Wimpy Kid collection.
How to Create a Backyard Treasure Map or Obstacle Course
Decide What Kind of Adventure Map to Make
All sorts of adventures await out there—decide which kind is calling your kids' names! Do they want to create a treasure map where clues hidden at special landmarks lead a friend, sibling, or parent to a hidden surprise? How about a scavenger hunt where kids need to find a series of specific items? Or would they prefer more of an obstacle course where participants tackle a number of challenges in order to complete their journey?
Consider the Story Line
In Rowley Jefferson's Awesome Friendly Adventure, Rowley imagines himself as a boy named Roland whose mom has been kidnapped, and he sets out to save her. Along the way, he encounters rock-throwing trolls, a threatening Medusa who tries to turn people to stone, and a giant hand that squishes people. Get creative and consider the story behind participants' journey and the challenges they might face along the way. Are you pirates looking for buried treasure? Or kids trying to save the neighborhood from a scary grass-eating monster?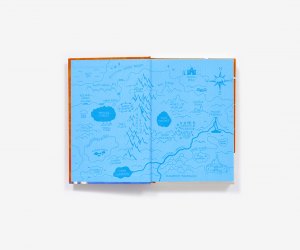 In Rowley Jefferson's Awesome Friendly Adventure, Rowley sets out on an adventure to save his mom.
Assemble Your Backyard, Neighborhood, or Park Adventure
If you've opted for a treasure hunt, find landmarks to add to your map where you can also hide clues—like in a mailbox or under a doormat. For a scavenger hunt, think up fun items participants will need to find. Maybe they need to spot a bird in a tree or find something they can ride on. If you've opted for obstacles, look at what materials are accessible—like bats and balls you own or play equipment in the park—and create challenges for your adventurers. Do they need to fill a bucket with a hose and carry it across the yard without spilling it? Or maybe do 10 jumping jacks before heading down the slide?
Draw Your Map
Once you know your landmarks, you can get to work your map! Use whatever materials you have on hand—pencil, crayons, markers, paper, cardboard—or download this Awesome Friendly printable as a jumping off point. Look closely at your yard, street, or park to make sure you capture important details, and don't forget to draw whatever spots adventurers will need to find in order to complete their journey. For a bird's eye view of the area, a parent can even download an image on Google Maps for kids to work from.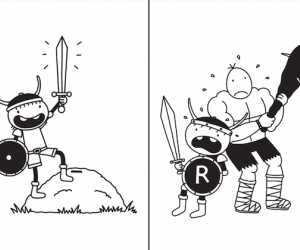 Rowley encounters rock-throwing trolls, a threatening Medusa, and a giant hand on his wild adventure.
Set Out on the Journey
With your adventure assembled and your map drawn, it's time to get moving! If your kid can't take part in their own adventure, maybe you can take on the challenge. Otherwise invite a sibling, friend, or neighbor to get in on the fun. Kids can take turns creating new adventures for each other.
Imagine Where Rowley and Garg Might Go
In Rowley Jefferson's Awesome Friendly Adventure, made-up characters Roland and Garg the Barbarian explore so many places as they leave the safety of their village on a quest to save Roland's mom from the White Warlock. Download and print this map, then draw the places you imagine the pair might go.
Don't miss out on all of the bestselling Awesome Friendly Books by Jeff Kinney, which include Diary of an Awesome Friendly Kid: Rowley Jefferson's Journal and Rowley Jefferson's Awesome Friendly Spooky Stories. Plus, you can find all of the Diary of a Wimpy Kid books here. Perfect summer reading!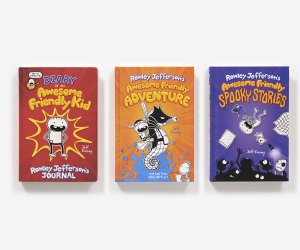 Don't miss out on any of Jeff Kinney's bestselling Awesome Friendly Books.
™ and (c) 2021, Wimpy Kid, Inc.