Crazy Awesome Pool Floats for Kids and Babies This Summer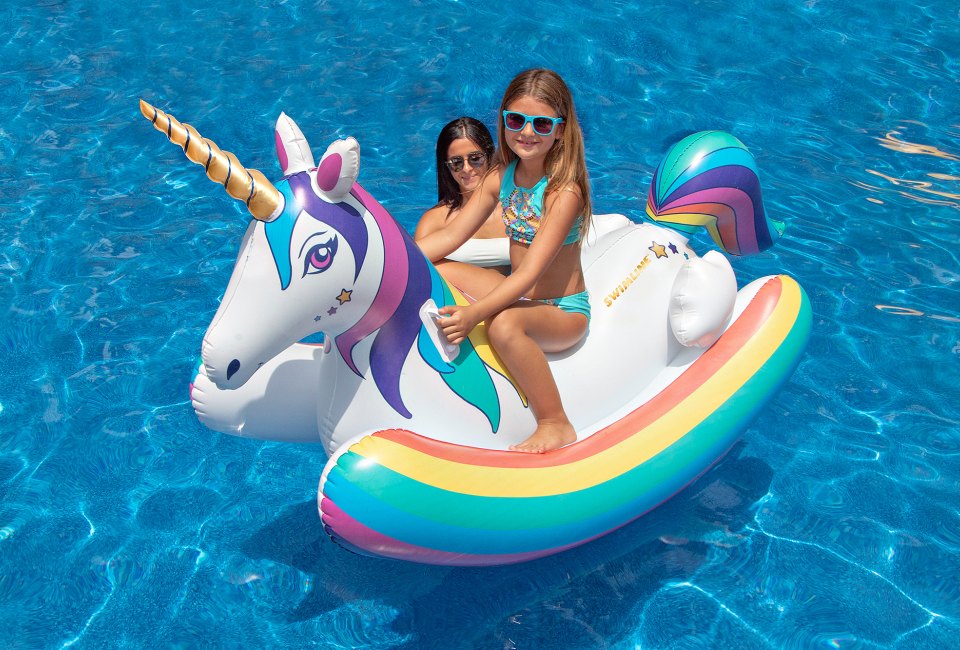 6/13/19
- By
Sally Chaffin Brooks
Long gone are the days of the boring rectangular pool float that popped almost as soon as you finally filled it with air. Today's kids can hit the pool with a fabulous float in almost any design they can imagine, from the Millennium Falcon to a giant slice of pizza to adorable unicorn floats. The best part? Parents can order these pool toys all online and have them delivered right to your doorstep. Check out our list of 11 crazy awesome pool floats for babies, kids, and teens in the summer.
Find all the summer fun near you in your local Summer Fun Guide, and more great ways to cool down this summer in our Beaches, Lakes, and Pools Guides.
Best Toddler and Baby Pool Floats
Ages 6-24 months
You'll feel safe with your little nugget in this wide float that provides extra stability. The removable shade canopy keeps baby's delicate skin safe, too. It's never too early to teach them to swim with sharks.
Ages 1-1 (up to 50 pounds)
Get your toddler piloting their own destiny with this cute airplane float. The steering wheel spins and the horn beeps, too!
RELATED: Best Outdoor Games and Toys to Make Your Kids' Summer a Hit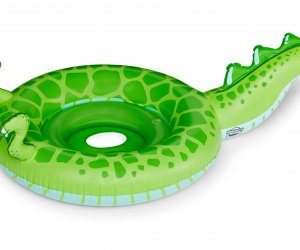 A dinosaur float is just right for growing tots.
Ages 1+ (up to 45 pounds)
Your kiddo can become the king of the pool with BigMouth, Inc.'s ferociously adorable dinosaur pool float. Even the littlest T-rex will feel safe in the water with the supported seat and leg holes.
Cool Pool Floats for Kids and Teens

The kids will definitely fight over who gets to ride this spaceship!
Ages 3+ (up to 140 pounds)
Up the fun factor with this ride-in spaceship float for kids from Swimline. It's part float, part pool toy as it comes equipped with a squirt gun to ward off alien invaders, intergalactic hooligans—and pesky siblings.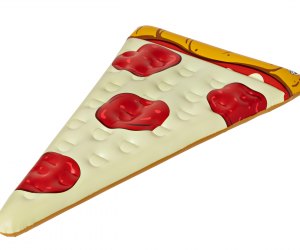 Big kids can grab a ride on this extra large slice.
Ages 8+ (up to 176 pounds)
Who hasn't dreamed of ordering a 6-foot-long pizza? Grab a slice of summer with this hilarious pepperoni float.
RELATED: Best Outdoor Water Parks Across the US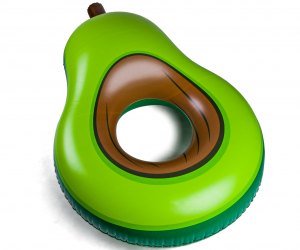 Little foodies might enjoy a ride on an avocado float.
Ages 4+ (up to 200 pounds)
We've found the one avocado that will stay ripe all summer long. BigMouth Inc.'s avocado pool float is almost 6-feet long and ready for a dip in the pool.
Ages 5+
Make all of your kids' (er, your?) Star Wars fantasies come alive as they catch a ride to the dark side with Darth Vader.
Ages 14+ (up to 200 pounds)
There'll be no drama, momma, when your kids are floating around in the family swimming pool on this Sun Squad llama float. This one is for the big kids, as it's easy to fall off it, but it's also really comfortable for mom to borrow...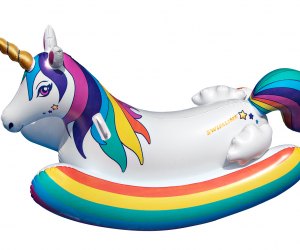 Two teens can hit the pool together on this unicorn float that rocks back and forth.
Ages 16+
Unicorn floats are everywhere these days, so it had to be a pretty special one to make the list. This Swimline rocker float that can handle up to two riders is that unicorn of unicorn floats we were looking for this summer.
Ages 3-8
This adorable ride-on is perfect for smaller kids and smaller pools. Who hasn't wanted to swim with the sea lions?
Ages 7+ (up to 200lbs)
This one is a little pricier, because it comes with two cool chickens you can ride on to do chicken fights in the pool! No more using parent shoulders to battle each other; now parents can even battle kids. First one to flip your opponent into the water wins.
All photos courtesy the manufacturers or retailers.
Some of the above links may be affiliate links, which means that we might earn a small commission if you make a purchase. However, we only recommend products and services that we have personally used or thoroughly researched.

Sign up for our free
newsletters.
Mommy Poppins is a family activity website that helps people find things to do with kids.
©
2023
MommyPoppins. All Rights Reserved.
mp-prod4-v4.32.99
We use cookies and other data collection technologies to provide the best experience for our customers.
Learn More
t Click Here to Sign Up!