Best Bubble Guns: Up Your Water Gun Fun This Summer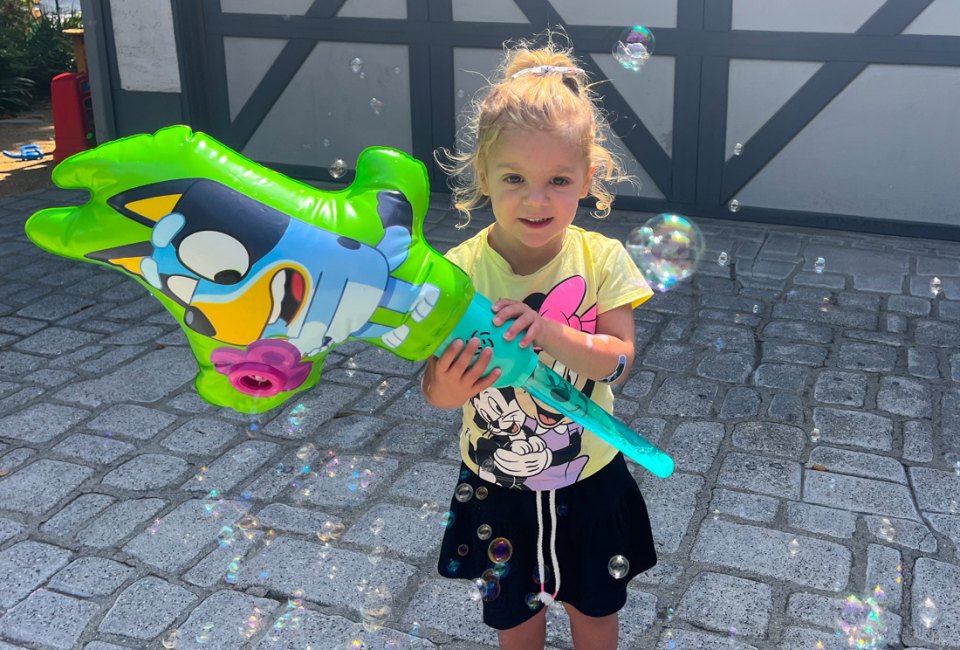 6/22/23
- By
Amelia Eigerman
Bubble guns are the best way to take your backyard play from fun to magical. This summer, water guns are out and bubble guns are totally in. From party-grade bubble machines that can crank out thousands of bubbles to adorable bubble toy wands for your toddler, we researched and tested all the best bubble guns and bubble toys so you can know which toys will keep playtime going all summer long.
Ramp up the bubbles with a great foam machine or foam toy. For more wet summer fun, check out our favorite inflatable pools & backyard toys, plus these cool water games for kids. For more ways to make this summer funner, check out our Ultimate Kids Summer Vacation Guide, packed with hundreds of things to do for kids of all ages!
Subscribe to our newsletters to stay up to date on all the best things to do this summer.
Best Bubble Guns
You really can't beat the Bazooka bubble gun. With 69 holes, this toy produces thousands of bubbles in under a minute. It is easy to use, chargeable, and has a great battery life. It comes in multiple colors and honestly, if you're only getting one bubble gun or wand this summer—or have a range of ages that will want to play with it—this was the best one we tested.
These bubble guns come in sets of two, perfect for any backyard battles you are planning this summer. The bubble gun sets are available in a variety of colors, including a super cool transparent version. They boast a long battery life and come with bubble solution refills.
This bubble gun toy is specifically designed to be easy for kids to use. With its special trigger design, kids won't have to worry about holding down the trigger the entire time they are shooting bubbles, so no tired fingers at the end of the day. That's why kids love it. Our mom tester loved this one because it was super durable and didn't break even when her kids really put it to the test.
RELATED: Backyard Science Experiments for Summer Fun



Blow thousands of bubbles a minute! Boerfmo Bubble Gun photo courtesy of the Boerfmo Store
Get ready for some intense bubble action with this bubble gun. This toy can blow thousands of bubbles a minute and is equipped with an LED light to make the bubbles even more spectacular. The bubble solution is also held tightly within the design, preventing any sticky leaks.
These bubble guns have an adorable astronaut theme, perfect for imaginative play. While small in size, they actually produce plenty of bubbles. This toy is intended to be easily portable and spill-proof. Try taking them on your next vacation or just along with you to the beach or pool.
RELATED: Classic Outdoor Games from the '70s

This Ballooble toy gets your Spidey senses tingling. Photo by Kylie Williams
Best Bubble Toys for Toddlers
One of the Mommy Poppins moms tested out several of the bubble machines with her kids, and the Ballooble Bubble Machine was one of her kids' favorites. This bubble wand features a favorite character (they chose Spiderman). Mom's favorite feature: It's unspillable.
This adorable bubble toy looks like a tiny lawn mower. This bubble toy is perfect for younger kids who still like to have something to hold onto while walking around. It's easy to put together, will hold up well even with some rough play, and it doesn't disappoint on the bubble front.
If you're looking for something a little more classic, or if you need to supply a party of kids with bubbles, these simple wands are for you. They come in a variety of tube colors and produce tons of lovely bubbles. You can also purchase refills if you'd like to reuse the tubes next summer.
This Baby Shark bubble machine *could* sing the Baby Shark theme song over and over. Thankfully, it also has a silent setting. Tons of fun for Baby Shark obsessed kids, and parents can silence it when the song wears out its welcome.
For anyone with a focus on style, this bubble wand is certainly a looker. With a flamboyant fairy design (think pink, bows, the whole nine yards), any princess in your life is sure to love this bubble wand. In addition to bubbles, this wand also has music and lights.
RELATED: Kids Summer Vacation Guide

Fubbles Light-Up Bubble Torch takes you from day to night. Photo courtesy of the Little Kids
This bubble torch (or flashlight to those of us in the US) adds lights to the bubbles experience. It's perfect for a nighttime bubble fest or even some bubble-infused flashlight tag. Our kid testers think it's extra fun on warm summer nights.
This bubble leaf blower has got you covered if you want bubbles and you want them fast! It's made for tiny toddler hands but don't be fooled, it still produces tons of bubbles. It also comes with several bubble solution refills.
Check out these dueling whale bubble guns for your next bubble battle. The toys are easy to use and designed for tiny hands. Each order comes with 4 bottles of bubble solution to keep everything flowing all summer long.
This Bluey bubble microphone is sound activated and only blows bubbles when it is being sung into. This helps avoid endlessly looping audio and encourages play. Our kid testers wanted to keep the bubbles going, and playing with it prompted a spontaneous bubble concert in the front yard!
Best Bubble Machines
This top-of-the-line bubble machine offers intense bubbles. Perfect for parties or just some backyard fun. However, you should be aware that this machine does need to be plugged in to run, and you will have to purchase bubble liquid separately.
With its unique shape and no-spill promise, this bubble machine is a big hit. This toy has a large reservoir and can run for up to one hour continuously, meaning more bubble time for your kids, and less time spent refilling for you. The motor is very quiet on this machine as well, making it great for quiet sensory play.
RELATED: Essential Beach List of the Best Baby Beach Gear, Umbrellas, and Wagons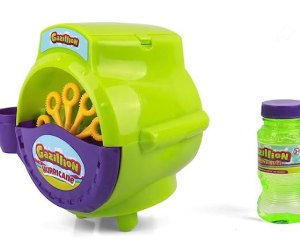 Looking for lots of bubbles at a great price point? Photo courtesy of the Gazillion Store
When it comes to price tag, this bubble machine hits just right. This toy is affordable but still plenty of fun. It features a reservoir to allow bubbles to continuously run, and several bubble wands to produce a large volume of bubbles. We'd recommend stocking up on additional bubble solution as the refill that comes with this machine is rather small.
Who doesn't want a seal-shaped bubble machine? Don't worry, this bubble toy isn't all style and no substance. This toy produces thousands of bubbles per minute, has a convenient detachable reservoir to make clean-up easy, and features two easy-to-operate modes so you can customize your play. What are you waiting for?
Click Here to Sign Up!
i