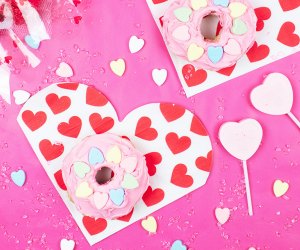 20 Ways To Show Your Kids You Love Them This Valentine's Day
Valentine's Day looks a little different for most kids this year, without the excitement of card and candy trading at school. But parents can show kids just how loved and adored they are by showering them with attention and extra special activities and treats. We rounded up our favorite ways to celebrate together at home with crafts and activities for kids that appeal to all ages and interests. Spend time together baking heart-shaped Valentine's Day treats, whipping up a batch of Valentine's Day crafts (we even found Valentine's Day STEM projects), and toasting your loves with a mocktail—every one of these ideas says "I love you!" loud and clear.

Tea time treats taste all the sweeter when you make them together.
1. Have a Tea Party
Pinkies up! Tea doesn't have to be just for two this Valentine's Day. Set a lovely table with doilies and homemade hearts, make some decadent heart-shaped tea sandwiches, and get all dressed up in your Valentine's Day finest to celebrate the day with loved ones. Gear the festivities to younger kids by using a toy tea set and serving pink lemonade.

Almost any favorite food can be heart-shaped, from pasta to pepperoni.
2. Make a Fancy Heart-Shaped Dinner
From quesadillas to homemade pasta, have some fun with your Valentine's Day dinner by putting a little heart into it. This Valentine's Day, spend some time in the kitchen preparing a new recipe with your loved ones. With a heart-shaped cookie cutter, homemade pasta can easily be cut into noodles, avocado hearts can dress up a salad, or kick the evening off with a love-themed charcuterie board.
3. Hot Chocolate Date
What's cozier than a cup of cocoa? Snuggling up with your wee ones and enjoying a cup together! This recipe for pink Cupid's Hot Chocolate is the perfect treat to share with someone you love. You can also use red and pink sprinkles to make a batch of Hot Chocolate Bombs for the holiday.

The really special thing about these crafts is the time you spend together.
4. Craft With Love
Does your little one love to craft? Set up an epic craft date to show her just how much you love her. The possibilities are endless—use
doilies
to create unique prints and make t-shirts, transform
conversation hearts
into magnets with a drop of glue, or add a little light to the day by making these adorable
votives
.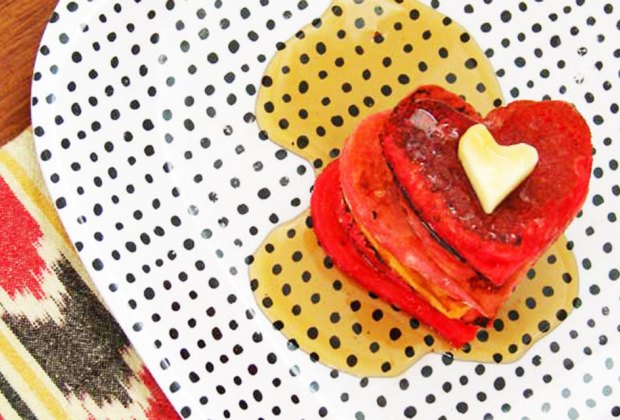 Everyone loves pancakes! Photo courtesy of hownowdesign
5. Everyone Loves Breakfast
Everyone knows that breakfast is the most important meal of the day, so show your family some love by kicking off your special day with some Valentine's Day treats. Pour some heart-shaped pancakes on the griddle, make a pink smoothie, and serve with a side of Cupid's Arrow Fruit Kabobs—this meal is the perfect way to say "I love you!" first thing in the morning.
6. 14 Days of Love Notes
This is one tradition that is easy enough to stick to year after year and create a tradition. All this super simple Valentine's Day activity requires is writing something you love about your child on a paper heart and taping it to their door each day in February. By Valentine's Day, their door will be covered with love.

Say fromage! After all, French is the language of love.
7. Set Up a Photo Shoot
Capture some priceless memories by setting up a Valentine's Day photo shoot. Whether you are capturing your love for your children or a sweet moment between siblings, a few photo props, an easy DIY backdrop, or red and pink outfits are all you need. Document your love for each other, and treasure it for years to come.

Nothing says "I love you!" like slime!
8. Make Some ValenSlime
Will you be my ValenSlime? For kids of a certain age, slime is truly their love language. Whip up a batch of one of these simple slime recipes. For a true multi-sensory experience, add some red or pink coloring, sparkles, or rose scent. This also makes a great non-candy Valentine's Day gift.
9. Ice Cream Sundae Board
Is it even Valentine's Day if you don't indulge a little ... or maybe a lot! This year, celebrate your sweeties with a little something sweet by creating an ice cream sundae board. Chocolate ice cream, cherries, strawberry sauce, raspberries, and a whole lot of Valentine's Day candies make this an absolutely delectable indulgence.
10. Create a Valentine Sensory Bin
Busy toddlers love a good sensory bin! These sensory experiences provide little hands a safe way to explore different textures and materials. From strawberry-scented rice to this Find the Hearts sensory bin, Valentine sensory bins are a great way to show your preschooler just how much you love them.

Now, here's a house Hansel and Gretel wouldn't be able to resist.
11. Decorate a Sugar Cookie House
Why should gingerbread have all the fun!?! Maybe you have a leftover gingerbread house from Christmas that you didn't use, or maybe you want to make your own out of sugar cookie dough. Whatever the case may be, these cookie houses are just asking to be decorated with all that sweet Valentine's Day candy!
12. Secret Cupid
Secret Cupid is just like Secret Santa, but with Valentine's Day twist. A week or so before Valentine's Day, write the names of everyone who wants to take part on a piece of paper, and have each person pick a name out of a hat. Each day for the week leading up to the holiday, leave your Secret Cupid a little gift. You can set a price limit and purchase small items such as chocolate or flowers, or keep things simple this year by writing love poems or leaving handmade cards.

Nailed It! The decorating is the second best part of baking. (The very best part is tasting your creation!)
13. Bake Something Sweet
Love is sweet, isn't it? The choices are endless: Let your little loves indulge in a feast of chocolate-dipped strawberries. Spend the day in the kitchen baking some banana chocolate chip oatmeal bites, mug cakes, or even delicious homemade ice cream. Or look like a real-life cake boss by making a gorgeous heart-shaped cake without a special pan. After it's baked, let the kids have fun decorating it with frosting and candy.

After a long day of crafting, soak up some alone time.
14. Love Yourself with a DIY Spa Day
Spend the day pampering yourself—you are worth it! Make this Valentine's Day extra special by lighting scented candles, setting up a manicure table (to paint your nails red, of course), and making some of your favorite bath products from scratch. Use silicone heart molds to create these bath bombs. And this conversation hearts sugar scrub will bring your Valentine's Day Spa to the next level.

O Gnomeo, Gnomeo, wherefore art thou Gnomeo? Photo courtesy of Miramax Film NY
15. Family Movie Night
What could be sweeter than snuggling up on the sofa with your loved ones? Gnomeo and Juliet, The Princess Bride, Enchanted, and Shrek are just romantic enough (but not too romantic!) for the entire family. Make the night extra sweet by whipping up a batch of Valentine's Day Popcorn.
16.Valentine's Day STEM Projects
Ever wonder why Cupid's arrow soars through the air? Make a Cupid's Balloon Rocket and find out! Observe the crystallization process by making your own rock candy, or engineer structures with paper hearts. Encourage a love of learning by setting up a variety of fun Valentine's Day STEM projects to test out.

Deck the halls with hearts and flowers, fa la la la la, la la la la.
17. Decorate the House
Pick a room, any room! It's February, celebrate all month long by decorating any room (or rooms) in your home for Valentine's Day. These beautiful homemade decorations will add a festive touch to just about any space. Why should Christmas get all the good decor?
18. Make a Mocktail
Say "Cheers!" with one of our scrumptious mocktail recipes. Keep things pink and fruity with our classic Shirley Temple, or decadent with a Frozen Hot Chocolate.
19. Make Homemade Valentines
There's nothing quite like a homemade Valentine. Younger kids can make these easy Valentine's Day cards, while older kids can spend some time writing a heartfelt message to loved ones. If you need a little motivation, check out these great tips on how to get started.
20. Make Heart-Shaped Pizza
Dear Pizza, You've stolen a pizza my heart. I pepper-only have eyes for you. Every pizza me, loves every pizza you. Love, Ally. If pizza is the way to your family's heart, then this heart-shaped pizza (with heart-shaped pepperoni!) is definitely speaking your love language.
All photos by author unless otherwise noted