New Hot Spots for New Jersey Kids and Families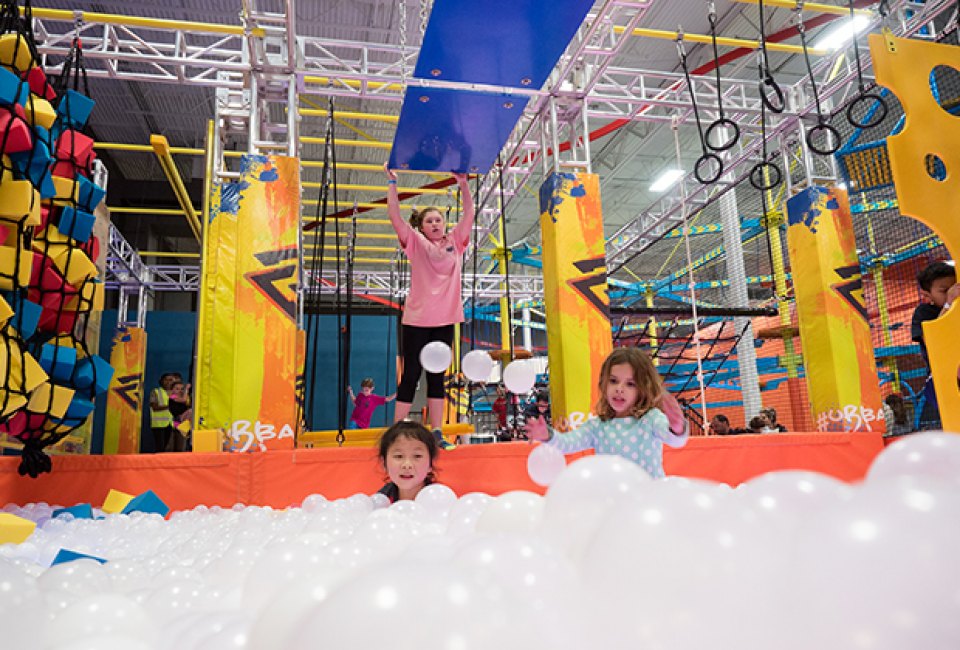 10/23/17
- By
Margaret Hargrove
These recently opened destinations for kids and families in New Jersey deserve a place on your family's bucket list.
Two Essex County playgrounds have recently undergone major transformations, with brand-spankin'-new play equipment just waiting for your kids to try out before the weather turns cold. If you're looking for a birthday gift, skip the big-box store on the highway and shop local at a cool toy store in Maplewood. Read the day away in a cozy children's indie bookstore, like the one you'll find in Bayonne, and when your family is ready for some action, head to Woodbridge for the grand opening of NJ's first Dave & Buster's. Or get the kiddos out of the house on a rainy day and burn off some serious energy at a new indoor trampoline park in Milltown.
And here's one that's worth a trip into the city: American Girl's flagship Midtown store is relocating to a new location on November 11, just in time for the holidays.
Read on to learn more about these new NJ hot spots, and find even more things to do in our Fall Fun Guide.
Playgrounds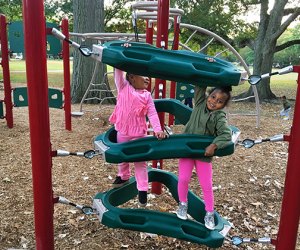 The recently renovated Grove Park playground features tons of cool climbing equipment. Photo by the author.
Grove Park — South Orange
Grove Park's aging equipment was replaced over the summer with modern, up-to-date play structures. There's a small section with slides designed for kids age 2-5, but the majority of the fun here definitely skews much older. For example, instead of using stairs to access the main slide, kids have to mountain-climb to the top. My 4-year-old was a bit intimidated at first, but after a few assists up the ladder from mom, she got the hang of it. An intricate climbing structure at the center feels like an obstacle course, as kids flow from the twisty monkey bars to the spider's web and then up and down a variety of walls with toe-holds. The large spinning merry-go-round with climbing nets at the center draws a crowd. It can go very fast, so keep a close eye (and hand) on your little ones.
A handful of baby and regular swings remains, but if you're looking for more for your little one, there's a toddler- and preschooler-friendly playground just around the bend behind Marshall Elementary School.
RELATED: New Jersey Playgrounds Cool Enough for Big Kids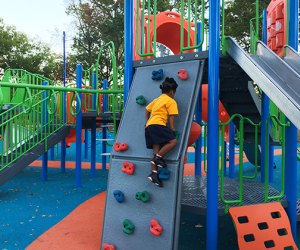 Kids of all ages will love climbing, sliding, and swinging at Ivy Hill Park's playground. Photo by the author.
Ivy Hill Park — Newark
Located in a Newark neighborhood directly behind Seton Hall University, this sprawling playground is one of the best in the area for families with kids of all ages.There's no shortage of play equipment in this 19,500-square-foot playground, which debuted its new look mid-summer. Two sets of swings and traditional playground climbing apparatus for ages 2-5 and 5-12 are the main draw. The playground is bookended by a cargo net climber and a cube climber, with a small spinning merry-go-round tucked away in the back corner. Tire swings and low-to-the-ground animal climbers are pretty cool extras you won't find at your typical playground. The perimeter is fenced in to prevent kids from running off, and parents will appreciate the soft rubber (read: non–wood chip) flooring.
Parking is a challenge, since the playground shares a street with several high-rise apartment buildings. If you're lucky enough to live nearby, your best bet is to grab your stroller and scooters and go on foot. Still, if you can manage an off-peak visit, it's worth it just to check out the expansive space and abundant equipment.
Shopping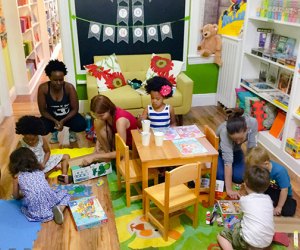 The Little BOHO Bookshop is a cheerful, cozy space for young readers. Photo courtesy of the shop.
The Little BOHO Bookshop — Bayonne
It's hard to imagine that Bayonne didn't have a bookstore until this lovely book shop opened its doors on July 31. Lucky for local residents and visitors alike, Little BOHO is now firmly a part of the city's thriving Bergen Point neighborhood. The cheery, lime green walls are lined with board books and picture books for the smallest readers. Ottomans, floor pillows, and low seating allow kids to get comfy as they crack open their new book. The shop also stocks young adult novels and New York Times bestsellers for adults, but if you don't see what you're looking for, just ask the owner Sandra Dear; the former book publishing executive can place a special order and have it in your hands in 48 hours. Be sure to grab a cup of coffee from Bake N' Brew Cafe next door to sip while your kids browse for their new read.
Storytime is held twice daily at 10 a.m. and 1 p.m. Tuesday – Saturday (the shop is closed on Sundays). Plans to expand to an outdoor patio space in the spring promises even more fun.
Toy Division — Maplewood
Maplewood residents Indira Villalobos-Starr and Silas Starr debuted Toy Division in June. After launching a line of cashmere dolls called Snuggly Ugly six years ago, the couple identified a need to offer other big-city dwellers moving to the suburbs a more elevated selection of products than you'd find at the local big-box retailer. This exquisitely curated store offers an array of children's toys, accessories and decor, many from locally-based makers. The low-tech and (mostly) non-plastic offerings include cuddly stuffed animals, an assortment of Kid O wooden playthings, cute and colorful backpacks with matching lunch bags, puzzles, dolls, coloring posters, and pretend-play accessories. Handmade quilts from local artisan Little Colley Design also make a great baby shower gift. Bonus: more than 60% of the toys are priced less than $25.
Indoor Entertainment
Dave & Buster's — Woodbridge
Now you won't have to cross state lines into New York or Pennsylvania to get your fill of arcade games and buffalo wings—Dave & Buster's is opening its first NJ location at the Woodbridge Center Mall on November 13. This gamer's paradise will be huge—approximately 34,000 square feet—with arcade games that range from classic skee ball and Pac-Man to Fruit Ninja and Mario Kart Grand Prix. Enjoy half-priced games from open to close on Wednesdays, and half-priced apps daily during happy hour. The kids' menu includes the usual fare—quesadillas, burgers and chicken fingers—plus slushy drinks topped with candy, and a towering brownie sundae made to be shared as a family.
RELATED: NJ Kids Get Aerial at Indoor Trampoline and Bounce Houses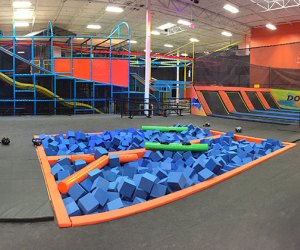 Jumping options abound at the new Urban Air Trampoline & Adventure Park. Photo courtesy of Urban Air
Urban Air Trampoline & Adventure Park — Milltown
There's no shortage of trampoline parks in NJ, and the latest franchise to hit the Garden State is Dallas-based Urban Air. Already in South Hackensack, Urban Air opened a Milltown location in September. Located right next to Target (score!), you can easily bribe your kids to accompany you to your happy place with a promise to bounce, jump, fly, and flip afterwards at Urban Air. Wall-to-wall trampolines, air basketball hoops, dodgeball courts, a climbing wall, and obstacle course are just some of the highlights at this jumping spot. A Thursday family special bundles jumping, pizza, and drinks, and on Friday nights the light go off for glow-in-the dark fun. The busy calendar will soon include weekly Jumperoo toddler time and parent-child fitness classes. Urban Air hosts birthday parties, too.
And one bonus option in... New York
American Girl Place — New York City
Make the trip across the Hudson River to see American Girl's makeover! The iconic Midtown flagship is relocating to Rockefeller Plaza on November 11, just in time for the holiday rush. The 38,000-square-foot new home of the signature dolls will offer plenty of exciting, interactive experiences. The salon will now provide manicures, ear piercing, and hairstyling services for dolls AND girls. Share a fun and fancy meal in the cafe, or celebrate your little girl's special day with a custom birthday party in a private party room. There will be cooking and yoga classes, and mini-fashionistas can design clothes and accessories for themselves and their dolls in the design studio.
Sign up for the Mommy Poppins Newsletter today!