New Jersey Toy Stores That Are Worth the Trip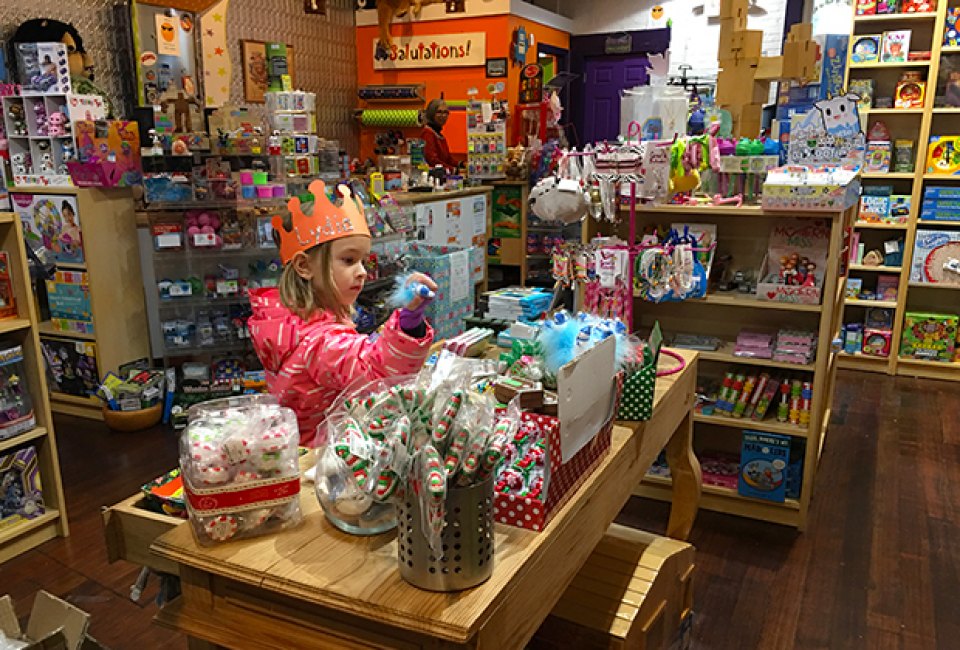 11/21/16
- By
Kaylynn Chiarello Ebner
Gift givers throughout the Garden State are hitting the stores in preparation for Holiday Season 2016. You already know about the big box stores in your neighborhood, but what about trying a new spot this year?
New Jersey is home to some terrific independent and family-owned toy stores (and book stores) that offer personalized customer service and a great selection of unique toys, games, and gifts. Check out these independent stores (and their e-commerce sites) for the holiday shopping season, starting on Small Business Saturday, or for those many kid birthday parties you attend all year round.
Big Fun Toys—Point Pleasant, Hoboken
Quinnderella's Toys—Manasquan
Specialty toys abound at this trio of stores, where you'll find everything from dolls and dress-up fun to gag gifts. U.S.- and European-made toys are the focus as well as items from small, lesser-known toy makers. The stores also specialize in hand-painted, personalized gifts.
Family Fun Hobbies—Hamilton
Family Fun Hobbies opened in 2009 with the idea of letting kids ages 0–99 enjoy hobbies of all kinds. From jigsaw puzzles to kites to science kits, the store stocks lots of hard-to-find hobby supplies that the kids will love. Bonus: the family fun space in the back of the store gives families a place to play games or build models with supplies bought in the store or brought from home. The store also hosts game nights, classes, contests, and more.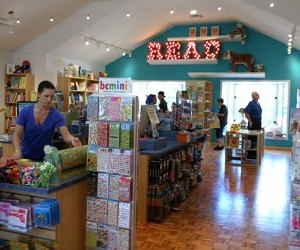 jaZams in Princeton focuses on imaginative toys and books.
jaZams—Princeton
jaZams bills itself as having something for everyone, from the littlest babies on up, with a focus on imaginative toys and books. This beautiful store also hosts events, signings, parties, and more.
Just Kidding Around—Montclair
With two locations in New York City and one in Montclair, Just Kidding Around has a huge selection of learning, classic and trendy toys, including an impressive doll collection, trains, art supplies, baby items, figurines, and more. There's also a dress-up nook, baby corner, book section, and more. Don't be surprised to find fun scheduled events like Teddy Bear Picnic Day, Kids Craft Events, and music performers from time to time, too!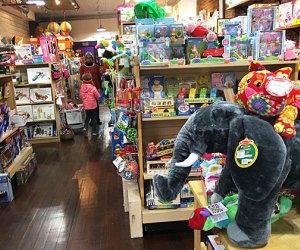 The compact Sparkhouse in South Orange is one of the best curated toy stores we've come upon. Photo by Rose Gordon Sala.
Sparkhouse – South Orange
A South Orange institution since 2008, Sparkhouse was created "as an alternative to the mass consumption of junk that can overwhelm modern kids," according to the owners. The cozy space is packed with creative toys, games, baby dolls and their accessories, trucks and cars, arts and crafts supplies, and more. You'll find classics like Legos to new favorites like Pokemon, plus Magna-Tiles, toy kitchen supplies, science kits, and a full wall of games. It's a go-to spot for a great present – free wrapping included!
Tons of Toys—Wykoff, Westwood, Madison, Chatham, Bernardsville
Tons of Toys is well named. With five NJ locations, this small chain carries many familiar brands as well as classic toys, trendy toys, specialty items, and arts and crafts supplies. Most locations offer free gift wrapping and local delivery (woo-hoo!). Also ask about discounts for teachers.
Toy Market—Hammonton
This 3,500-square-foot, family-owned shop specializes in "fun ways to grow" with toys, games, and puzzles for kids 12 and younger. Expect to find stuffed animals, LEGO sets, wooden toys, die-cast cars, puppets, and more.
Toys with Love—Chester
Opened in 1986, this toy store specializes in educational toys as well as apparel and specialty gifts. Toys with Love also has a focus on providing customized items (like step stools, caddies, holiday ornaments, and toy bins) that can be personalized with a child's name. There's also gift wrapping services as well as free assembly and local delivery. Another special thing about this store? It has a gorgeous party room that can be rented out for unforgettable parties.
Wonder World Toys—Medford
From LEGOS to Shopkins, this store has lots of toys for all interests. Wonder World Toys even has a birthday registry that extends discounts to gift givers and free gift wrapping.
Top image: Sparkhouse. Photo by Rose Gordon Sala.
Sign up for the Mommy Poppins Newsletter today!