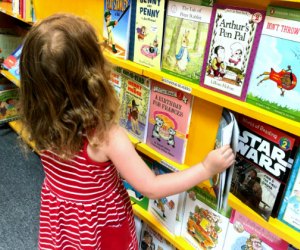 Top Indie Bookstores for New Jersey Families
New Jersey has many wonderful independent bookstores run by dedicated bibliophiles that offer children's programs, storytimes, indoor activities, and books galore for mom, dad, the tween, the toddler and the middle school age kid. Stop in during the holiday season to shop local, or year-round for children's birthdays. We know we don't need to tell you, dear reader, but there is nothing quite like a good book.
Book Garden — Frenchtown
Located in a charming 'Painted Lady' Victorian, this quaint shop offers gifts, journals, new and used books, author signings, and a children's book section with toys and games, too. "Word Explorers" brings together grade-school kids once a month for reading adventures.
Montclair Book Center — Montclair
Head to the back of this community bookstore to find a packed children's section, complete with new and old favorites for kids of all ages. There are a few chairs and stools or just pull up a section of the floor to peruse the stacks. You can even donate or trade your old books here. Open daily.
The Bookworm — Bernardsville
This shop is firmly a part of the thriving Bernardsville community, with something for everyone in the family, including a great local section. It's also the winner of the Mommy Poppins Besties Awards for Best Place to Shop for Books and Toys in New Jersey! If you're having trouble deciding on a book, just check the yellow card tucked inside, for staff comments. In "Sarah Gives Thanks," about Sarah Hale, the mother of Thanksgiving, the Bookworm says, "This is one of the best books we have ever seen about Thanksgiving!"

The Town Bookstore — Westfield, NJ

This treasure has been around since 1934, and only recently switched locations after 73 years in its original home. With online shopping, a comfy book nook and a knowledgeable owner, The Town Bookstore will keep standing the test of time.
River Road Books — Fair Haven
River Road Books has something for the whole family, while also catering to the littlest readers in your house with Design-A-Bookmark contests, "Storytime for Budding Readers" and a kid-friendly environment with a carefully curated children's section. Crack open those new books on the bench outside the shop during the warmer weather.
Symposia — Hoboken
Both a used book store and a community center, Symposia hosts story times, guitar circles, puppets shows and rents its space out for events. My daughter had a birthday party there and the "goodie bag" for her guests was a book; can't get much better than that. For more info, call 201-963-0909
​Watchung Booksellers — Montclair
Reading groups for all ages, pajama parties, great staff recommendations, and the very cool Saturday storytime series for little ones — this Montclair shop has it all. It's also attached to a lovely cafe for a quick lunch or coffee and dessert.
Word — Jersey City
This cute urban shop offers kid books, but also regular storytimes, gifts, and even birthday party options. Bonus: There's a cafe within the shop serving Stumptown coffee and espresso drinks, plus Balthazar baked goods and Bread and Spoon soups! Open daily.
Words — Maplewood
This charming shop in downtown Maplewood offers books for everyone in the family, including a cozy children's section with seats and a frequent weekend story hour for kids. Join the loyalty program for rewards, pick up birthday cards and small toys for kids, too. The store also offers a robust employment program for and books for special needs families. Head across the street to the local toy store, Shenanigans Toys, to complete your shopping local outing.
Top photo: The children's section at Montclair Book Center. Photo by Rose Gordon Sala.
A version of this article first published in October 2012, but it was updated in 2016.