Top Independent Bookstores for New Jersey Families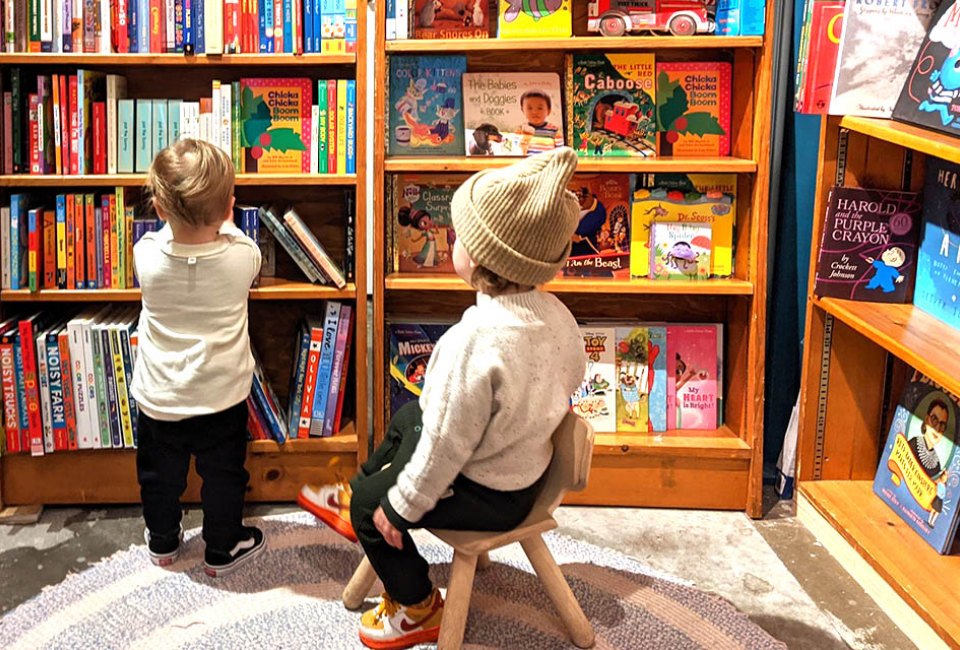 1/29/20
- By
sarah
Curling up with a good book is one of life's simple pleasures, and finding just the right book for your child is easy at one of New Jersey's independent bookstores. With curated lists of favorites for all ages from toddlers to teens, cozy reading nooks, and treats and gifts for sale, indie booksellers have something for everyone in the family.
Owned by dedicated bibliophiles who care about their communities, these bookshops offer children's programs, storytimes, author visits, and a great selection of books for everyone. Stock up on reading material before your next road trip, stop in during the holiday season, or shop local for children's birthdays.
Read on for our favorite indie bookstores in New Jersey!
North Jersey Bookstores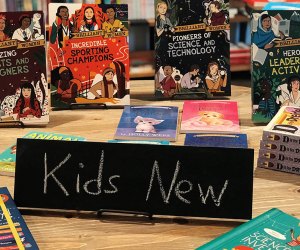 Check out the latest kid titles at The Book House in Millburn.
The Book House – Millburn
This little gem of a book shop and community gathering spot hosts book clubs, storytimes, curated book baskets, and even cooking clubs. Featuring new releases in fiction and non-fiction, and plenty of kids' favorites, The Book House also has a small cafe and downstairs meeting spot. Join the membership club for discounts, event invites, and a regular newsletter. Don't miss the owner's recommendations for your next read!
Little City Books – Hoboken
A kid-friendly, dog-friendly corner bookstore is a gathering spot for morning storytimes and also for evening book groups. The store features new releases, classics, gorgeous picture books, and everything in between, and the owners will special order any book not found on their shelves. Register in advance for storytimes at the Little City Children's Annex, $10 per family.
Montclair Book Center — Montclair
Head to the back of this community bookstore to find a packed children's section, complete with new and old favorites for kids of all ages. There are a few chairs and stools or just pull up a section of the floor to peruse the stacks. You can even donate or trade your old books here. Open daily.
Symposia – Hoboken
Both a used book store and a community center, Symposia hosts story times, guitar circles, puppets shows and rents its space out for events. My daughter had a birthday party there and the "goodie bag" for her guests was a book; can't get much better than that. For more info, call 201-963-0909
The Town Bookstore – Westfield, NJ

This treasure has been around since 1934, and only recently switched locations after 73 years in its original home. With online shopping, a comfy book nook, and a knowledgeable owner, The Town Bookstore will keep standing the test of time.
​Watchung Booksellers – Montclair
Reading groups for all ages, pajama parties, great staff recommendations, and the very cool Saturday storytime series for little ones — this Montclair shop has it all. It's also attached to a lovely cafe for a quick lunch or coffee and dessert.
Word – Jersey City
This cute urban shop offers kid books, but also regular storytimes, gifts, and even birthday party options. Bonus: There's a cafe within the shop serving Stumptown coffee and espresso drinks, plus Balthazar baked goods and Bread and Spoon soups! Open daily.
Words – Maplewood
This charming shop in downtown Maplewood offers books for everyone in the family, including a cozy children's section with seats and a frequent weekend story hour for kids. Join the loyalty program for rewards, pick up birthday cards and small toys for kids, too. The store also offers a robust selection of books for special needs families. Words has hired more than 100 young people with autism as part of its vocational training program.
Central Jersey Bookstores
The Book Garden – Frenchtown
Located in a charming "Painted Lady" Victorian, this quaint shop offers gifts, journals, new and used books, author signings, and a children's book section with toys and games, too. "Word Explorers" brings together grade-school kids once a month for reading adventures.
The Bookworm – Bernardsville
This shop is firmly a part of the thriving Bernardsville community, with something for everyone in the family, including a great local section. It's also the winner of the Mommy Poppins Besties Awards for Best Place to Shop for Books and Toys in New Jersey! If you're having trouble deciding on a book, just check the yellow card tucked inside, for staff comments.
RELATED: Free Indoor Play Spots for New Jersey Kids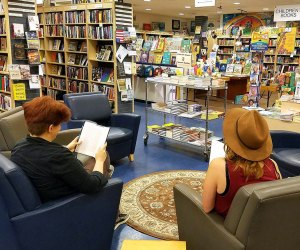 Snag a comfy seat at Labyrinth Books in Princeton.
Labyrinth Books – Princeton
Though it is located on Nassau Street in the heart of a college town, Labyrinth books offers more than textbooks. Featuring thoughtful staff picks in fiction, non-fiction, kids, and YA, plus author visits and kids' storytimes, this treasured bookshop does not disappoint. The store's robust website also allows customers to order books online. And yes, Labyrinth buys back coursebooks too.
River Road Books – Fair Haven
River Road Books has something for the whole family, while also catering to the littlest readers in your house with Design-A-Bookmark contests, "Storytime for Budding Readers," and a kid-friendly environment with a carefully curated children's section. Crack open those new books on the bench outside the shop during the warmer weather.
South Jersey Bookstores
Inkwood Books – Haddonfield
Located in downtown Haddonfiled, Inkwood boasts a great selection of children's books, as well as monthly tween and teen book clubs. The helpful staff will offer suggestions if you need them, and online ordering and pre-ordering is available!
Photos courtesy of the retailers
A version of this article first published in October 2012 and has been updated since.
Sign up for the Mommy Poppins Newsletter today!