Stores that Offer Free and Cheap Classes for NJ Kids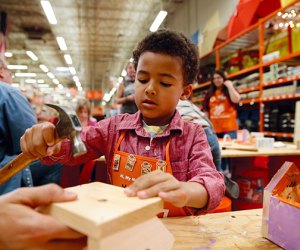 1/9/20
- By
Laurie Rein
Extracurricular activities create enriching experiences for kids, but they can also take a toll on your wallet. The good news is that several stores throughout New Jersey offer free—and nearly free—kids' classes that allow you to save money while developing your family's interests. These low- or no-cost classes, crafts, storytimes, and other activities are great ways to fill in schedule gaps without busting your budget.​
Many stores have multiple locations, so be sure to check the websites for local schedules.
Toy Stores and Kids' Stores with Free Classes and Activities
Disney Store – Various Locations
A trip to the Disney store is an adventure in itself, with the wall of movies, coloring sheets, and play castle. Disney fans are also treated to events on weekends, including trivia contests, sing-a-longs, costume parades, character visits, crafts, and animation demonstrations. In the summer, the store offers these types of events throughout the week as well.
Lakeshore Learning – Cherry Hill, East Brunswick, and Hackensack
If you're feeling crafty, stop by any Lakeshore location every Saturday morning for a free art project. Recent workshops featured kid-powered boats, fast-flying gliders, race cars, and dancing robots. No registration is required, and East Brunswick hosts an additional Sunday session. While you're there, browse the store's extensive collection of educational toys and supplies.
Learning Express Toys – Various Locations
Any visit to Learning Express is an interactive experience, as kids are encouraged to play with their toys (at the many display tables) while shopping. In addition, the shop offers free or inexpensive creative workshops throughout the year, with topics such as rainbow looms, slime-making, American Girl creations, and holiday crafts. Classes vary by location, so check the individual websites for event schedules.
Pottery Barn Kids – Hackensack, Shrewsbury, Marlton, Short Hills, and Princeton
As if you need another excuse to shop at Pottery Barn Kids, the store offers free and fun workshops and events for the little ones. Every Tuesday morning, the store hosts a free storytime with weekly themes. Plus, check out the store's special events that pop up on the weekends, such as holiday celebrations or character-themed activities, with Thomas the Train and Star Wars as recent examples.
Toys 'R' Us – Paramus​
The iconic toy story of our childhood is back and better than ever. Now open at Garden State Plaza, the new, experiential store concept features immersive play areas and interactive stations. The NERF area features a shooting range for kids to test out their toys and a giant tree house in the middle of the store invites kids to climb. There's also an event space that hosts weekly play groups, as well as product demos, author visits, character meet and greets, and more.
Tech Stores with Free Classes and Activities
RELATED: 75+ Fun Things To Do Indoors with Kids in NJ: A Winter Survival Guide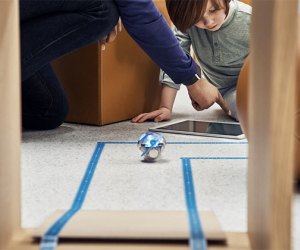 Create a robot maze, draw characters, and more at the Apple Store.
Apple Store – Various Locations
Your tech-savvy kids will learn the latest and coolest technology at select Apple stores' free classes. Recent workshops for kids have focused on taking family portraits, drawing your own emoji, creating music, and concocting a robot obstacle challenge. If you think the little ones are miles ahead of you with technology, sign up for Apple's adult learning events as well. Plus, check out free Apple Store camps over the summer.
Microsoft Store – Bridgewater, Freehold, and Paramus
This shopping mall storefront is more than just a place to purchase equipment. Weekly tournaments featuring Minecraft and Fortnite are perfect for your gamer. Budding techies will also find a robust store schedule that includes robotics, streaming, and coding workshops, digital art, and Disney+ trivia nights.
Bookstores with Free Classes and Activities
Barnes & Noble – Various Locations
Barnes & Noble storytimes are an ideal go-to for toddler and preschool parents looking to get out of the house. The themes vary each week and sometimes include other activities. Make a longer morning of your Barnes & Noble time by visiting the train table and other hands-on displays. Plus, grab a cup of coffee for yourself!
Indigo – Short Hills
This Jersey newcomer has become a destination for young shoppers with author visits, crafts, storytimes, and a cool selection of books and gifts.
Short Stories Bookshop & Community Hub – Madison
Downtown Madison is home to this relaxed, independent bookstore, complete with comfy reading spots, a children's area, and a performance space. The shop creates a sense of community with its neighborly events, such as author visits, weekly storytimes, performances, and game nights.
Watchung Booksellers – Montclair
This charming neighborhood bookstore features a diverse selection of literature, plus houses a welcoming children's room and teen corner. Stop by the shop for stimulating events like Saturday morning visits by children's authors and illustrators and Wednesday Mommy & Me Storytime (during the school year).
Word Bookstore – Jersey City
Books and coffee? Score! In bustling downtown Jersey City lies this cozy independent bookstore, complete with an in-house cafe. The family-friendly shop presents events for kids, such as author visits and storytimes. There's even a YA book club that meets on the third Saturday of every month.
Grocery and Food Stores with Free Classes and Activities
ShopRite – Various Locations
The grocery store is the perfect place to learn about healthy eating. Many New Jersey ShopRites offer low-cost or free cooking classes for kids where they can follow nutritious recipes from a local dietitian. Bonus- some ShopRites provide free fruit for hungry young shoppers.
RELATED: Drop-In Arts & Crafts for Kids at New Jersey Art Studios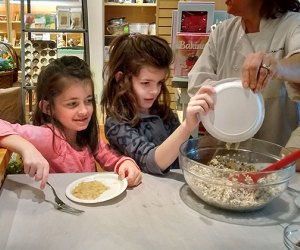 Go shopping at Williams Sonoma while your kids learn to cook. Photo by the author.
Williams Sonoma – Various Locations
Bring your chef-in-training to Williams Sonoma for Junior Chef Classes, which take place on sporadic Saturday mornings throughout the month. While parents do a little shopping in the store, kids ages 8-13 will learn to whip up tasty dishes with different themes. Please note that some classes are free, while others charge a fee. The freebies book up quickly, so check the website early in the month for a schedule.
Home Improvement and Craft Stores with Free Kids' Classes and Activities
Home Depot – Various Locations
Home Depot's Kid Workshops are the perfect remedy for a rainy/snowy/need-something-to-do Saturday morning. The free workshops take place on the first Saturday of every month and feature great DIY projects, such as bird houses, fire trucks, and banks. Participants also receive an apron and pin for completing their work.
Lowes – Various Locations
Learn new skills and take home a fun project at a free DIY Kids' Workshop. Held the second Saturday of every month, kids receive a free apron, goggles, participation patch, and project kit. Registration is required and usually opens up online one-month prior to the in-store workshop date.
Michaels – Various Locations
For just a few dollars a class, kids can unleash their creativity in a store full of craft supplies. Classes take place on the weekends and have spotlighted projects such as frame making, pumpkin decorating, and friendship bracelets. Adult art workshops are available as well.
For more free classes, don't forget to check out your local library. Storytimes, coding lessons, maker workshops, and reader's theater are just some examples of the types of classes libraries have to offer!
Unless otherwise noted, photos courtesy of the stores
Originally published October 2017 and updated regularly.