Toys 'R' Us Returns with 'Reimagined' Stores in Houston and New Jersey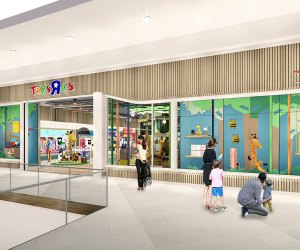 If you mourned a piece of your childhood when Toys 'R' Us closed its doors in 2018, take heart: the gone-but-not-forgotten toy store is about to make a small-scale comeback just in time for Black Friday. Two Toys 'R' Us stores, coming to The Galleria in Houston, Texas, a Simon Mall, and in Westfield Garden State Plaza in Paramus, New Jersey, are slated to open in November.
The Wayne, New Jersey–based toy giant closed 12 of its Garden State stores and 182 others nationwide in 2018 after it filed for bankruptcy protection. But now, in what some might call a Christmas or Hanukkah miracle, the home of Geoffrey the Giraffe is back and promises to be more fun than ever. How's that possible? Tru Kids, Toys 'R' Us' parent company, has entered into a joint venture with b8ta, a software-powered experiential retailer, to create a new and immersive store experience.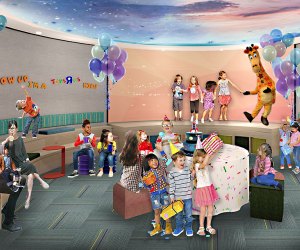 The new Toys 'R' Us will offer an interactive, hands-on shopping experience.
Part store and part play space, the new Toys 'R' Us locations will be "highly interactive, with new events and activities every day," according to Toys 'R' Us. Visitors will be able to test toys before making a purchase, visit different brand stations to have STEAM fun, and even hang with Geoffrey the Giraffe in the open play space.
"With a 70 year heritage, the Toys 'R' Us brand is beloved by kids and families around the world, and continues to play a leading role in the hearts and minds of today's consumers," said Richard Barry, CEO of Tru Kids and interim co-CEO of the new Toys 'R 'Us joint venture in a press release. "We have an incredible opportunity to entirely reimagine the Toys 'R' Us brand in the U.S. and are thrilled to partner with b8ta and key toy vendors to create a new, highly-engaging retail experience designed for kids [and] families."
Phillip Raub, co-founder and president of b8ta and interim co-CEO of the Toys 'R' Us joint venture, shared his own memories of being a kid and exploring the store by "running up and down the aisles kicking balls and playing with the coolest toys."
"As the retail landscape changes, so do consumer shopping habits," said Raub. "But what hasn't changed is that kids want to touch everything and simply play. In partnership with Richard and his team, we are excited to bring back Toys 'R' Us in an immersive way, focused on creating a fun and engaging experience for kids—and adults, too."
Stay tuned for more: the companies plan to open additional locations in prime, high-traffic retail markets within the U.S. over the course of 2020.
Photos courtesy of Toys 'R' Us