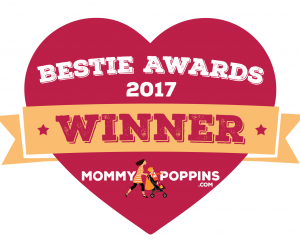 2017 New Jersey Bestie Guide: Parenting Resources Winners
New Jersey families, you have spoken! We asked you to weigh in on New Jersey's Besties—the best family businesses and resources in categories that range from best restaurants, parties, activities, and more. With all the great family fun experiences and resources in New Jersey, it was hard to choose just 24, but you were up to the task! Each winner was selected from a competitive crop of 10 nominees in each category.
A special thank you to the Bestie Sponsors, and congratulations to the four lucky voters who were picked at random to enjoy some amazing prizes!
We've grouped the winners into three winning categories: Parenting Resources, Enrichment Programs, and Family Fun.
Without further ado, here is your guide to the best of family-friendly New Jersey, the 2017 New Jersey Besties!
Best Parenting Resources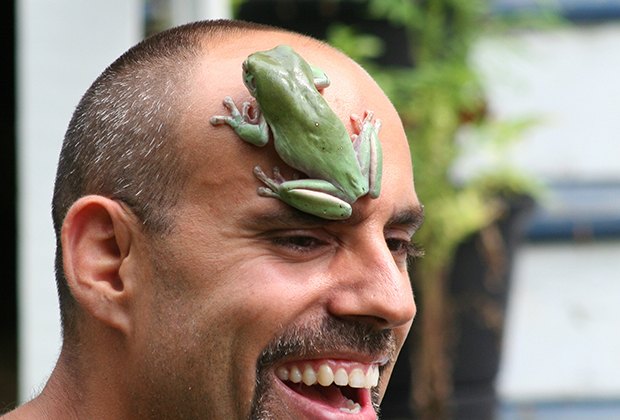 Kids will get a kick out or Rizzo's Reptile Discovery.
Best Birthday Party Entertainer: Rizzo's Reptile Discovery — Flanders
There's nothing like being in the comfort of your own home when it comes time to host your kid's birthday party. If you're open to some exceptionally exotic house guests, Dominic Rizzo will bring the party to you! Your little animal lover can celebrate his special day with a menagerie of animals, including lizards, snakes, frogs, turtles, and insects, for a truly unique and wow-worthy birthday party experience.
Best Local Kids' Dentist or Group: Westfield Pediatric Dental Group — Westfield
Your kid will actually look forward to going to the dentist if it means a trip to this kid-friendly practice. The team of four pediatric dentists, dental hygienists, and office staff cares for children and their teeth from infancy through the teenage years. No dull waiting room here! The colorful space includes toys, TVs, wall puzzles, and a pretty awesome fish tank designed to put your child at ease and create healthy and happy smiles.
Best Local Pediatrician or Group: Summit Medical Group — Westfield
When your child is sick, you want someone you can trust. The Summit Medical Group with its diverse roster of pediatricians and specialists (allergy, dermatology, cardiopulmonary, and more) is beloved by local parents for the depth of it practice, expertise, and convenient locations and hours throughout Northern and Central New Jersey. It even has after-hours emergency care, and of course, doctors who are able to treat the whole family.
Best Place to Shop for Books and Toys: The Bookworm — Bernardsville
Housed in a cozy cottage, this independent bookstore has been shelving books for more than 30 years. The kids' section is warm and inviting, stocked with board books, classic tales, and YA novels. If you're having trouble deciding, ask the knowledgeable and friendly booksellers for their picks, or just check the yellow card tucked inside each book for staff comments. Gift-wrapping is free — perfect for last-minute birthday gifts! Eric Carle merchandise, Jelly Cat plush animals and greeting cards are also available for gift-giving. Bonus: the location is easily walkable to Bernadsville's arts galleries, shops and restaurants, so make a day out of your shopping trip.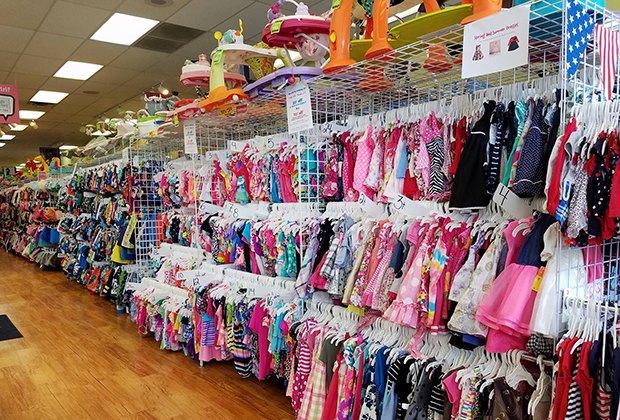 The price, selection and quality is right at Once Upon a Child. Photo courtesy of the store.
Best Place to Shop for Kids' Clothes and Baby Gear: Once Upon A Child — Edison
You don't have to break the bank to refresh or restock your little one's wardrobe with every growth spurt or new school year. Located between TJ Maxx and Planet Fitness in a busy strip mall, this Central NJ resale shop is bursting with up-to-date quality kids consignment. It only accepts like new items and make selections based on current trends and styles. The result is a shop filled with mint-condition and neatly organized clothing, toys, books, baby gear, and furniture at 70% less than retail prices.
Best Preschool or Alternative Program: The Sundance School — North Plainfield
Selecting the best preschool for your child is no easy task. If what matters to you most are small class sizes, an inclusive community, and a creative curriculum, them look no further than this private Pre-K to 5th grade school, according to our readers. The low student to teacher ratio ensures that your scholar gets tons of hands-on attention. Teachers tailor lesson plans to their student's interests, so kids are always engaged to succeed. Spanish and Mandarin classes are both on the schedule, as well as music, movement, dance and performance arts for a well-rounded education.
Best Way to Learn How to Swim: JCC of Bayonne
This urban oasis offers an indoor pool that's heated and clean as a whistle, with instruction from Aquatics Director Ayme Sepulveda. Baby and me swim lessons for tots 3 months to 3 years are limited to just 6 students per class with an emphasis on water safety and confidence so kids feel comfortable and empowered in the water. Private and semi-private lessons for kids 3 and up provide a more individualized approach. Newly renovated locker rooms offer a clean and secure changing area. There's also an alternate changing room where dads can assist daughters or moms can assist sons who need help getting changed away from the locker rooms.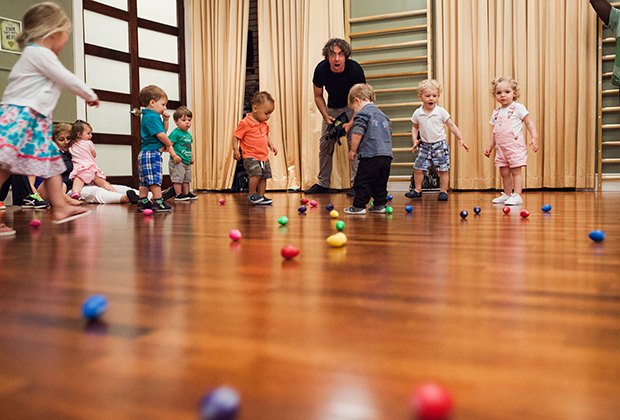 Kids will have loads of musical fun at Rockness Music. Photo courtesy of the class.
Favorite Baby and Me Class: Preschool of Rock (now Rockness Music)
With live guitars, singing, drumming, and interactive musical play, you and your baby will rock out at these fun family jam sessions. Rockness Music's parent-and-child classes are both educational and entertaining, as well as high energy. Your little rocker will quickly learn the catchy songs and you will find yourself singing along, too. Parent/child classes for kids 6 months to 5 years of age are offered in Montclair, Scotch Plains, Springfield, Westfield, Maplewood, Metuchen, Madison, Jersey City, and Hoboken. Sessions run 10 weeks (6 weeks in the summer) and all students receive a music CD, activity booklet and an instrument or play microphone for practice at home. Drop-in classes are also available.