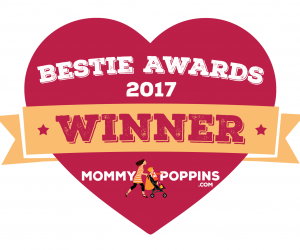 2017 New Jersey Bestie Guide: Enrichment Program Winners
New Jersey families, you have spoken! We asked you all to weigh in on New Jersey's Besties—the best family businesses and resources in categories that range from best theme parks, restaurants, parties, activities, preschools, and more. With all the great family fun experiences and resources in New Jersey, it was hard to choose just 23, but you were up to the task! Each winner was selected from a competitive crop of 10 nominees in each category.
A special thank you to the Bestie Sponsors, and congratulations to the four lucky voters who were picked at random to enjoy some amazing prizes!
We've grouped the winners into three winning categories: Parenting Resources, Enrichment Programs, and Family Fun.
Without further ado, here is your guide to the best of family-friendly New Jersey, the 2017 New Jersey Besties!
Best Enrichment Programs
Best Dance Studio for Kids (tie): Center Stage Dance Studio — Paramus
From ballet to tap, jazz and hip-hop, Center Stage offers classes for children starting in preschool all the way to adults. Movement classes for the littles builds the foundation for more advanced classes to come. The Dance Sampler gives your big kid a taste of a variety of dance styles if they can't pick just one. And if you're looking for an end-of-season recital, complete with costumes and choreography, Center Stage won't disappoint. All students are invited to perform, though participation is not mandatory.
Best Dance Studio for Kids (tie): New Jersey School of Ballet
The New Jersey Ballet is arguably one of the best ballet companies in the world, so it stands to reason that its school would be of the highest caliber. It offers 60 years of experience, luminaries such as Edward Villella (frequently cited as America's most celebrated male dancer) teach classes, and a pianist provides live music. If your child has seen the company's annual Nutcracker performance at the Mayo Performing Arts Center, and is begging for ballet lessons, sign him up for the children's programs at one of its three studios located in Livingston, Morristown, and Somerville. Who knows, maybe he'll be dancing the title role in that holiday performance one day!
Best Place for Kids' Art Classes: Creative Kids — Scotch Plains
With classes for kids 6 months to 9 years old, this artsy space teaches a variety of art styles and media. During the popular Storybook Art class, younger artists (20 months and up) can get an early start on their love of art by creating an art project related to the book read during storytime. Miss Judy's Art Class explores artists and techniques of the past and present so kids will know how to talk about and appreciate art. There are also music, ballet, Italian and Spanish, improv, and coding classes to appeal to all of your kid's creative senses.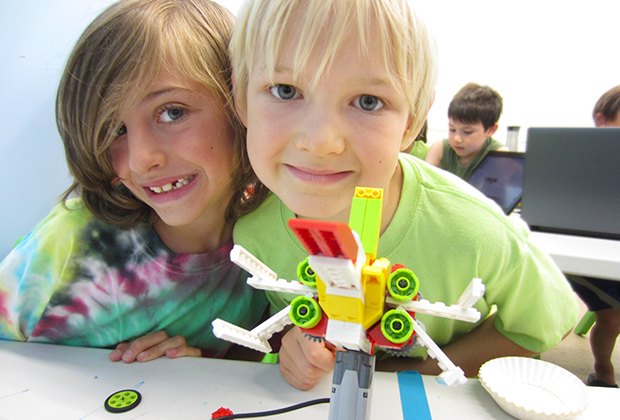 L3 Academy offers Robotics for elementary school children. Photo by Ryan McCann/courtesy of the academy.
Best Space for Young Makers: L3 Academy — Montclair
Created by two moms seeking seriously cool after-school activities for their own kids, L3—short for LifeLong Learning Academy—stokes a passion for engineering, science, computing, physics, and design through hands-on projects. Brick Academy offers a variety of age-based course levels using familiar Lego bricks. Pint-sized engineers collaborate on basic programming problems, experiment with creating simple machines and build structures that fit real-world architectural logic. Master builders can advance to the Jr. First LegoLeague or L3 Robotics Club to explore more challenging concepts.
Best Sports Program or Class: Elite Gymnastics — Hawthorne
More than just gymnastics, Elite also offers swimming, cheerleading, and rock climbing. The main gym plays host to tumbling and floor exercises, and the heated pool features varying depths with lessons broken down by age group. Classes run for 7 weeks, or opt for the 41-week seasonal membership which runs from September to June. Elite's Peak, the indoor climbing wall, stands at 25 feet, with more than 2,000 square feet of climbing terrain. Featuring 13 top ropes, lots of cracks, toe-holds, bouldering and overhangs, it offers plenty of unique challenges for the expert and novice alike. Sign your little climber up for an introductory class; combination gymnastics and rock climbing lessons packages are available.
Best STEM Program: Montclair Learning Center — Montclair
STEM it up at this one-stop destination for all things related to science, technology, engineering and math. Montclair Learning Center turns the classroom into a playroom with game-based learning. Presenting complex concepts like robotics and coding as playtime makes learning exciting for your budding scientist. With classes like Minecraft Mania, video game labs, and even chess lessons, there is something to tempt kids with a variety of interests by weaving technology into subjects they are already excited about.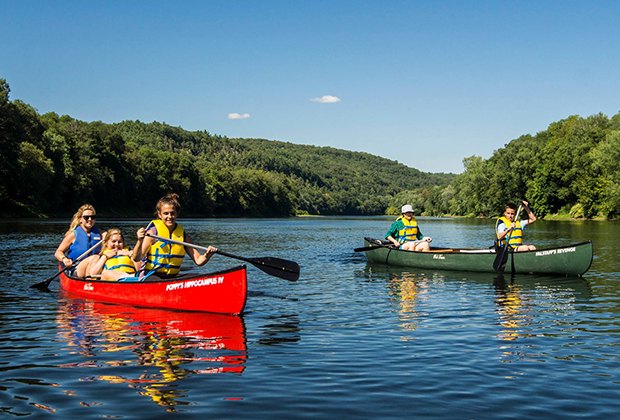 Canoeing is one of the many activities at YMCA Camp Mason. Photo courtesy of the camp.
Best Summer Day Camp: YMCA Camp Mason — Hardwick
Founded in 1900, this 460-acre summer camp caters to grades K-10 and boasts an impressive array of activities and facilities including swimming, hiking, archery, farming and gardening, arts and crafts, sports, and more. In addition to the traditional overnight camp and day camp, there's a ranch camp perfect for horse lovers. More adventurous kids can enjoy water rafting, tubing, and mountain biking. Relatively affordable at $260 per week, the rate goes down if you register for multiple weeks. Scholarship assistance is available.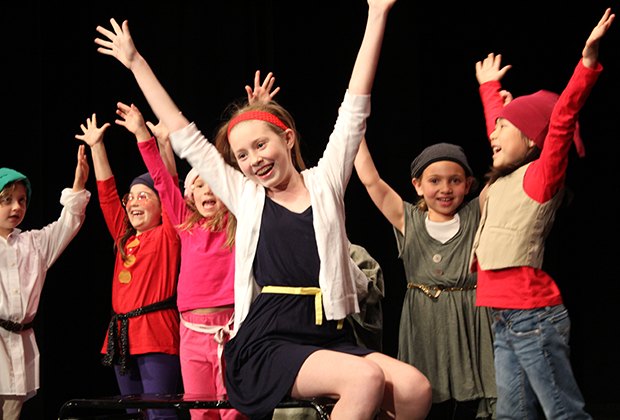 Future stars will love training at Mayo Performing Arts Center.
Best Theater Class for Aspiring Actors: Mayo Performing Arts Center — Morristown
Over 250 children annually participate in this performance-based theatrical training program, but don't let those numbers frighten you—a nurturing and supportive atmosphere allows your star to build stage confidence and shine! Classes for kids age 7 and up are taught in musical theater and acting, and each 12-week session leads to a grand end-of-season performance. Once your budding star becomes a teen, they can join its Performance Arts Company that travels the state performing FREE at community events and fundraisers. Philanthropy and performance experience—great concept!