Top Tumbling, Gymnastics, and Cheer Facilities for NJ Kids
If your kids turn their beds into trampolines or imitate the flips, twists, and vaults of medal-winning Olympians, it may be time to try a gymnastics class. As a foundational sport for young athletes, or an indoor way to get the wiggles out, few activities beat gymnastics. Competitive cheerleading, which takes sideline routines to a whole new level, also builds strength, balance, and flexibility.
New Jersey has plenty of top-rated gymnastics and cheer facilities—including the home gym of American gold medalist Laurie Hernandez. We've rounded up facilities that offer everything from beginner and recreational tumbling to serious training.

Choosing the right gymnastics facility can depend on location, schedule, or which class you child's best friend is currently loving. For serious gymnasts, it is best to find a USA Gymnastics (USAG)–certified facility, or a member of the US Association of Independent Gymnastics Clubs (USAIGC). For kids interested in competitive cheerleading, facilities with US All Star Federation teams typically participate in regional and statewide competitions. For toddler tumblers and young recreational gymnasts, safety mats and right-sized equipment is key, and affiliation with the Jersey Optional Gymnastics Association (JOGA) ensures those things.
Many facilities allow a free trial class to ensure that you and your child feel comfortable before committing to a full session. Some have fall and spring registrations, or rolling admission in multiple sessions throughout the year, and many offer school-break schedules and summer camp, too.
Action Gymnastics Academy – Freehold and Millstone
This mid-sized facility employs seasoned coaches to focus on proper form and all-around conditioning for young athletes. Competitive teams are offered at multiple levels, along with recreational gymnastics, tumbling, and trampoline teams.
Central Jersey All Stars – Kenilworth
Serious competitive cheerleaders turn to Central Jersey All Stars to hone their craft and condition their bodies for state, regional, and national competitions. With a reputation for top-notch cheer squads at all age levels, CJA is the place to be for intense training and competition. Evaluations are held in May and November for full-year and half-year competitive teams.
Diamond Gymnastics – Hoboken
Athletic agility is at the center of Diamond's program, which begins at age 15 months and goes through high school. Supporting both male and female gymnasts, Diamond's structured programs are designed to help athletes build strength, gain flexibility, and improve balance and coordination. Diamond's first competitive team formed in 2015. At 4,000 square feet, Diamond may be smaller than its sprawling suburban counterparts, but what it lacks in space it makes up for in heart.
RELATED: Best Indoor Obstacle Courses in NJ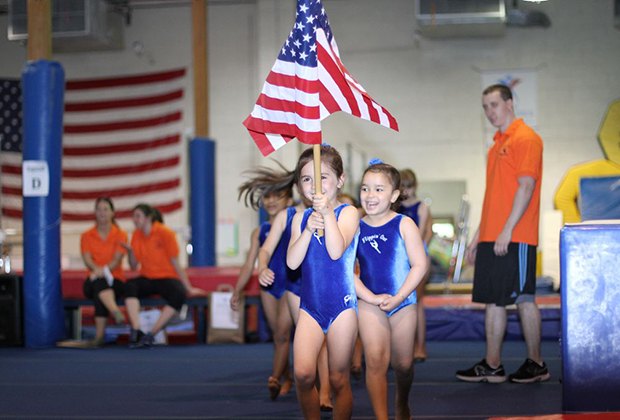 Mini Olympians celebrate Olympics Week at Flippin' Out.
Flippin' Out – Nutley and Pompton Plains
Focusing on the fundamental progression of skills, Flippin' Out starts with mommy & me classes and progresses to pre-school, tumbling, recreational gymnastics and cheerleading, kids fitness, and competitive teams. Careful introduction to Olympic apparatus includes uneven bars, balance beam, vault, and floor exercise for girls. For boys, there are rings, high bar, pommel horse, and vaults. Trampolines, tumble tracks, and obstacle courses are also included for well-rounded skill development. Flippin' Out also offers parents' night out programs.
Go For The Gold – Whippany
Cultivating champions and friendships are top priorities at Go For the Gold. Recreational gymnastics classes with an emphasis on fun and fitness are on the schedule, along with competition teams for both boys and girls. Tumbling and trampoline teams are also offered, and coaches are always safety-certified.
The Gymnastics and Cheerleading Academy – Cherry Hill
Children as young as 2 can start tumbling at this well-established South Jersey training facility, progressing from colorful parachutes and bean bags to the junior cheer-tumble program beginning at age 5. Spring floor, trampolines, tumble track, mat work, and other apparatus are added as gymnasts progress. Local and national competitive teams are offered, some competing in the Junior Olympics. GCA is also home to Cherry Hill Youth Cheerleading, offering competitive and recreational cheer.
The Little Gym – Multiple locations
This chain offers a range of classes for children, including beginning tumbling for infants, toddlers, and children up to age 12. Staffers here can help your child turn a first somersault or coach them on advanced tumbling and bar and beam techniques as they get older.
Monmouth Gymnastics Academy – Morganville
Devoted to the self-esteem of its students, Monmouth Gymnastics and Cheer Academy focuses on each child's individual needs and skill level. Working on strength, speed, coordination, flexibility, body awareness, and precision timing, MGA's coaches also emphasize the positive self-image needed to excel in gymnastics and life. Founded by a master Russian gymnast in Howell in 1974, MGA later moved to Morganville and has been under family ownership since 2000. MGA is the proud home of New Jersey native and 2016 Olympic gold medalist Laurie Hernandez.
Olympika Gymnastics – Mountainside
Boasting JOGA champions in recent years, Olympika's full-service facility earns praise for its inclusive developmental program, offering classes from beginner through intermediate and advanced in addition to classes for special needs gymnasts. They also take pride in teaching students to set and reach goals, focus on and follow directions, and create a healthy lifestyle. Tumbling, trampoline, and adult gymnastics in the evenings round out Olympika's schedule, which runs on a school-year calendar with rolling admission. When school is out, young gymnasts can attend a Summer Fun Camp.
Precision Gymnastics – Bayville
Statewide medal-winning gymnasts train at Precision, working on three different spring floors, two in-ground trampolines, multiple sets of uneven bars, a vault with spring runway, two foam pits, multiple beams, and a pommel horse. The gym prides itself on teaching athletic as well as life skills including goal-setting, self-esteem and discipline. Parents appreciate the pro shop stocked with gear, snacks, and drinks and the large waiting area with windows for viewing the gym floor.
Shields Gymnastics – Flemington​​
A massive, 18,000-square-foot gym allows Shields Gymnastics to offer a circuit training method to young gymnasts. Maximizing exercise time, basic gymnastics classes start out with stretching and tumbling, then move on to balance beam, bars, vault, and trampoline. Small student/teacher ratios also help to minimize wait times for apparatus.
Titan Gymnastics – Sparta
Safety and fun are priorities at Titan, a 14,000-square-foot facility serving gymnasts and cheerleaders age 18 months through high school. With an emphasis on teamwork and discipline, in addition to strength and agility, Titan develops healthy minds and bodies through movement. Features include a spring floor, tumble track, vaulting tables with runway, bars, balance beams, rings, ropes, and foam pit. In addition to general and competitive gymnastics and cheer, Titan offers weekly "play date" sessions for toddlers, tumbling classes geared toward snow boarders and a summer camp program for kids age 6 and older.

United States Gymnastics Development Center – Leonia and Mahwah
Former Olympic athletes and coaches train young gymnasts in both Bergen County locations, both of which feature trampolines, moon walk, and huge foam pits. A very low student/teacher ratio maximizes individual attention, and the Parent Association fosters a sense of community, along with car pooling. Both boys' and girls' teams of varying ages have won more than 100 state, regional, and national titles. Classes are offered for all ages, from 18 months through adult.
YMCA – Multiple locations
Known for its welcoming, recreational approach to gymnastics, tumbling and other sports, the local YMCA is a great first stop for beginner gymnasts.
This post has been updated for 2018. All photos courtesy of the gyms.