Help Us Choose Our BESTIES of NJ: Vote for Your Favorite Spots and Win!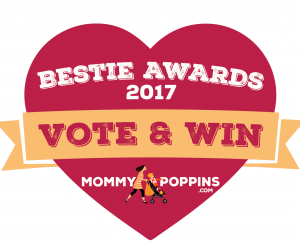 How do we love New Jersey? Help us count the ways! We know that New Jersey is one of the best places to raise kids, but even the best has its best. So we're counting on you, our Mommy Poppins readers and the most savvy parents we know, to help us pick New Jersey's BESTIES.
The best play spaces? New Jersey's got 'em. Family restaurants? We've got those, too. Cool kids' classes? Yep. Over-the-top party places? Yes! And we've got some of the best museums, camps—heck, even our dentists are the best. But only you can tell us which is the best of the best, so we're asking you to help us show our best local businesses the love.
VOTE now for your favorite New Jersey businesses in all these categories and more.
Of course we know you're busy parents, so we're sharing the love with you too. How would you and your kids like to explore NYC with a luxurious Suiteness suite as your home base? Or perhaps you'd prefer a two-night getaway for four to the Great Wolf Lodge in the Poconos? Give us 5 minutes and your expert opinions and you'll be entered to win these fabulous prizes—it's a win-win for everyone!
The New Jersey Bestie contest has now concluded. We invite you to visit The Mommy Poppins New Jersey Bestie Guide to learn about our amazing winners!