Submerge: NYC Marine Science Festival
Hudson River Park Pier 84

Sugar Skull! A Dia de Muertos Musical Adventure
The Sheen Center for Thought & Culture

Cirque-tacular presents 'The Art of Circus'
BMCC Tribeca Performing Arts Center
American Girl Gets a Makeover with a Brand-New NYC Store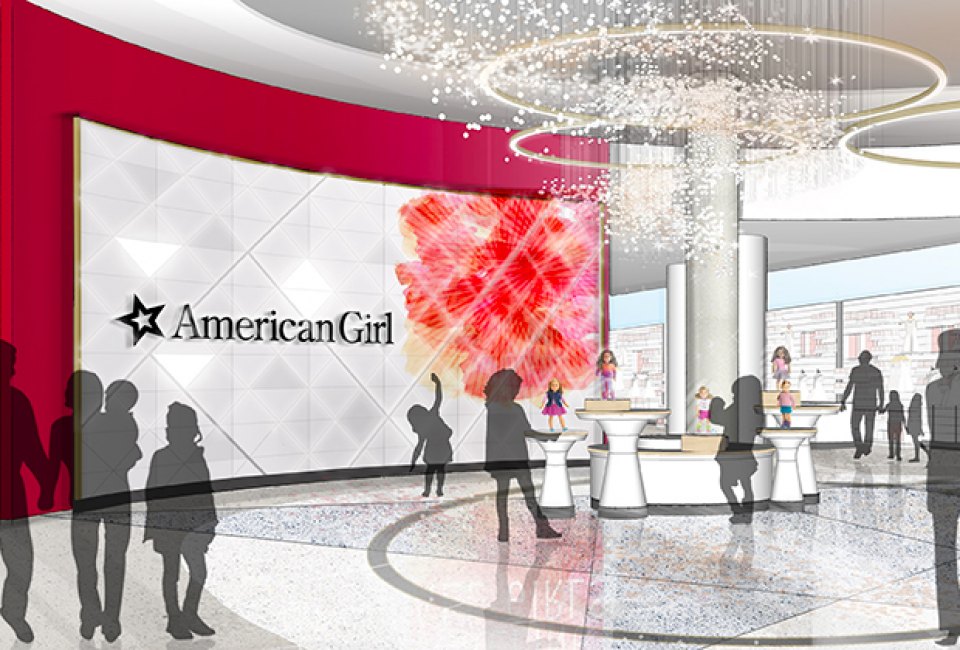 9/18/17
- By
Jody Mercier
If your daughter's a fan of Samantha, Kit, MaryEllen, or Melody, or it's a major announcement in your house when the annual Girl of the Year is revealed, we've got news for you: American Girl is relocating and revamping its flagship Midtown store just in time for the holiday rush.
Those familiar with its current location just east of Rockefeller Plaza won't have to reroute themselves too far to find signature dolls' new home.
The 38,000-square-foot store is slated to open on November 11 at 75 Rockefeller Plaza, an address that sits on 51st Street between Fifth and Sixth Avenues, facing south toward the skating rink. Mark your calendars, as grand opening celebrations are set for the first weekend.
While the new store is actually about 2,000 square feet smaller than American Girl's current location, which will close its doors for good on November 5, expect to see plenty of new, interactive features, which aim to put girls at the center of the experience and build a sense of community around the brand.
Girls who have taken their dolls to the current doll salon will welcome the opportunity for side-by-side pampering. Reservations are already being accepted for doll-and-me services such as hair styling, manis, and even ear piercing!
RELATED: Toys R Us Opens for the Holidays in Times Square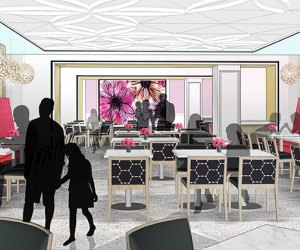 A rendering of the new family cafe, which will include birthday party rooms.
The popular American Girl Cafe, which has always been one of our favorite spots for high tea, is also making the move. In addition to an updated menu of fresh, seasonal kid- and adult-friendly eats, the cafe also has private rooms available for your next big celebration. Party rooms offer the opportunity to customize decor to the birthday girl's liking with digital media projections and party packages range in price from $39 per child for a basic package, to $245 per girl for a late-night, private shopping extravaganza (gift cards for spending included!) Party reservations are already being accepted via telephone at 877-247-5223.
RELATED: Splurge GoList: 10 Worth-the-Money Experiences for NYC Kids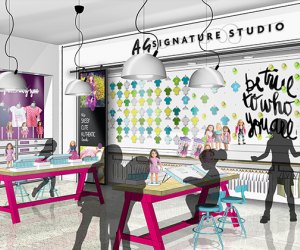 At the Signature Studio kids can create new looks for themselves and their dolls.
The Signature Studio gets an upgrade in the new store, too, with more space for girls to create custom looks for their dolls and themselves in what the company calls a "collective workshop atmosphere."
Of course, the namesake dolls, their clothes, and accessories will surround all the interactive fun, waiting to be plucked off the shelves and purchased. Visitors can also expect to see more space devoted to the doll-centric media, touting the brand's books, movies, YouTube channels, and social media platforms in the Content Hub, which doubles as a special events space.
While the chain has 20 locations nationwide, the New York store is the first to get these revamped experiences, so visitors with American Girl fanatics in tow will find a vastly different experience in NYC than in other cities.
American Girl Place opens November 11. Stay tuned to our Events Calendar for future store events.
All store renderings courtesy of American Girl.
Places featured in this article:

Sign up for our free
newsletters.
Mommy Poppins is a family activity website that helps people find things to do with kids.
©
2023
MommyPoppins. All Rights Reserved.
mp-prod4-v4.32.99
Click Here to Sign Up!
i