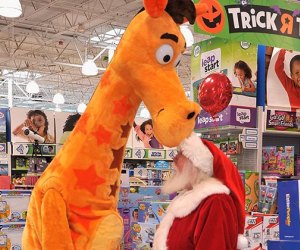 Big Holiday News! Toys R Us (Briefly) Returns To Times Square
If you're still lamenting the fact that Toys "R" Us left a giant Ferris-wheel-sized hole in Times Square for the past two years, you can get excited again because...it's returning! Well, at least for the holiday season. The big-box toy brand is opening a 35,000-square-foot, three-floor location at 42nd street and Broadway, beginning Saturday, August 26 at 9am, and running through the holiday season. (I guess "just in time for the holidays" means different things to different people.)
The three-story pop-up shop is full of new and classic buys for the little ones on your holiday list, but it's offering more than just a shopping trip.
The first floor will house "Movie HQ (products from this fall's biggest blockbusters), Hot and New (the hottest holiday toys), Star Wars, and Marvel, along with must-have New York City memorabilia" as well as electronics and software launches, according to a release from the store.
The second floor will house more traditional toys (like games, dolls, arts and crafts) as well as Nerf and Lego shops. It'll also be home to the store's dedicated play space, where kids can try out toys and get demos, making it one more spot kids can count on for FREE play this upcoming fall.
And, while it's no Ferris wheel, there will be a scaled-down animatronic dinosaur—a nod to the brand's former space (and bells and whistles). The lower level will be home to action figures, Hot Wheels, and lots of city-friendly modes of transport, from scooters to bikes—always an under-the-tree homerun.
The temporary Midtown Toys "R" Us store will be located at 1466 Broadway (at 42nd Street). It will remain open seven days a week (9am to 11pm) through the holidays, but the store was unable to give us a firm closing date at this time. No word yet on whether or not Santa will be taking wish lists here either, but we hope so! He visited the city's Babies "R" Us last holiday season.
While you're there check out loads of other things to do in the area with our guide to Times Square for families—beyond the usual tourist spots. Miss the old store? We included some photos of our visit just before it closed at the end of the 2015 holiday season.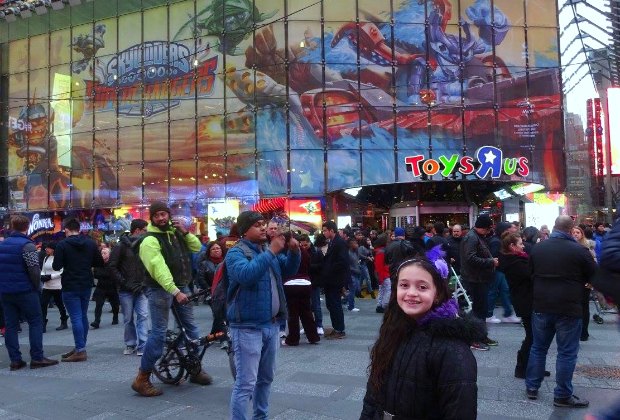 Remember when Times Square was home to Toys "R" Us? We do!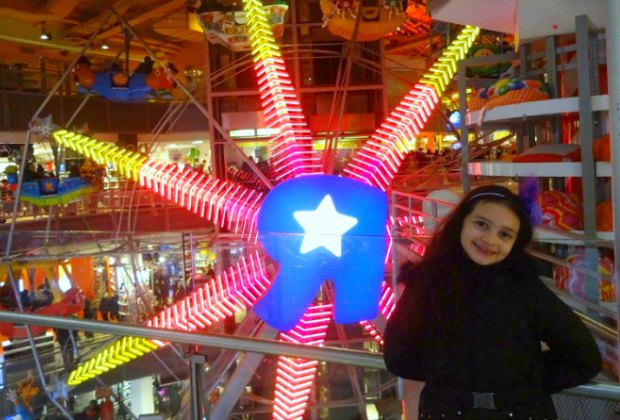 The old store offered kids plenty of playtime.
Top photo courtesy Toys R Us. Bottom photos of the old store by Raven Snook.