40+ Family-Friendly Things To Do in Hoboken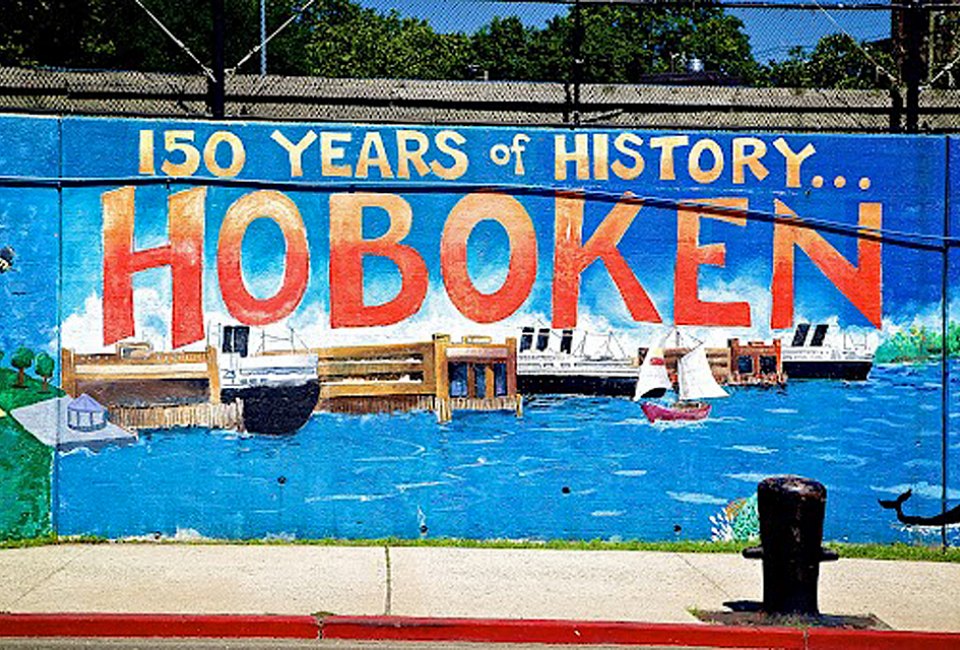 10/5/21
- By
Dore Duhaime
Home sweet Hoboken. The small-town city where strollers, school kids, dogs, and 20-somethings come together is more vibrant than ever. With family-friendly parks, cafes, markets, and play spaces packed into this walkable city, it's no wonder so many young families love it. From kid-friendly entertainment and restaurants to festivals and museums, what's not to love about the Mile Square City? For small towns in New Jersey, Hoboken is tops. Read on for 43 of our favorite things to do in Hoboken.
2. Zumbini
Wiggle with your baby at Mommy and Me Zumbini, a combo of music and Zumba for the under-4 set.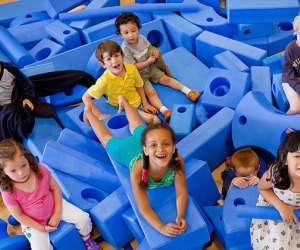 Urban Jungle Play is perfect for little builders and climbers. Photo courtesy of Urban Jungle Play.
3. Urban Jungle Play
Build something amazing with the Imagination Playground blocks at Urban Jungle Play, climb the jungle gym, or let your little ones loose in the soft play zone. Drop-off play is available.
4. Hudson River Waterfront
Watch mega cruise ships and NY Waterway ferries sail along the Hudson or count helicopters soaring into the heliport across the river.
5. Hoboken Arts and Music Festival
Eat, drink, shop, and listen to live music during the Hoboken Arts and Music Festival on Washington Street. The kids' zone features bounce houses, performances, and games.
6. Pier 13
No backyard? Grab a seat at Pier 13, a family-friendly beer garden and food truck destination with a breathtaking view of Manhattan.
7. Elysian Park
Climb the jungle gym at Elysian Park.
8. Bike Riding
Coast on bicycles along the river from Pier A to Harborside Park.
RELATED: 35 Things to Do With New Jersey Preschoolers Before They Turn 5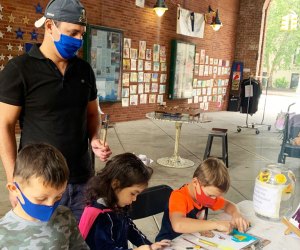 Join in Tuesdays, Thursdays, and Fridays each week for fun art-making inside the Hoboken Historical Museum!
9. Hoboken Historical Museum
Explore the city's history at the Hoboken Historical Museum, which holds family-friendly events throughout the year. Come on Fridays for story time featuring stories and songs about city life. Art classes are held on Tuesdays, Thursdays, and Fridays.
10. Hoboken Terminal
Train-loving tots will love a tour of the historic Hoboken Terminal (just not during rush hour).
11. Fire Department Museum
Check out an old-time fire truck at the Fire Department Museum and let the kids pretend to drive. On Saturdays and Sundays, the museum hosts family fun tours geared toward kids ages 2-6.
12. Hudson River Promenade
Stroll along the Hudson River waterfront promenade.
13. Castle Point Skate Park
Skate the ramps and half-pipes at Castle Point Skate Park, a great spot for your budding X Gamer.
14. Church Square Park
Dash through sprinklers at Church Square Park.
15. Jun's Macaron Gelato
After dinner, head over to Jun's Macaron Gelato for homemade gelato and handmade rolled ice cream. If that wasn't enough, you can also get your gelato scooped into a fresh crepe instead of a cone.
RELATED: Pier C Park in Hoboken: An Urban Oasis for NJ Kids and Families

Go kayaking on the Hudson. Photo courtesy of the Cove Boathouse.
16. Cove Boathouse
Strap on a life vest and try kayaking on the Hudson at the Cove Boathouse.
17. Maxwell Place Park
Trike or scoot around the waterfront path at Maxwell Place Park.
18. Columbus Park
Reserve some court time for tennis or basketball at Columbus Park.
19. Concerts in the Park
Spread out a blanket in Shipyard Park on summer Tuesday evenings for Family Fun Nights concerts.
20. The Fuzzy Lemons
Rock out to Hoboken's own family-friendly jam band, The Fuzzy Lemons.
21. Pier A Park
Race around the grassy lawn at Pier A Park.
RELATED: 100 Things To Do in New Jersey With Kids Before They Grow Up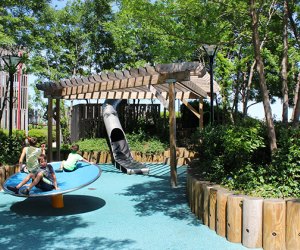 Check out the amazing playground at Pier C Park. Photo by Shinya Suzuki/CC BY-ND 2.0.
22. Pier C Park
Slide down the tunnel tube at Pier C Park.
23. Symposia Community Bookstore
Enjoy author visits and book readings at Symposia Bookstore.
24. Art in the Park
Paint and craft outdoors with toddlers at Art in the Park.
25. Hoboken Public Library
Roam the stacks at the historic Hoboken Public Library, built in 1897. Check the calendar for family-friendly programming, most events are held outdoors or online currently.
26. Stevens Aquatics
Swim indoors at Stevens Aquatics if you're a member.
27. Movie Under the Stars
When summer rolls around, watch a family Movie Under the Stars at Pier A.
28. Play Sports
Play soccer, baseball, softball, basketball, or flag football through the city's recreation department for a nominal fee.
RELATED: Liberty State Park: A Perfect Family Day Trip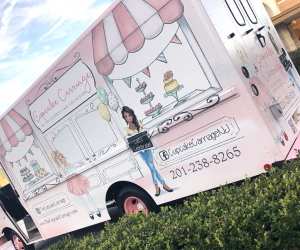 Stop by The Cupcake Carriage, a boutique mobile bakery delivering chic treats. Photo courtesy of The Cupcake Carriage
29. The Cupcake Carriage
Or snag a yummy treat from The Cupcake Carriage, a mobile bakery that is usually parked on Sinatra Drive.
30. St. Ann's Italian Festival
Live music and sausage-and-pepper sandwiches? We're in. St. Ann's Italian Festival, held in July, is one of Hoboken's oldest—and tastiest—traditions.
31. Fresh Mozzarella
Taste the fresh mutz at Fiore's, Vito's, Biancamano's, or Luca Brasi's.
32. Hoboken Farmers Market
Pair that mozzarella with some Jersey tomatoes and basil from the Uptown or Downtown Farmers Markets.
33. Hoboken Italian Festival
Get your zeppoli and street food fix at the Italian Festival in September.
34. Baking Mama
Enjoy a perfect macaron at Baking Mama, a tiny local bakeshop known for mouth-watering cookies, cakes, and macarons—including green tea, pistachio, and red velvet.
35. Carlo's Bake Shop
No trip to Hoboken is complete without a stop at Carlo's Bake Shop. Indulge in one—or two—of its delicious lobster tails, cookies, and cannolis.
RELATED: 10 Fun Ice Cream Joints in New Jersey

The annual Ragamuffin Parade is a Halloween tradition. Photo courtesy of the City of Hoboken.
36. Hoboken Ragamuffin Parade
Trick out your stroller for Halloween and dress up with the crowds for the annual Ragamuffin Parade on Washington Street, followed by massive trick-or-treating. Last year's parade was canceled, but we're hoping it's back on for 2021!
37. Giorgio's Italian & French Pastry Shop
Did someone say cannoli? Giorgio's Italian & French Pastry Shop offers a classic.
38. Elysian Cafe
Pull up a highchair for an early dinner at Elysian Cafe, where kids under 12 eat free on Tuesdays from 5-8pm.
39. Hoboken Red Wings
Cheer on the Red Wings at Hoboken High School's football stadium under the Friday night lights. You can hear the Rockin' Red Wings marching band for blocks around.
40. Christmas Tree Lighting
Join Elvis the Elf for the annual City Hall Christmas tree lighting and concert. Stay tuned for details about the 2021 event.
41. Hoboken Art Walk & Craft Market
Browse homemade handicrafts at the City-Wide Art Walk & Craft Market in May. A holiday craft fair at City Hall is usually held in December, too.
42. Dog Park
Play fetch with Fido at one of several dog parks.
43. Hoboken Clique
Shop Hoboken Clique for cute and unique fashions perfect for your mini trendsetter.
Originally published 2011.
Sign up for the Mommy Poppins Newsletter today!