Pier C Park in Hoboken: An Urban Oasis for NJ Kids and Families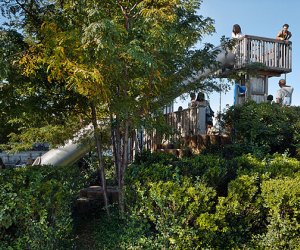 7/24/17
- By
Margaret Hargrove
Not your typical suburban playground, Hoboken's Pier C Park has a decidedly urban vibe that will delight little and big kids alike—and adults, too! With the Manhattan skyline as a gorgeous backdrop, this amoeba-shaped oasis sits on a two-and-a-half-acre pier off the Hudson River Waterfront Walkway, between Third and Fourth Streets in downtown Hoboken.
The park is separated into two playgrounds and also offers sand and water play. You won't find any of your standard, primary-colored play equipment here, nor any swings. The landscape has an old-fashioned feel, with lots of rustic wood and metal touches. The promenade, along the eastern edge of the pier, provides grassy lawn areas for families to picnic, play games, and soak in the sights. Use this day trip–worthy park as a launch pad to enjoy all that Hoboken has to offer.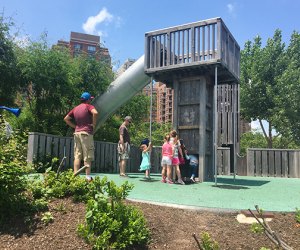 A steep, tin slide with a tree-house vibe is the focal point of the main playground.
Playground
If you have older kids who have outgrown their neighborhood park, Pier C's main playground offers loads of challenging fun.
The focal point is a very long and steep tin slide that has a tree house–like vibe. Instead of stairs, climb the tree stumps to get to a narrow wooden shaft where kids have to use vertical toeholds to reach the top of the slide. My athletic and adventurous 4-year-old found this to be very difficult to do on her own, until an older kid kindly offered to help. However, she declined to venture up again for a second ride.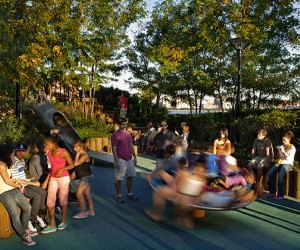 Older kids will dig the spinning circle. Photo courtesy of Michael Van Valkenburgh Associates
Rounding out the play area is a dizzying, bright blue, spinning circle. Remind little ones to hold on tight—or skip it altogether—as it can spin very fast. There's also a widely spaced rope net suspended near the top of the slide, but during the length of our visit at Pier C Park I didn't see a single kid brave that challenge.
With my daughter growing frustrated with the way-too-advanced play equipment, we headed over to the toddler playground for tamer fun.
RELATED: Best Water Playgrounds and Splash Pads in New Jersey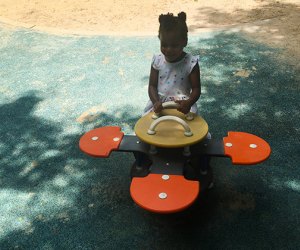 The toddler playground offers lots of fun for the littles.
Toddler Playground
Located at the center of the pier, surrounded by raised grassy banks and shady trees, the toddler play area was much more my daughter's speed. The slide here is short and sweet, and she enjoyed riding it over and over again. Another sweet treat is the adorable red-and-blue Kompan ice cream hut, which offers shade and role-play opportunities as well as a miniature four-seater seesaw that's perfect for multiple pint-sized riders.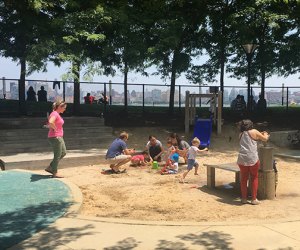 Bring your buckets and shovels to play in the sandy pit.
The main attraction is the sandy pit with steel water fountains and troughs. Don't forget your beach buckets and shovels! You'll likely spend a lot of time at this spot as your little ones build dams, forts, and moats in the sand. Bring a change of clothes; they're going to get messy.
Before you leave the area, check out the cool rocket ship–shaped climbing contraption, with several portholes and climbing ropes attached to the side that go straight to the top.
Beach Area
If you don't want to brave the crowds at the Jersey Shore this summer, a larger beach pit sits between the main playground and toddler area. The sand here was not as clean as in the toddler area, littered with leaves and other debris. My daughter also found it hard to dig into the sand as it was very dense and packed. You're much better off sticking to the sandy area in the toddler zone. Not to be missed, however, are the wood bleachers located in this area. The view from the top, overlooking the entire pier as well at the NYC skyline, is breathtaking.
RELATED: Best Jersey Shore Beaches for NJ Families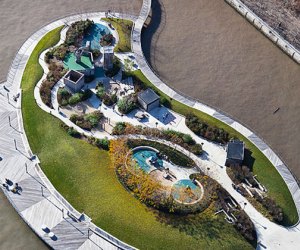 Aerial view of Pier C. Photo courtesy of Michael Van Valkenburgh Associates
Walkway
Take an easy, scenic walk from Pier C all the way to Jersey City via the Hudson River Waterfront Walkway, which runs along the edge of the pier. The walkway offers even more amazing views of the Manhattan skyline as you venture south, with viewfinders and signage along the way.
Nearby Eats
There's no shortage of dining options in Hoboken, many located within steps of the park on Sinatra Drive. There's The Ainsworth, popular for brunch, and the smokin' hot House of 'Que. Or pack a picnic lunch and blanket to dine alfresco. You can also grab food to-go from a number of eateries on Washington Street, like Bareburger or Grimaldi's, and eat it at one of the round wooden tables with benches that are scattered around the park.
Parking/Restrooms
Restrooms are available on-site near the toddler playground, so you won't have to go far for potty breaks. Metered street parking in Hoboken is never easy to find, so be prepared to circle the labyrinth of one-way streets searching for a spot (watch out for permit/resident parking-only signs). A nearby parking garage will run you about $10 for two hours. You can also take the train to Hoboken Terminal. Next time we go, I plan to leave my car at home and hop on the PATH, which is only a 10-minute walk up to Pier C.
Top photo courtesy of Michael Van Valkenburgh Associates. Photos by the author, unless otherwise noted.