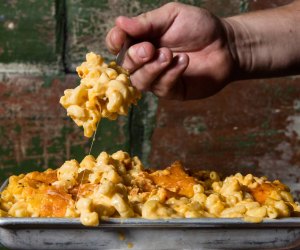 Kid-Friendly Newark Restaurants Near Popular NJ Destinations
Not only is Newark home to several popular venues and attractions—namely the Prudential Center, New Jersey Performing Arts Center (NJPAC), and the Newark Museum—but the restaurants in this part of the city are particularly family-friendly. With the impending arrival of hockey season and a host of upcoming performances, including Disney on Ice and Sesame Street Live!, we've rounded up the best kid-friendly Newark restaurants where everyone can find their fill.
We've also included a few extras you can't miss while you're in town, including two Ironbound gems and the best diner in NJ. So the next time you're in Newark for a concert or show, check out one of these spots to lunch, brunch, or dine with your crew.
Newark Restaurants Near the Prudential Center
Dinosaur Bar-B-Que
Headed to a game or concert at "The Rock"? You can't beat the convenience of this BBQ joint, located just a few steps from the venue's front doors. Kids can select from a menu featuring chicken fingers, mac-n-cheese, and sliders plus two sides (baked beans or collard greens anyone?). And parents rest assured: You're going to be pretty psyched to tuck into the restaurants renowned southern-style slow-smokin' BBQ (don't miss the sliced brisket and fried green tomatoes).
Hobby's Delicatessen & Restaurant
While lunch at Hobby's is known to make jury duty service more tolerable, it closes before sundown which makes it hard to schedule dinner. But if you're heading to a Devil's game, the deli is open until game time (except Sundays), so head over before the puck drop for a quick bite. Even if your kiddos aren't fans of corned beef or pastrami sandwiches, they can order all-day breakfast, jumbo hot dogs, and classic egg creams. Grab a massive chocolate chip or black-and-white cookie from the dessert case on your way out.
Mercato Tomato Pie
Just a few doors down from Dinosaur Bar-B-Que, the mouth-watering pizza served at Mercato is just the way pizza is meant to be: thin crust, foldable and scrumptious beyond compare. Every pie is hand-crafted and cooked in a six-ton coal oven that is kept hot 24 hours a day. While you can get a plain tomato pie with mozzarella for the kids, if you want to really let your tastebuds sing, order the popular White Spinach, Mushroom and Gorgonzola pizza. This Italian spot also serves up family-style pastas meant to be shared.
Novelty Burger
While your kids eat pizza from Mercato, you can get your burger fix at casual and fun Novelty Burger, located right next door. The sister restaurants are linked, so you can order from either menu. Build your own burger from a list of toppings, or go for a specialty burger. The Brie Burger with bacon, mushrooms, sauteed onion and arugula on a Brioche bun is a favorite. They don't have a kid's menu, but Novelty's Bare Cheeseburger is no-frills, and kids can also order hot dogs, cheese fries, and hand-spun shakes. An indoor marquee points the way to the bar for a pre-show cocktail.
RELATED: Themed Restaurants and Family-Friendly Interactive Dining in NJ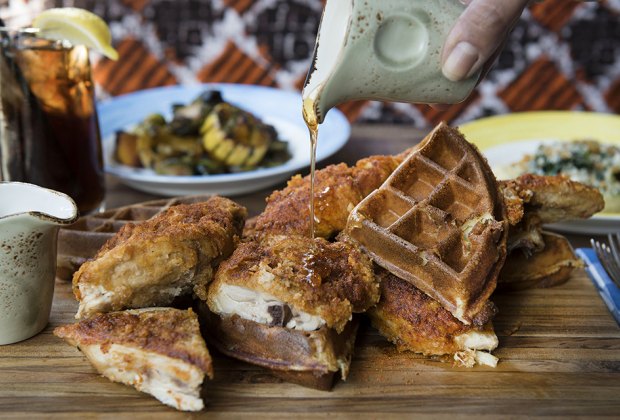 Kids under 12 eat free on Saturdays at Marcus B&P!
Newark Restaurants Near NJPAC and the Newark Museum
Burger Walla
This Indian-inspired restaurant offers a new twist on the classic American burger joint. In addition to the beef burgers, chicken, lamb, veggie and shrimp burgers are infused with Indian spices that kick the flavors up a notch. A full tap of Boylan's fountain sodas are available with free refills. And the side dishes are just as inventive as the burgers. We bet your kids will go crazy for the sweet potato tots. If the skies are bright and sunny, after ordering at the counter, grab a table on the back patio to dine al fresco. Burger Walla is closed on Sundays.
Marcus B&P
Not that we needed another reason to love Marcus Samuelsson, but the fact that kids under 12 eat free at his restaurant on Saturdays makes this top chef a winner in our books. Kids can choose between spaghetti pomodoro, chicken & waffles, or mac and cheese with two paid adult entrees. The dinner menu features Newark-inspired flavors: Italian, Portuguese, and soul-food notes. Come with your appetite and indulge in the shrimp & grits, jerk cauliflower, or hanger steak. The famous cornbread starter, accompanied with a delicious honey-butter, is not to be missed. Seeing a Sunday matinee? The Sunday Jazz Brunch sings!
Ramen Gami
What kid wouldn't want to slurp their way through lunch or dinner? Though there's no kid-specific menu here, the steaming bowls of ramen will hit the spot for any noodle-lover, big or small. You and your little foodies will enjoy picking a favorite style: shoyu (soy), miso (fermented soy), or tonkotsu, the ultra-rich pork broth. There's also sushi for more adventurous eaters. Though you order at the counter before you sit down, the roaming servers are highly attentive to any needs. Top off the meal with mochi ice cream, available in several flavors including strawberry, chocolate, and mango.
RELATED: New Jersey Restaurants Where Kids Eat Free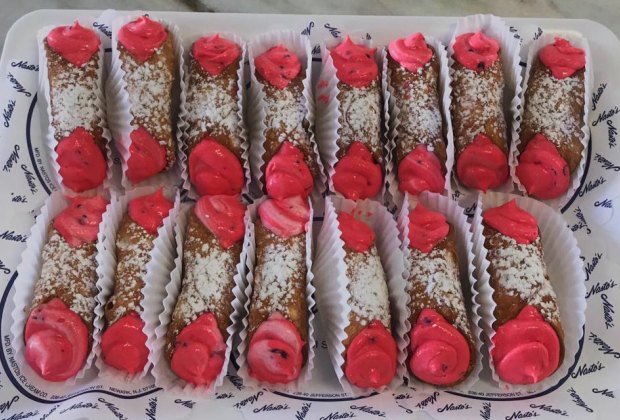 Festive cannolis and many other mouth-watering treats are on the menu at Nastos Ice Cream.
Newark Restaurants Worth the (Short) Drive
Krug's Tavern
We've already proven that there are shortage of burger joints in Newark, but if you're in town for a show, what better opportunity to try one of the best burgers in the state? This iconic Ironbound bar serves up the messiest, yet tastiest, burgers around—just be sure to come prepared with a pack of wipes; you'll need them. The burgers here are perfect in their simplicity. Toppings are limited to just bacon or cheese, but the burgers here are so good, you won't even miss the extra condiments. Not feeling like a burger? Check out their awesome wings or introduce your kids to the wonders of another NJ classic: the Taylor ham and cheese sandwich.
Nasto's Ice Cream
There's always room for dessert, and we can't think of a better place to treat yourself than at Nasto's. Known for their insanely good ice cream birthday cakes, Nasto's dishes out delicious scoops of ice cream all year round. Kids will scream for Cookie Monster (cookie dough and Oreo cookie combined) or any of the Italian ices made with real fruit. The 80-year-old, family-run business also serves up homemade Italian delicacies such as cannoli, tartufo, and spumoni. Shop the freezer cases to take some goodies home.
Tops Diner
It's no secret that Newark is home to the best diner around. Located right across the Clay Street bridge in East Newark, Tops is a destination unto itself. The extensive kids menu provides plenty of options for picky palettes, with everything from scrambled eggs and French toast topped with fresh strawberries and whipped cream, to grilled cheese, chicken fingers, and mac and cheese. You can't come to Tops and not order the disco fries, served "Jersey style" topped with brown gravy and gooey mozzarella cheese. Be sure to save room for dessert! The pastry cases here are stocked with cakes, pies, cheesecakes, and more, the perfect companion to their amazingly good hot chocolate.
Photos courtesy of the restaurants