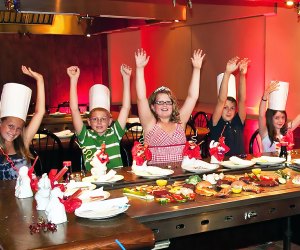 New Jersey Restaurants Where Kids Eat Free
Who says there's no such thing as a free meal? Restaurants throughout New Jersey offer free kid meal promotions nearly every night of the week. (Basically, you never have to cook again.) Visit your favorite family-friendly restaurant on a kids-eat-free night, and you won't have to worry about overspending on kids' entrees, especially the ones that are barely touched. Check out some of these New Jersey dining spots that feature free kid meals on certain nights of the week.
Note that complimentary meals come with the purchase of an adult meal, unless otherwise noted. And as one restaurant reminded us, please consider the normal price of a children's meal when tipping your server.
Arirang Hibachi Steakhouse and Sushi Bar – Parlin, Mountainside
Dinner with a side of knife-juggling and food-tossing—don't try this at home! Eating at Arirang is an event. While the kids will love the entertainment, parents will love the free meals. On Monday and Tuesday nights, kids 10 and under eat free with an adult meal. The dinner menu contains a full selection of Hibachi dishes and sushi, while the kids' menu features bento boxes and hibachi options.
Delicious Heights – Berkeley Heights
Tuesdays are even more delicious at Delicious Heights when kids eat free. Choose from burgers, pizza, kids strip steak, and more.
Famous Dave's – Mountainside, Metuchen
Little ones receive complimentary Lil' Wilbur meals on Tuesdays at Famous Dave's. Choose from country-roasted chicken, ribs and other barbecue favorites.
Horizon Diner – Ramsey
Treat the family to breakfast out at Horizon Diner where kids eat free on Saturdays and Sunday mornings. Or swing by on a Wednesday through Saturday evening for a free kid's dinner.
IKEA – Paramus, Elizabeth
Spend your money on shopping, not on the food! Kids under 12 eat free on Tuesdays. Selections from the Swedish kitchen include meatballs, chicken tenders, and mac & cheese.
Jalapeños Mexican Grille – Glen Rock
Delicious Mexican food is on tap at this Bergen County restaurant. Bring the kids on Sunday afternoon and evenings for free meals that include tacos, nachos, quesadillas, and burgers.
Lovin' Oven – Frenchtown
If you come to Italian Night at this Hunterdon County establishment, you won't go hungry! Kids under 17 get free bottomless bowls of pasta on Thursdays, and adults get three hearty courses.
Maywood Inn's Twin Door Tavern – Maywood
It's Kids Eat Free night every Wednesday at Twin Door. Family-friendly booths, large TVs, and live entertainment make this eatery a family hit. Selections include pizza, specialty burgers, and a variety of small plates.
Molly Maguire's – Clark
Don't feel like cooking on a weeknight? This Irish Pub allows kids to eat free on Mondays through Thursdays.
RELATED: Themed Restaurants and Family-Friendly Interactive Dining Experiences in NJ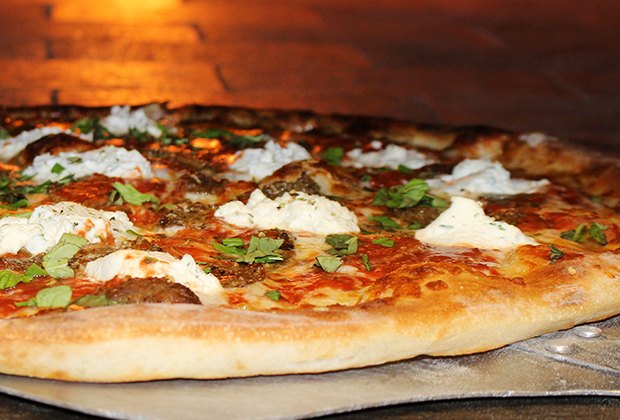 Nino's offers free eats for the kiddos on Mondays.
Nino's Coal Fired Grill – Toms River, Brick
Head down the shore for tasty pizza and other Italian favorites, plus free kids' meals on Mondays.
Otaiko Hibachi & Sushi Lounge – Bayonne
Kids and adults alike can indulge in hibachi favorites like chicken, shrimp, and steak, plus Terriyaki boxes for the kids. On Mondays and Tuesdays, children's meals are on the house (for kids 10 and under) with two adult meals of $35 or more. Print the coupon from the website.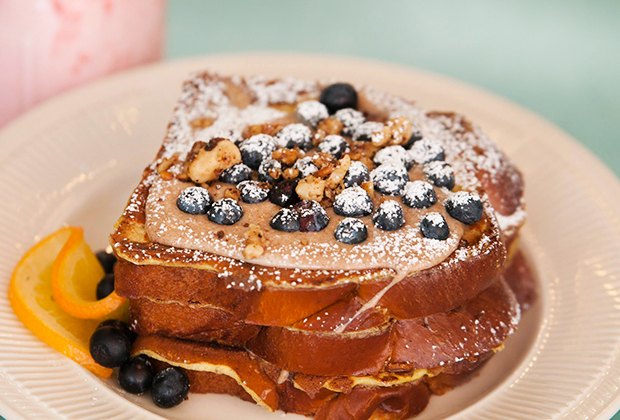 Leave your jammies on and have a casual breakfast at The Pop Shop.
The Pop Shop – Collingswood, Medford
Free meals and breakfast in PJs? We're in. Roll out of bed on Saturday mornings and head over to The Pop Shop for free breakfast from 7:30–10:30am.
Rocca – Glen Rock
This farm-to-table restaurant, which serves local, organic produce and cheeses, offers a three-course prix fixe meal for adults on Sundays and Wednesdays, with free children's meals (two maximum per table).
Rosalita's Roadside Cantina – Englishtown
Wednesday night is fiesta night at Rosalita's—kids eat free and can enjoy face painting, balloon animals, and other fun activities. Adults can dine on fresh burritos, tacos, salads, and sizzling fajitas while the kids fill up on quesadillas, tacos, and burgers. Gluten-free options are available.
Stage House Tavern – Somerset, Mountainside
Chow down on American and barbecue cuisine on Wednesdays in Somerset and Mondays in Mountainside, when kids under 12 eat free after 4pm. Adult entrees include ribs, pizzas, and sandwiches, with burgers, pizza, and grilled cheese on the children's menu. On a nice night, enjoy patio seating.
The Station Bar & Grill – Garwood
It's not often a restaurant offers free kid meals on a Saturday, but The Station gives you something to look forward to on the weekend. The adult menu features a wide variety of burgers, sandwiches, and other American favorites, and kids can choose from chicken fingers, grilled cheese, and other staples.
Tiff's Burgers & Alehouse – Union
Try out the newly renovated Tiff's, serving up delicious burgers, sandwiches, and salads, and get free kids' meals every Tuesday and Sunday from 5–8pm, along with balloons and face painting.
Toro Loco – South Orange
Head over to this festive taco spot every Sunday, Monday, or Tuesday night for fun Mexican fare, mariachi music, and free meals for the kids. Kids can choose from tacos, quesadillas, burritos, and more.
Thirsty Turtle – Cranford
Treat your hungry and thirsty little ones to this contemporary American fare establishment every Tuesday for free hotdogs, burgers, nuggets and other standards. Adults can dine on unique burgers, such as the bacon n egg or pretzel burgers, as well as steak and salmon.
The Verona Inn – Verona
Dine outdoors or indoors at this 70-year-old Essex County favorite, featuring delicious burgers, sandwiches, nachos, fries, and much more. Come on Monday night for complimentary kids' meals.
Willie McBride's Irish Pub & Restaurant – Branchburg
Bring the family to this lively, traditional Irish pub on Sundays, and the kids meals are free. The extensive menu features entrees like shepherd's pie and fish 'n chips, while kids can select reliable favorites like burgers and pizza. Live Irish music and big-screen televisions add to the fun family atmosphere.
Statewide Chains
Buffalo Wild Wings – Multiple locations
If your family loves wings, drop by Buffalo Wild Wings on Tuesday night (may vary by location) for free kids' meals. The sports bar–type menu includes a wide assortment of boneless and traditional wings, plus other pub fare. Kids can choose from wings, burgers, nuggets, and corn dogs. (Note that the free kid promotion is not offered at all locations.)
Denny's – Multiple locations
Tuesday night is kids-eat-free night at most Denny's locations. Load up on comfort food or breakfast for dinner, and the kids can dine on mac and cheese, French toast, spaghetti, and other kid staples. In an attempt to push nutrition, Denny's now incorporates fruit or veggies into its kids' meals.
RELATED: Best Family-Friendly Restaurants Near Liberty Science Center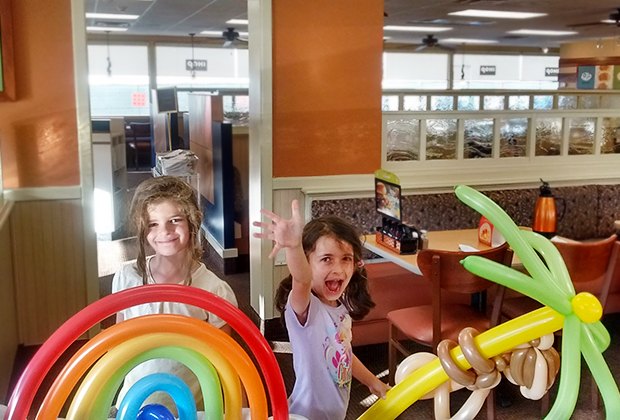 Treat the kids to breakfast for dinner at IHOP. Photo by the author
IHOP – Multiple locations
Pancakes for dinner! The smiley face ones are my kids' top pick. Many IHOPs throughout New Jersey offer free kids' meals on various nights of the week, depending on location. Both kids and adults can opt for breakfast dishes, like pancakes and eggs, or diner-style burgers and sandwiches.
Perkins Restaurant & Bakery – Multiple locations
Kids' meals at Perkins include a lot of food! Choose a breakfast or dinner entree, such as a burger or pancakes, plus a side, drink, and dessert. Most locations have a designated kids-eat-free night.
Unless noted, photos courtesy of the restaurants
This article was originally published in 2014.