NJ's Imagine That!!! Museum and Play Space Reopens After Renovation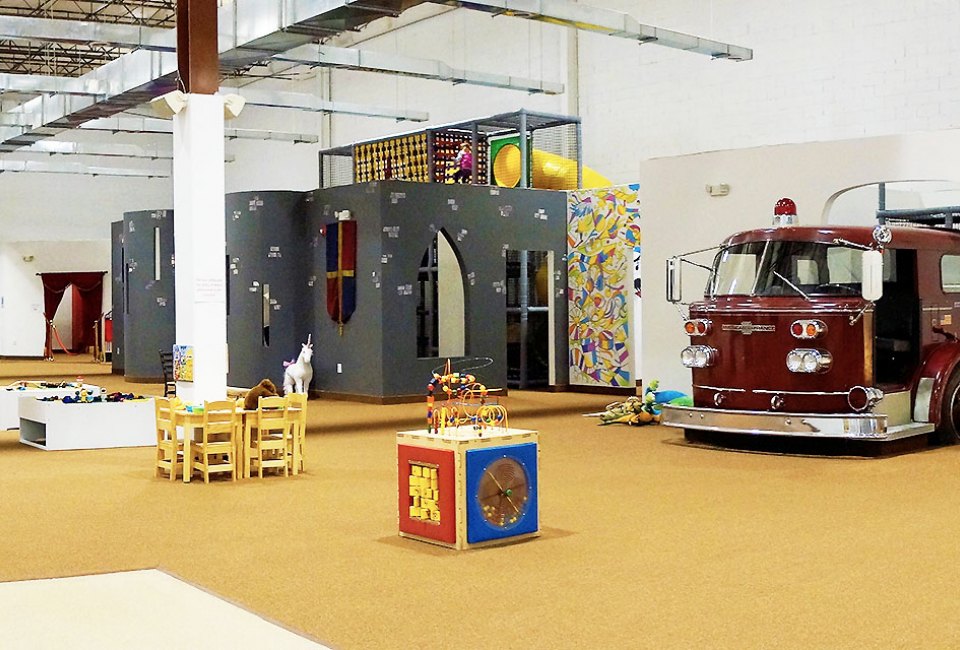 1/10/18
- By
Margaret Hargrove
The popular children's museum we know and love has just gotten a major overhaul. Following a five-month gut renovation, Imagine That!!! in Florham Park, New Jersey, has been transformed into a beautiful and bright 16,000-square-foot indoor play space that feels fun and inviting. The updated fun spot boasts brand-new play structures like an electronic sand table and an interactive, LED light board, plus new-and-improved versions of original attractions like the grocery store, dance studio, play maze, and more.
Imagine That!!!, which quietly reopened in December, will celebrate its grand reopening the weekend of January 13-14. Here's a sneak peak inside the new space and its awesome attractions.
Imagine That!!! was closed from July through November, and it was a long summer without one of north Jersey's most popular indoor play spaces and school field trip staples. In fact, I had chaperoned my 4-year-old daughter's preschool class trip there just this past April, so imagine our shock and awe to walk in eight months later after a complete gutting and renovation.
The new owners, the same family behind The Bounce Factory in Warren, purchased Imagine That!!! about a year ago. The initial plan wasn't to make dramatic changes, but to bring the space up to date.
Prior to closing for renovations, the new owners surveyed customers to find out what they wanted from the new Imagine That!!! "We received thousands of responses," says new owner Cheryl Taylor. "Parents told us they wanted it to be clean, with open sight lines, to have the ability to bring strollers in, and a soft play area for babies and toddlers plus a bigger area for kids to climb."
In order to accomplish this ambitious punch list, a simple renovation simply wouldn't do. "We couldn't just band-aid anything," explains Taylor. Over five months, the entire space was gutted from the ceilings to the floors.
RELATED: 50 Fun Things To Do with Kids Indoors in New Jersey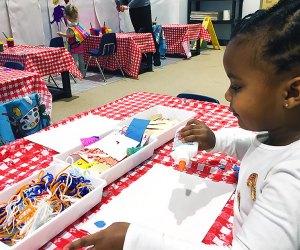 A huge arts & crafts area has painting, gluing, stickering, and more!
Even though everything is new, from the dress-up clothes to the soft blue building blocks, the essence of the old Imagine That!!! remains. There's still the puppet theater, arts and craft area, grocery store with play food and tiny shopping carts, dance studio with tutus and a barre, and the fire truck, which is the only remaining structure from the original museum. "We cut it in half and brought it up to code so it's safe for play," says Taylor.
The mezzanine has a nice flow to it. The open concept allows kids to venture between plays area freely, while you can easily keep an eye on them from anywhere in the room. Low play tables down the center aisle allow little ones to participate in creative play with everything from a dinner table setup to doctor tools for checkups, as well as train tables and of course, the coveted enclosed soft play area for cruisers and crawlers. A pirate ship structure invites your little swashbuckler to don a pirate hat before climbing the steps to get behind the giant wheel and steer the ship. Instead of walking the plank, a trip down the slide returns them to the floor.
RELATED: Indoor Play Spaces for Kids in Northern New Jersey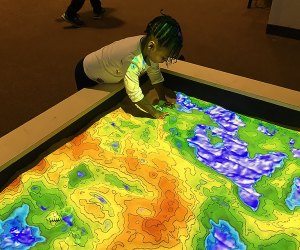 Check out the one-of-a-kind electronic sand table.
Just behind the pirate ship are three of the coolest new exhibits at the museum. First up, the electronic sand table features an image of the globe beamed onto the sand below, so kids squeezing and moving the sand will literally feel like they have the whole world in their hands.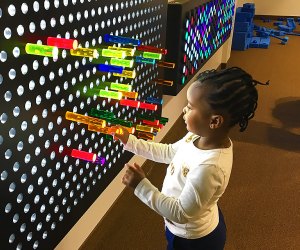 Kids and adults can play together on the gigantic Lite-Bright.
There's also a gigantic wall version of Lite-Brite. Your kids' masterpiece will glow as they plug the colored sticks into the black wall to make dazzling images. In addition, an Everbrite board—only the second if its kind in the world—provides sensory play that will be a hit with special needs kids. The soft-touch dials change color when twisted, so kids can use their imagination to create their own design, or make a favorite animal, car, or flowers.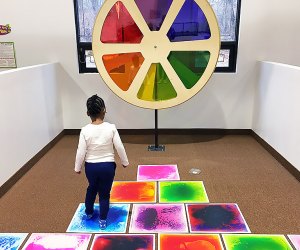 Kids will love jumping on the gel-filled pads at the color-wheel.
The interactive color wheel, located next to the arts & crafts area, is another noteworthy addition. Kids can hop, skip, and jump across a rainbow of soft tiles that contain a gel-like substance that moves and morphs beneath their feet. The music room is also a must-see, filled with drums, a piano, and maracas. Cool Nanoleaf rhythmic technology panels change color to the rhythm in the room.
The highlight, and biggest draw, for preschoolers and big kids will be the large jungle gym structure that dominates the right side of the room. Unlike the museum's previous version, where your kids disappeared into a black hole to climb and play, this maze of mesh is completely transparent so you can see your climber. Two attendants are stationed on either end of the gym to offer a helping hand up or down, and the exit is a 20-foot spiral slide back down.
Once your kids have worked up an appetite, the on-site cafe serves favorites including hot dogs, chicken nuggets, pizza, and beverages, as well as snacks such a Goldfish and popcorn. Salads, sandwiches, and wraps will soon be offered as well. A seating area adjacent to the cafe provides tables and chairs for eating. If you're planning your child's birthday party, Imagine That!!! has four large party rooms, with collapsible walls to expand the space for larger groups.
The grand opening event is scheduled for the weekend of January 13-14, 2018 with a host of special musical performances, magic shows, and appearances from Anna, Elsa, Paw Patrol characters, Batman, and Spider-Man.
Imagine That is located at 4 Vreeland Road in Florham Park, New Jersey. It's open seven days a week, but timed tickets much be purchased ahead of time online. This keeps crowds to a manageable size. Timed tickets are $15.99 per child and $6.99 per adult, and you can choose to visit from 10-12:30pm, 12:30-3pm, or 3-5:30pm.
Top photo: Imagine That!!! has a large open floor plan that allows kids to easily move from one activity to another. Photo courtesy of Imagine That!!!
All photos by the author, unless noted
Places featured in this article:
Sign up for the Mommy Poppins Newsletter today!