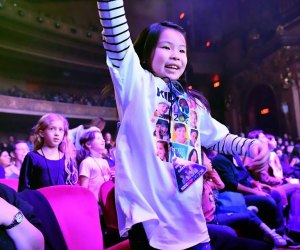 50+ Fun Things To Do with Kids Indoors in New Jersey: A Winter Survival Guide
Being stuck inside on a cold, blustery day with your kids climbing the walls is far from our idea of a good time. Lucky for us, New Jersey has no shortage of ways to keep young 'uns entertained and active this winter, from museums and indoor play spaces to bowling alleys, Ninja Warrior–inspired obstacle courses, and roller rinks.
Bundle up your little ones and hit the road to check out one of these 50+ fun ideas. Kid-friendly shows, drop-in arts & crafts, and sporty fun zones are just some of our favorite indoor activities guaranteed to cure cabin fever.
Read on for our list of the best of what New Jersey has to offer for the whole family this winter season. And be sure to check out our January GoList and Events Calendar for even more great ideas. Stay warm, NJ!
1. Watch Anna, Elsa, and Olaf skate their hearts out at Disney on Ice Presents Frozen at the Prudential Center through Sunday, January 6.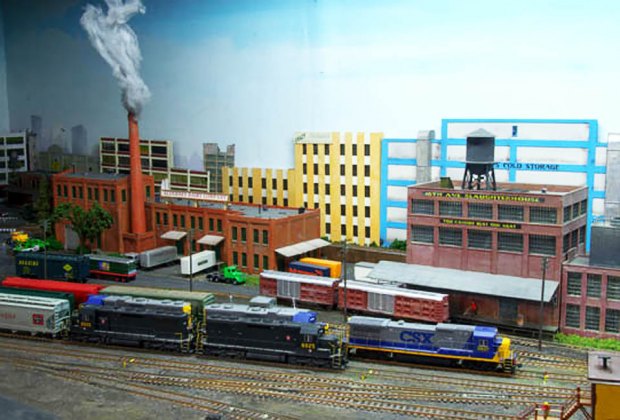 Don't miss the classic train show at the Garden State Model Railway Club. Photo courtesy of the club
2. Wow your little train enthusiast with a trip to the Garden State Model Railway Club's annual show on Saturday and Sunday, January 5-6.
3. Lace up your own skates at one of New Jersey's many state-of-the-art indoor skating centers. Many feature skate rentals, snack bars, and warming rooms.
4. Don't like ice or cold? Get your skate on at one of these great roller rinks, and boogie like it's 1985.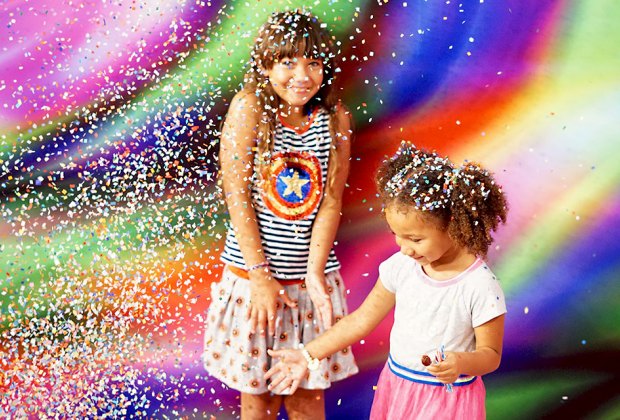 Take some amazing photos and sample lots of candy and Candytopia. Photo by Jody Mercier
5. Beat post-holiday boredom with a sweet trip to NYC for the last day of Candytopia on Sunday, January 6.
6. Put those new year diets on pause and indulge in a doughnut crawl to find the best in the state!
RELATED: Indoor Play Spaces for Kids in Northern New Jersey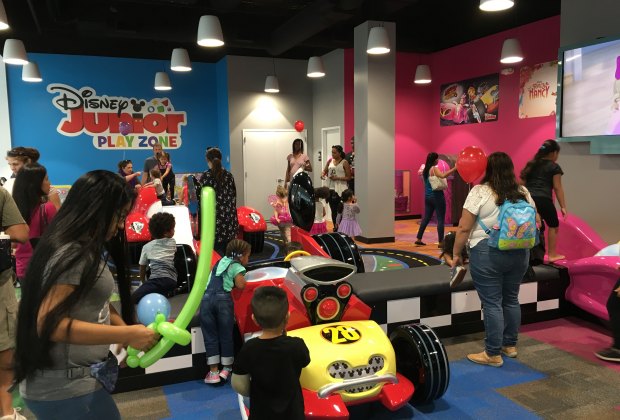 Give the kids a break from shopping at Menlo Park Mall's new Disney Junior Play Zone. Photo by Margaret Hargrove
7. Bribe your kids to accompany you to the mall for post-holiday returns with a stop at the Menlo Park Mall's new Disney Junior Play Zone, or another FREE mall play space.
8. Make the most of your time at the mall with a free—or nearly free—class, craft, or storytime at the Apple Store, Pottery Barn Kids, Barnes & Noble, and other stores.
9. Combine dinner and movie at one of New Jersey's several dine-in movie theaters with Mary Poppins Returns (in theaters now) or The Lego Movie 2 (opens Friday, February 8).
10. Pop in to play at Woodland, a new eco-friendly indoor playground that just opened in Cedar Grove.
11. Tots can bring their teddies (or other fave stuffies) to the Morris Museum's Teddy Bear Tea on Saturday, January 12. In addition to a magical performance, delicious treats make the day complete.
12. Your kid's favorite dolls step into the spotlight for American Girl Live, a musical inspired by the brand's popular characters and stories, at Bergen PAC (Thursday, January 17); Mayo Performing Arts Center (Saturday, January 19); and Count Basie Theater (Sunday, January 20).
13. Keep little ones busy and warm at a budget-friendly play space that costs less than $15 per kid.
14. Schools are closed on Monday, January 21 for MLK Day, so start your Day of Service at the Newark Museum. The museum will host activities for all ages, including film screenings, performances, and hands-on art and science programs.
RELATED: Best Indoor Obstacle Courses for NJ Kids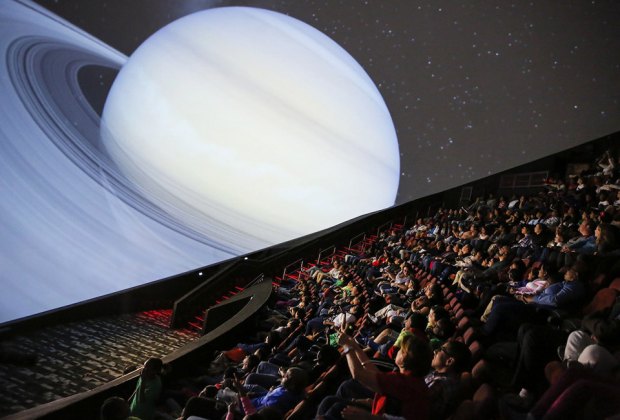 Get young learners excited about science and technology at Liberty Science Center's awe-inspiring planetarium. Photo courtesy of the planetarium
15. Stargaze from inside the largest planetarium in the Western Hemisphere at Liberty Science Center.
16. While at the Liberty Science Center, surprise your little sleuth with a visit to the Sherlock Holmes exhibit, or check-in to the Doc McStuffins exhibit, which closes Sunday, January 27.
17. See a caribou antler from Ice Age New Jersey, a 1930s flight suit from a South Jersey female pilot, Native American projectile points, and much more at Objects Count, an exhibit showcasing an eclectic selection of artifacts and specimens collected by the New Jersey State Museum over the past 10 years.
18. Come dressed as your favorite character to Liberty Hall Museum's Frozen Ball on Saturday, January 26. Warm up at the hot chocolate bar, and enjoy crafts, games, and special appearances.
19. Wow your little fan of big wheels with tickets to the Monster Jam Triple Threat Series at the Prudential Center Friday–Sunday, January 25–27.
20. Burn off some energy and bounce at an indoor trampoline or bounce house.

Check out Snapology for STEM-based play. Photo courtesy of Snapology
21. Not one but two new STEM-based indoor places spaces recently opened in NJ. Genius Gems in Millburn and Tinton Fall's Snapology will engage and enlighten little ones while summoning their inner techie in a super fun environment.
22. Ring in the Year of the Pig with a Chinese New Year performance by the Nai-Ni Chen dance company at NJPAC Thursday and Friday, January 31–February 1.
23. Spend the day "underwater" with sea life at Adventure Aquarium.
24. Pretend it's summer and make a splash at an indoor water park.
25. Save the zoo for the spring and come meet some new animals indoors at Rizzo's Reptile Discovery or Insectropolis.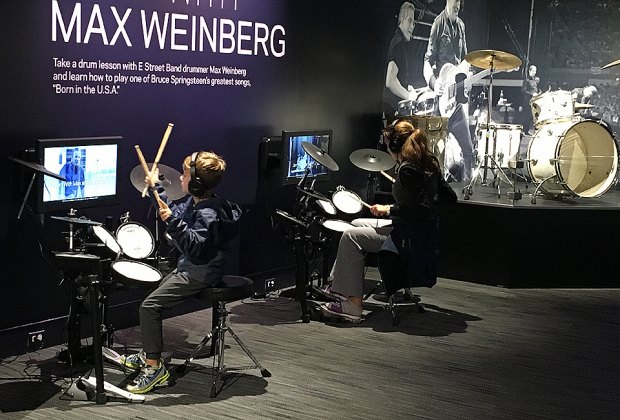 Have jam session at the GRAMMY Museum. Photo courtesy of the museum
26. Rock out with your tiny musician at the GRAMMY Museum Experience at the Prudential Center in honor of the awards show airing Sunday, February 10.
27. Strike it big with a fun outing to a family-friendly bowling alley.
28. Skip the mess at home and drop-in at an arts & crafts studio for painting, pottery making, jewelry designing, and even glassblowing.
29. Find out of the glass slipper fits at Mayo Performing Art Center's dreamy adaptation of Rodgers & Hammerstein's Cinderella Friday and Saturday, February 8-9.
30. Love is in the air this Valentine's Day weekend. Bring your son, grandson, nephew, or special friend to Liberty Hall Museum on Saturday, February 9 for a delightful date with your favorite little guy.
31. Chocolate lovers should head to the Morris Museum's Chocolate Family Fun Day on Saturday, February 9 for games, tasty crafts, and a special performance.
32. Based on the book of the same name, SOPAC's Amber Brown Is Not a Crayon on Sunday, February 10, is a uniquely funny musical that follows Amber as her best friend Justin prepares to leave NJ and move to Arizona.
RELATED: Indoor Water Parks and Pools for New Jersey Families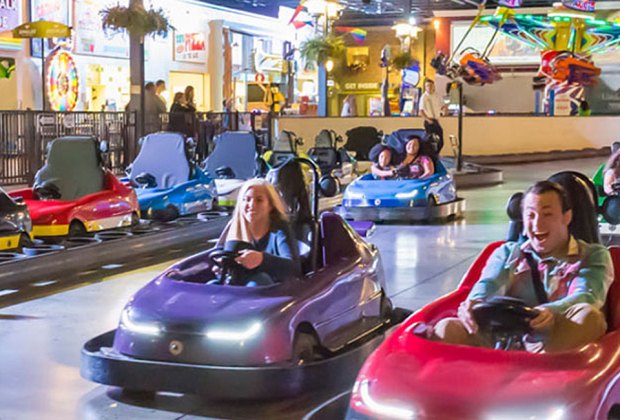 You won't run out of activities at iPlay America. Photo courtesy of iPlay America
33. When it's too chilly for the boardwalk, ride the bumper cars and carousel at iPlay America indoor amusement park.
34. Keep older kids entertained with paintball or laser tag.
35. The KIDZ BOP Kids take the Prudential Center stage Friday, February 15 to perform family-friendly versions of today's biggest hits in this energetic and interactive live show.
36. Snag tickets for a kid-friendly performance at Paper Mill Playhouse of Junie B. Jones (Saturday, February 16); Rosie Revere Engineer (Saturday, February 23); or Henry & Mudge (Saturday, March 2).
37. Take your kids out for a date-night dinner at a restaurant where kids eat free certain nights of the week.
38. Spend your President's Day (Monday, February 18) at the State Theatre NJ's Family Day, which includes a performance of Jack Hanna's Into The Wild Live, plus face painting, balloon animals, food, and more.
39. Or use your day off to take a day trip to PA to visit the Crayola Experience in Easton, Philly's Please Touch Museum, or Westchester's Legoland Discovery Center.
40. Pirates or Scarlet Knights? Get a jump on March Madness by taking your little sports fan to a college hoops game.
41. While you watch the games, your kids can hone their arcade skills at the newest outpost of Dave & Busters in Wayne.
RELATED: Free Admission for Kids at 50 of NJ's Biggest Family Attractions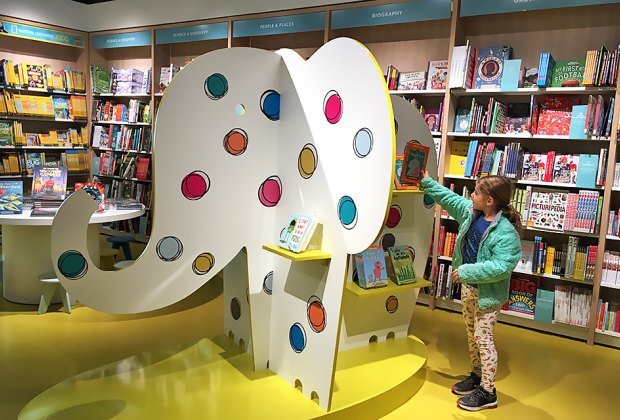 Pick a new book, play and grab a treat at !ndigo Bookstore. Photo by Elaine Quilici
42. Wander the shelves at the new 30,000-square-foot !ndigo Bookstore at Short Hills Mall and let your kids pick a new read.
43. Roll up your sleeves for a family art project every Sunday at Montclair Art Museum.
44. Want even more culture? Visit any of NJ's great museums, where children's programs and kid-friendly exhibits are often on offer.
45. Tee up for glow-in-the-dark mini-golf fun and see who can score a hole-in-one.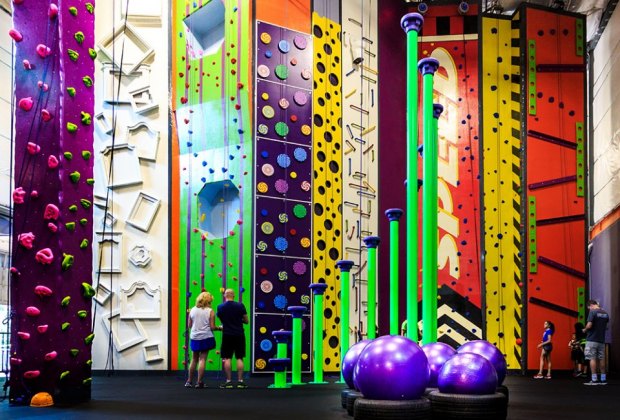 Challenge the whole family with rock climbing or an indoor obstacle course at High Exposure. Image courtesy the gym
46. Instead of climbing the walls at home, take the kids to do some rock climbing.
47. Work together as a family to find your way out of one of these family-friendly escape rooms.
48. Celebrate the birthday of one of the most beloved children's authors at Morris Museums's Dr. Seuss Family Day Saturday, March 2.
49. The party continues at Jenkinson's Aquarium, which celebrates Dr. Seuss's birthday on Saturday, March 2 with a Cat in the Hat storytime.
50. Enjoy an autism-friendly performance of the New Jersey Tap Dance Ensemble as part of the State Theatre of NJ's Milk & Cookies series Saturday, March 2.
51. Catch up with your little princess' favorite Disney princess at SOPAC's endearing stage rendition of Beauty and the Beast Saturday, March 2.
52. Spice up your kids' culinary skills with a hands-on cooking class.
53. In honor of Fat Tuesday and National Pancake Day on Saturday, March 9, enjoy a free short stack at IHOP.
54. On Sunday, March 17, bring the family to Music at the Museum, a concert series featuring classical and jazz musicians from the faculty of Rutger's Mason Gross School of the Arts
55. In honor of Dr. Seuss's birthday this month, everyone's favorite cat comes to mischievous life in a theatrical adaptation of the classic The Cat in the Hat at SOPAC on Saturday, March 23.
56. Pop bubbles at a sensory-filled performance of B-The Underwater Bubble Show on Saturday, March 30 at State Theatre New Jersey.
57. Cross off an activity from our list of 30 things to do with preschoolers before they turn 5.
This post has been updated for 2019.