The Funplex Amusement Park and Water Park Guide: Family Fun in East Hanover and Mt. Laurel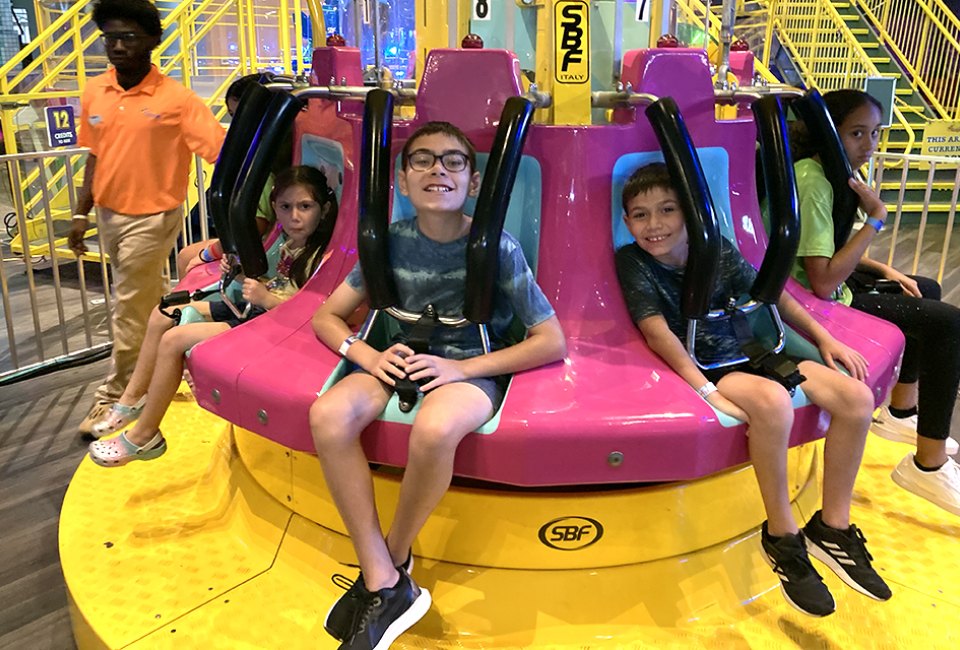 8/18/23
- By
Kaylynn Chiarello Ebner
The Funplex in East Hanover lives up to the "fun" in its name. The huge complex–which has a second location in Mount Laurel–has tons of activity options, whether your family wants to try the go-karts, bowling, laser tag, arcade games, or warrior course.
But the best-kept secret might be the outdoor water park, with splash areas and slides for the whole family to enjoy–plus lots of spots to kick back and relax.
Check out our story on great amusement parks for NJ toddlers and much more in our Guide to New Jersey Amusement Parks and Water Parks.
Must-Do Activities at the Funplex: Water Park, Laser Tag, and More!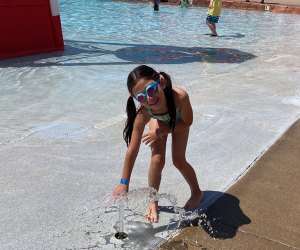 Entry to the Funplex's massive Splashplex water park is included in regular admission.
Splashplex
The terrific outdoor water park at the Funplex, Splashplex, is a major perk in the summer months. Admission is included in the day pass, and you can spend hours at the attractions. Little ones will love the interactive pools and splash areas, while older children will want to spend hours barreling down the slippery water slides. Some slides are pretty tame, while others will certainly give you a thrill. There's also a lazy river where the whole family can relax.
Bowling
The Funplex has a modern bowling alley with a sophisticated vibe. Play a traditional game or try hyper bowling, where you'll take aim at targets. Grab a snack at the nearby snack bar and settle in on the comfy benches as your family takes turns knocking down the pins. The modern lanes have auto-bumpers if you need them. And for impatient little ones, there are large-screen TVs above the lanes. An hour of bowling is included in the day pass.
Go Karts
Unleash your inner speed demon and zoom around the twisting and turning go-karting course. The indoor course is a good size, and you'll be able to pick up some good speed. But don't worry: these electric go-karts have adjustable speed settings for the driver's skill level. Drivers must be 14 years old and 54" tall, but passengers can be 36" to ride.
RELATED: Family-Friendly Bowling Alleys in New Jersey

Guests 48" or taller can take the wheel of a bumper car at Funplex.
Bumper Cars
Hop in a bumper car and have a blast spinning and bumping into other cars. Guests taller than 48" can drive, and passengers must be 42". In the summer months, Mount Laurel also has bumper boats to try!
RELATED: Best New Jersey Arcades To Visit with Kids

The Funplex's arcade will make little gamers happy.
Arcade
If you purchase a day pass, the non-redemption arcade games are free to play all day! Or load up a fun card to play the ticket-winning games and earn cute prizes. There are some fun boardwalk-style and crane games, too.
RELATED: Laser Tag and Paintball in New Jersey with Kids

The Funplex has some seriously intense rides.
Rides
Rides are sprinkled around the facility. In East Hanover, take a seat on the Skyscraper, and fly in a vertical circle with plenty of thrilling drops. Or try the Super Twister pendulum for some serious stomach-fluttering fun. My crew's favorites were the Drop 'N Twist, which twists you up two stories before dropping you a bunch of times, and the Reverse Time—a twisting adrenaline pumper.
In Mount Laurel, there are several outdoor rides in addition to a few smaller indoor ones. The outdoor park is home to a roller coaster, a drop tower, the swinging Galleon gondola, the Fun Twister, and the Fun Force spinning rides, if you want a thrill. There's also the Happy Swing and Kite Flyer for little ones. And, the Mount Laurel location also has a lovely outdoor mini golf course to enjoy. Admission is included in the day pass price as well.
Foam Frenzy and Warrior Course
Foam Frenzy is three levels of foam ball mayhem. Shoot balls out of air cannons and prepare to laugh like crazy. Balls fly from every direction, so do your best not to get hit! This attraction is recommended for ages 4 and up. For the Warrior Course in East Hanover, jump over, climb up, and crawl through obstacles intended for kids ages six and up. Check the opening and closing times, as the hours are limited.
Laser Tag
Prepare for an epic battle as you chase enemies around bends and try to zap their targets. This black-lit futuristic maze is intended for ages 7 and up.
Eating at the Funplex
The Funplex has a boardwalk feel with plenty of quick-service options to choose from, some with some pretty unique choices. Head to the Boardwalk Cafe for churros, loaded fries, funnel cake, fried pickles, burgers, and more. Or, choose the Pit Stop Cafe for burgers, pizza, fries, hot dogs, and snacks. If you're visiting Splashplex, Sharkey's serves up burgers, fries, and more right next to the wading pools and slides, so you won't have to come inside to eat. No outdoor food is allowed, but you can bring a bottle of water.
Visiting the Funplex: Know Before You Go
Splashplex Outdoor Water Park Details:
Lounge chairs are plentiful, but bring your own towels.
Lockers are available to rent. The locker rooms have changing areas and showers.
The cabanas are reasonably priced and come with some nice perks like bottled water, a fridge, and a TV. Definitely check them out if you plan to spend the day.
Ticketing and General Visitor Info:
Reserve tickets in advance for specific arrival windows. Ask about busy days/times before you book. This venue is a popular spot for day camps and parties.
The daily wristbands are a great deal. They include an hour of bowling, the water park, all the rides, go-karts, and more. Some packages include a meal. Look for off-peak tickets for additional savings.
If you're local, the season passes are a steal. Purchase for the whole year or for just the summer months. And look for pre-season sales. Buy now for next summer and save big.
For rides, check the height requirements. Many rides have minimums of anywhere from 36" to 48", with some needing an adult to ride with little ones.
Photos by the author
Places featured in this article:
Sign up for the Mommy Poppins Newsletter today!
i