Reach New Heights at Catch Air Trampoline Park in Hasbrouck Heights, NJ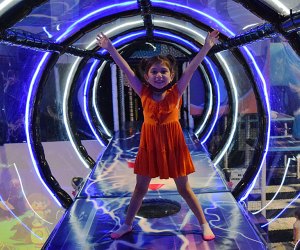 8/29/22
- By
Kaylynn Chiarello Ebner
Looking for a new play date spot in Northern New Jersey? A high-flying trampoline park has just opened, and Catch Air of Hasbrouck Heights delivers on the "wow" factor, promising to keep toddlers through elementary school-age kids busy hours'hours worth of indoor fun. This play center opened its doors in May 2022 and features tons of out-of-this-world space-themed activities. We recently checked it out and can say with certainty that it's a worthy day trip for kids who love to slide, climb, and bounce.
Read on for our full review of Catch Air's trampoline park and find more action-packed places to play on our list of the best play spaces in Northern New Jersey. Be sure to bookmark our Guide to Indoor Play Spaces in New Jersey for Kids.
Subscribe to our newsletters to get stories like this delivered directly to your inbox.



Catch Air is filled with tons of attractions to keep kids from toddlers through elementary school entertained for hours.
Lift Off at Catch Air Hasbrouck Heights
As soon as we walked through the doors, my daughter's face lit up at the sight of a huge slide set aglow with rainbow lights. We scrambled to the top of the structure and were amazed by all the things to do. The enormous, three-level climbing structure runs the depth of the building and is connected in unique and interesting ways. Start in the back of the structure, and kids can launch foam balls at aliens projected on the walls. Or, try to beat your high score by jumping on trampolines connected to video games. I loved that these trampolines were for single jumpers and were surrounded by mesh barriers.
Climb up to the second level and find a section with an enormous bouncy ball that's easily 4 1/2 feet tall. Roll it to a friend before climbing over rope bridges, running around hanging bags, and wading through a lava volcano ball pit. Or, maybe take a spin on the turning chair, or a ride on a bouncy, soft zebra. There's also a fantastic mesh climbing ring structure for kids over age 6 to scale. Kids can crawl through a clear tunnel and peek out to find familiar faces. There must be at least five enormous slides to enjoy as well, from fast multi-persons ones to classic twisting tunnels. Inclined ramps with soft "speed bumps" make many levels easy to climb for kids who aren't steady on steps.
RELATED: Indoor Birthday Party Spots with Mega Playgrounds in NJ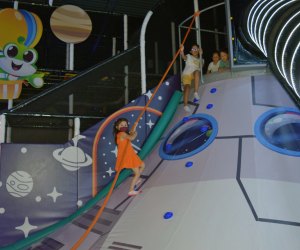 Gather your strength to scale the sloped climbing wall at Catch Air.
One really fun feature was a bouncy, inclined climbing rope wall that requires some serious skill to master. Try and try again to climb the mountain for the chance to slide down a rainbow tunnel (or have fun gliding down the hill on failed attempts).
Fun for Little Astronauts at Catch Air Trampoline Park
If you have younger ones, there's a really fun, gentle play area to enjoy. The walls are lined with interactive manipulatives where toddlers can practice their hand-eye coordination. This area is also home to some enormous foam building blocks and soft slides. I loved that there was a slightly larger slide as well for families with older siblings (or daring little guys).
Snacks and More at Catch Air
Catch Air doesn't allow outside food or drink in the building, but there is a pretty big snack bar on the premises with lots of tables and chairs. Most of the offerings were bottled drinks and packaged snack foods like chips and cookies. There was also a cooler stocked with frozen treats. Since admission includes all-day re-entry, guests can leave for a most substantial meal before continuing the fun.
Hosting a Birthday Party at Catch Air Trampoline Park
Birthday kids are made to feel like royalty during a Catch Air party, complete with a shiny golden throne for the guest of honor. The venue has three spacious party rooms that can fit good-sized parties without crowding.
RELATED: Indoor Activities: 40 Ways to Spend a Rainy Day in NJ

Kids can conquer plenty of obstacles and ninja-warrior-inspired features at Catch Air Hasbrouck Heights.
Know Before You Go to Catch Air Trampoline Park
Catch Air trampoline park is open seven days a week. Visit the website for current hours.
Current admission prices are $14.99 for children ages 1-2; $24.99 for children ages 3+; $7.99 for adults.
All guests must wear socks; if you don't have any, socks are available for purchase at the front desk.
Save time when you arrive and fill out the waiver in advance online.
All photos by the author