Jersey City's RPM Raceway Expands with World's Longest Go-Kart Track
2/14/23
- By
Jody Mercier
The world's longest indoor electric go-karting track has opened at RPM Raceway Jersey City, just outside of NYC, so if you've got daring kids who feel a need for speed, this indoor go-karting track is a must-visit. Dubbed the RPM Raceway MegaTrack, this new experience is the fruition of a six-month, multi-million dollar renovation project.
To get a taste of the action, I recruited my teen and his best friend to be my test drivers. More laps than I could count later—and plenty of playful trash-talking—it was clear this visit to RPM Raceway Jersey City would not be our last. Read on for all the details on our visit to RPM Raceway Jersey City, its MegaTrack, and the rest of the attractions at this action-packed indoor fun spot, which is close enough to NYC to make for an easy day trip, too.
We've got more top picks for teen-friendly fun in our New Jersey Tweens and Teens Guide.
Subscribe to our newsletters to get stories like this delivered directly to your inbox.



The cavernous RPM Raceway space houses a super-sized arcade in addition to its record-breaking go-kart track.
Exploring RPM Raceway Jersey City
While the big news here is that RPM Raceway Jersey City has debuted its RPM Raceway MegaTrack, this indoor fun zone has been a Jersey City mainstay since 2010. Beyond the track, RPM Raceway Jersey City boasts more than 150 arcade games, plus virtual reality, a racing simulator, and a snack bar, spread across its 78,000-square-foot fun zone. So, there are plenty of ways to play even if you don't want to get behind the wheel. During our visit, we alternated our time on the track with air hockey and skeeball battles, plus a game of Connect Four-inspired pop-a-shot. There were tons more arcade games to play, ranging from simple claw games to shooting games, motorcycle racers, and more. Play enough arcade games and you can earn tickets to exchange for small trinkets and tchotchkes at the reward center on your way out.
RELATED: Family-Friendly Escape Rooms in New Jersey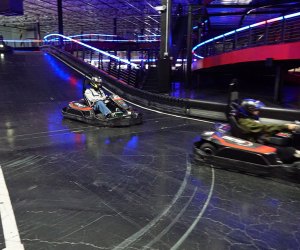 RPM Raceway's go-kart tracks include lots of twists, turns, and elevations offering a challenging drive to more experienced go-karters.
RPM Raceway Jersey City's MegaTrack
The RPM Raceway MegaTrack is, actually, two brand new go-kart tracks that can be joined together to seamlessly race across 2,200 feet of track length, with three levels of elevation, spiraling ramps, and even 90-degree-hairpin turns. Thrilling straightaways allow karters to hit speeds of up to 45 miles per hour on a fleet of brand-new OTL electric go-karts. If you want a chance to race the MegaTrack, make sure you visit on MegaTrack Mondays when the two tracks are merged for this adrenaline-pumping experience.
RELATED: Best New Jersey Arcades To Visit with Kids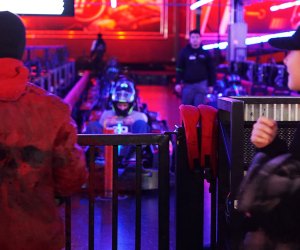 Racers rally in pit lane to get ready for their ride on the track at RPM Raceway Jersey City.
Racing Experience at RPM Raceway Jersey City
Upon entering RPM Raceway Jersey City, all racers must fill out a waiver and register for their races; from there you're free to roam the space and explore while waiting for your race number to be called to the pit lane, where the staff helps outfit you with a racing helmet before assigning you to a car.
From there, brief safety instructions are doled out before you're off to the races. While I could have done with a bit more direction for my nervous mom's heart, overall, the experience felt very safe. Staffers are positioned along the outside of the track as racers are set loose, waving color-coded flags to instruct drivers to pull over and let faster cars pass or deliver quick instructions. If there is any contact on track with other drivers or the walls—and there likely will be—they can slow cars or stop them with the flick of a switch, so it never felt like the action got out of hand during our visit. If a driver is having trouble, they're quick to visit them on the track to check in before letting the race continue.
When you're done with the race, be sure to visit the scoreboards mounted above the pit lane to check in on your lap times and see how you ranked against the rest of the field. These standings provided plenty of fodder for trash-talking amongst my duo, and maybe a little motivation for the next race, too. If you've got younger kids, they might enjoy stepping onto the racing podium for a post-race photo-op with friends.
And, lest you worry about big kids careening too close or too fast near smaller tykes, races are divided by experience level, with adults-only races for the biggest "kids," a non-licensed division for older kids and adults, and a completely separate junior track, with smaller carts where kids as young as age 6 can race against their peers. Races in the junior and non-licensed divisions are run at restricted speeds.
RELATED: The Scoop on Fundaes, a Cool New Arcade in Central New Jersey

Nab a snack at the on-site snack bar which sells plenty of kid-pleasers to fuel your day of play.
Food at RPM Raceway Jersey City
If all the high-speed—or high-scoring—action at RPM Raceway Jersey City makes you work up an appetite, take note: There's an on-site snack bar to satiate your hunger. Find kid-pleasers and carnival foods like nachos, churros, mini-doughnuts, fries, hot dogs, chicken fingers, and more, plus sodas and energy drinks in a sports-bar like atmosphere perched near the junior track giving you a view of the action while you nosh.
RELATED: Top 12 Indoor Play Spaces in New Jersey for Kids

RPM Raceway's go-karts can reach speeds of up to 45mph as they whizz around the track.
Know Before You Go to RPM Raceway Jersey City
Racers must be at least 6 years old and 4 feet tall to race in a junior cart; racers must be 4-foot-10 and 13 years old to race in the non-licensed division. Adult drivers must be over 4-foot-10 and have a valid driver's license.
You'll pay by the race once you arrive, but you can expedite the check-in process by filling out your waiver online in advance.
If you plan to visit frequently, consider purchasing a membership, which offers deep discounts on race fees.
There is ample seating trackside for parents who prefer to watch, and the open, industrial-warehouse-like space makes it easy to keep an eye on multiple kids during your visit.
Got a race-crazed kid? Consider booking a birthday party package, complete with a bird's eye view of the race track.
There is ample free parking on-site, and it's most easily reached via car. We traveled from Manhattan and took a cab from the PATH station. It would have been a hefty walk from public transit!
Photos by the author
Places featured in this article:
t Click Here to Sign Up!