Find High-Energy Fun at North Jersey's New Indoor Action Center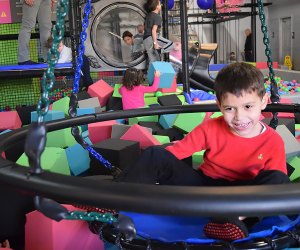 I'm usually pretty tolerant of a noisy, sometimes floor-vibrating home, but when my kids recently turned the couch into a trampoline and the dining room into an obstacle course, I knew it was time to burn off some steam elsewhere. With the January cold upon us, indoor play was clearly the way to go, so we decided to check out one of Northern NJ's newest indoor playgrounds: Xtreme Energy in Englewood.
The facility, which opened in the fall, is amazing for kids and preteens—especially those who love climbing, jumping, and challenging themselves with unique physical activities.
Lots of Ways To Play

Ride the wavy slides into a huge foam pit.
After signing the waver and donning our grippy socks (you'll need to bring or buy skid-free socks), my kids made a beeline for the multi-level climbing structure. Climb to the top and glide down the triple wavy slide. Kids pop out into a huge pool of foam cubes that takes quite a bit of energy to wade across—the theme of the day!
Xtreme Energy, true to its name, delivers several unique ways for kids to get some exercise while having a ton of fun. The multilevel Playscape, for instance, has rope tunnels and other structures to climb, a foam-ball shooting gallery, and a large ball pit that's perfect for toddlers. The open layout was a bonus for this mom of three: it was super easy to keep on eye on my gang!
RELATED: 35+ Indoor Play Spaces for Kids in Northern New Jersey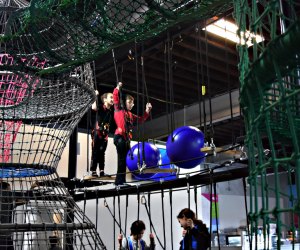 The two-story rope course is geared toward kids ages 6 and up.
My boys loved the nearby two-story rope course, for ages 6 and up. Harness up and make your way over seesawing planks, beams, and bumps that test your balance, agility, and strength. While my little guy was too small for the upper level, my 8-year-old loved working his way over orbs and other obstacles.
Also in the main area of Xtreme Energy is a small rock climbing wall, intended for ages 5 and up. Kids can enjoy the flat course or the bumped out, angular climb that definitely requires strength and agility to reach the top. Staff members stationed at this activity did a great job of coaching the kids and helping to ensure safety.
RELATED: Trampoline Parks and Bounce Houses Where NJ Kids Can Get Aerial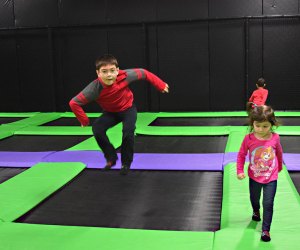 Little kids and big kids can have a blast on the trampoline grid.
Set apart from the main area is a back room with a large trampoline grid—our favorite activity of the day! Everyone from toddlers to teens can join in the fun of bouncing high on the tramps. While I was there, the attentive Xtreme coaches played some simple games with the kids and even offered jumping tips. Nice! More adventurous kids can put on a special suit and fling themselves onto the Velcro wall.
Nearby is a small ninja course with about five or six obstacle zones that are good for ages 5-12. Kids will definitely get a workout as they climb across hanging rings, huge nets of foam cubes, hanging planks with cutouts, and more. Again, shout-out to the staff who did a great job of explaining how the obstacles worked, and encouraging the kids to do their best.
Along the perimeter of the space were plenty of tables for breaks, some arcade games, and virtual reality experiences, which require an extra fee. "Ride" a roller coaster, travel into space, or explore the seven seas in these thrilling, mind-bending experiences.
Activities for Toddlers

Younger kids can enjoy the Playscape, trampolines, and a special area for little ones.
While some activities are intended for kids over 5, my 3-year-old was able to keep up with her big brothers in the Playscape and the tramps. There also is an area under the Playscape structure intended for little ones, with ride-ons, small swings, mini-slides, and pod hammocks. Note that Mondays through Thursdays, 9am-2pm, is toddler time. Tickets are $14 per child and infants under nine months are free with a cafe purchase.
When our two-hour time slot was expired, my kids were pretty tired and ready for a break. We grabbed a cake pop at the Energy Cafe, and headed home happy and pleasantly tired.
Birthday Parties at Xtreme Energy
On the day of our visit, I saw a couple of well-organized parties going on. Since the space has a cool, modern vibe, I could envision everyone from kindergarteners through about-sixth graders having an amazing party here. The base package includes 75 minutes of activities, 30 minutes in the party room, food, socks, and open play after the party. Upgraded themed parties include amazing decorations, fancy cakes, virtual reality, and more. Save 15% on basic parties held Mondays–Thursdays.
Know Before You Go
There's a small parking lot that Xtreme Energy guests can use Fridays–Sunday, but otherwise you need to find street parking. On Saturdays and some busy days, valet parking is available.
Admission is sold in two-hour blocks that include all activities except virtual reality. On weekends, you can bump up your admission to an all-day pass. The 10-day pass seemed to be the best deal.
A quick note on the food. Energy Cafe isn't your average snack bar; it's catered by La Promenade, a gourmet food store and caterer in Tenafly. The menu includes sweet bites like donut holes and cupcakes, as well as lunch options like sandwiches, salads, wraps, pizza, chicken tenders, and wedges of ziti or macaroni and cheese pie.
The facility is shoe-free. Bring or buy skid-free socks.
Save time and sign the waver online.
Photos by the author