A Maker Studio Just for Kids Opens in Morris Museum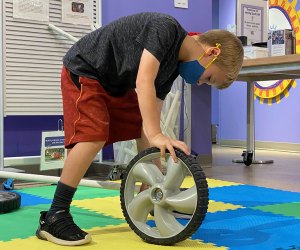 10/26/21
- By
Rose Gordon Sala
A brand-new maker space has opened right in Morristown –– and it's just for kids. The Smithsonian-founded Spark!Lab debuted in a back corner of the Morris Museum in September, and it's fabulous.
The Spark!Lab is filled with interesting and colorful raw materials with which kids can tinker, build, and experiment. It's one of 10 in the country, modeled after the original that opened in 2008 in the National Museum of American History in Washington, D.C.
Subscribe to our newsletters to get stories like this delivered directly to your inbox.
Upon entering the lab, kids will see several stations from which they can choose. Each station includes materials and loose suggestions on what to do there. The lab eschews step-by-step instructions in favor of allowing kids to experiment and engineer their own projects. For example, at the Vertical Wind Tunnel station, a placard asks the kids: "Can you use different materials to create a flying invention? Test it in the Vertical Wind Tunnel." The placard sits on a bench with various craft materials, including feathers, cardboard tubes, pipe cleaners, cotton balls, felt, markers, scissors, and tape.
There's also a shelf of past flying inventions donated by their creators to inspire the future inventors. My kids each built two different flying crafts, each with varying success. I was impressed when they came back to the design table to tinker with an invention after it hadn't performed well on its first launch in the wind tunnel. They tried removing materials to lighten their crafts, poking holes through them to allow air to move through, and adding new pieces to re-balance or otherwise modify the inventions.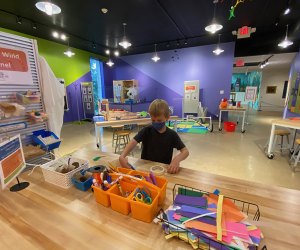 Your imagination is the only limit at the Morris Museum's Spark!Lab wind tunnel station.
The wind tunnel is very cool, and kids can march right up to it and launch their invention all on their own. This is a very big deal to most kids, of course. The whole experiment teaches kids about physics, engineering, aerodynamics, design, and even upcycling.
The other stations available when we visited Spark!Lab, included: Gearheads, Soundscapes, Invent an Automaton, and Invent a Vehicle.
RELATED: Best Kid-Friendly Museums in Northern New Jersey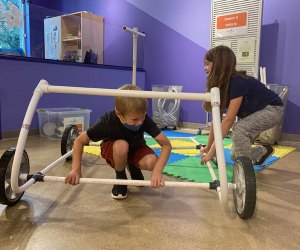 PVC pipes, wheels, and more pieces inspire little builders to create their own car at the Morris Museum's Spark!Lab.
My first and third graders dove right into the Invent a Vehicle station first thing, quickly putting the PVC pipes together with wheels and zooming the results around the room. Soundscapes invited them to build a musical marble run, which they delighted in and my oldest declared her favorite station. Gearheads encourages kids to design a moveable playscape, while the Automaton station is for more advanced builders and plays off the museum's Murtogh D. Guinness Collection of 750 historic mechanical musical instruments and automata, or mechanical figures.
Play ambassadors circulate the room, available for help if the kids ask. They can also prod the inventors to take designs a step further or explore a concept they might not have on their own. For kids who want a little more background information on the project at hand there are additional placards at each station describing the engineering and design forces at play. There are children's books, a wall of inventor biographies, chalkboards for problem-solving, and plenty of maker decor sure to inspire, too.
Spark!Lab is open from 12-4pm daily and museum admission includes timed-entry tickets; pick them up at the visitor center when you arrive. Kids must be accompanied by an adult. Organizers plan to periodically rotate and swap in different exhibits and stations. But already, I know I have two kids planning their return trip as soon as we have a free afternoon!
RELATED: Best Science Museums for Kids in New Jersey and Beyond

Little makers can try their hand at building a musical marble run.
Know Before You Go to Morris Museum's Spark!Lab
A timed-entry reservation to Spark!Lab is included in your museum admission.
The maker studio is designed for ages 5-12, but there is a toddler play station for younger siblings: Spark!Lab, Jr.
Spark!Lab is open 12-4pm; it's located near the train tracks.
The museum is open Wednesday through Sunday.
Although it isn't a children's museum per se, the Morris Museum has always reached out to kids with permanent exhibits, such as its dinosaur area, cool taxidermy of native New Jersey species, indoor family events and seasonal festivals, and of course, the very popular model train track.
Explore more of the museum's permanent collection and new exhibits by visiting the Morris Museum website.