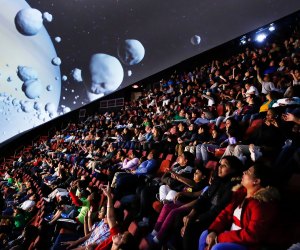 Best Science Museums for Kids in New Jersey and Beyond
With STEM (Science, Technology, Engineering, and Math) at the forefront of most school curriculums, it makes sense to get kids engaged and excited about these subjects from an early age. Fortunately, the Garden State is home to many museums and science centers where fun and learning collide.
From mind-blowing minerals to awe-inspiring archeology and astronomy exhibits, with plenty of hands-on learning opportunities for all ages, these destinations are as entertaining as they are educational. Read on for a dozen of our favorite spots in and near NJ.
Franklin Mineral Museum – Franklin
More than 4,000 mineral specimens are on display at this museum where visitors can tour the mine on their own or join a group and benefit from the insights of an expert guide. Aspiring geologists can gather their own rocks and bring them home to start their very own collections. The Fossil Room boasts the best petrified wood display in the Garden State, while the American Indian Room contains Native American stone tools made by the Lenni Lenape Indians, some of New Jersey's earliest inhabitants.
Cost: Museum exhibits only: Adults: $7; children: $5; senior citizens: $6.
Insectropolis – Toms River
For some, this bug-themed destination may seem "creepy" at first, but you'll leave with a greater appreciation for insects. Begin your visit by enrolling in Bug University, where you'll learn the basics and beyond. At the Caterpillar Cafe, guests may "bug out" when they consider the role insects play in the worldwide food web. Check out touch-screen computers to pick up some new insect trivia and test your existing knowledge of all things bug-related. Curious kids can crawl through a tube to get a termite's view of the world and learn why wood is so appetizing to these subterranean critters.
Cost: $8 per visitor; children 2 and under are free.
RELATED: The Best Museums for Kids in Northern New Jersey

Climb a rock wall, blow bubbles, and more in LSC's Wonder Why Exhibit.
Liberty Science Center – Jersey City
There's plenty to do and see at this waterfront science museum, home to the third largest planetarium in the western hemisphere. Lots of little guests get a kick out of the Wonder Why exhibit. Located on the third floor, adventurers can climb a rock wall to figure out how friction works. This is also the place to do some serious bubble blowing. Have a blast making (and popping) six-foot wide soap bubbles. Test your reaction time or explore the range of your mind's eye with intriguing optical illusions.
Cost: General admission starts at $22.75 for adults; $18.95 for children ages 2-12. Combination passes are available at higher prices.
Morris Museum – Morristown
Dinosaur enthusiasts will be thrilled to follow the paw prints to the Dinosaur Den, where they can examine fossils and even take a rest in a dinosaur nest! The museum is also home to the Murtogh D. Guinness Collection, comprised of 750 historic mechanical musical instruments and mechanical figures as well as a player piano. Visitors can make their own music on a 19th century music box cylinder. Tucked inside the museum is the Bickford Theatre, an intimate venue that hosts plenty of plays, concerts, and performances geared toward young audiences. The state-of-the-art model train exhibit gives tiny engineers a hands-on opportunity to lift a railroad crossing arm or the tug a train whistle. Don't miss the Mammal Gallery where a (stuffed) Grizzy Bear welcomes visitors. Learn about endangered species of local animal life and check out skeletons as part of the gallery's natural science collection.
Cost: Adults: $10; seniors: $7; children 3-18: $7, children under 3: free.
Newark Museum – Newark
Catch a glimpse of far-off galaxies inside New Jersey's first planetarium. The Alice and Leonard Dreyfuss Planetarium offers audience a chance to travel through the solar system without leaving this interactive theater. Fostering creativity and providing a true sensory experience, the museum's MakerSpace invites visitors young and old to stop in and experiment with clay, paint, and other materials artists employ. Interactive galleries teach guests all about fire safety and prevention. Climb aboard a real modified fire truck. emPOWERED encourages visitors to focus on a "brighter" future by raising awareness of the benefits of advanced energy technologies.
Cost: Adults: $6; children under 12, seniors, college students with valid ID, and veterans: $4. Note: Planetarium tickets are not included with general admission.
New Jersey State Museum – Trenton
Overlooking the Delaware River, this museum features a spacious planetarium where you'll feel as if you're blasting off into space without leaving your comfortable reclining chair. The Natural History Hall is home to two life-size complete fossil casts: New Jersey's state dinosaur Hadrosaurus foulkii, and Mosasaurus maximus, as well as other interesting skeletons.
Cost: Adults: $7, children 12 and under: $5
RELATED: A Dozen Museums for Kids in Central and Southern New Jersey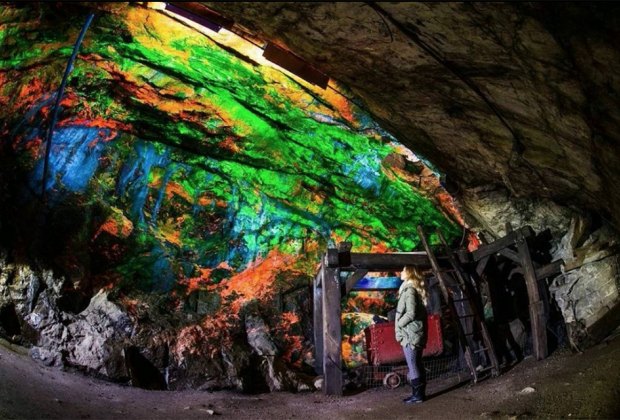 Be dazzled by the Rainbow Tunnel in the Sterling Hill Mining Museum. Photo by noaamichael via Instagram
The Sterling Hill Mining Museum – Ogdensburg
Considered the fluorescent mineral capital of the world, Sterling Hill Mining Museum invites visitors to explore 1,300 feet of tunnel. While on a guided walking tour, learn about the history, working conditions, equipment, and geology of the mine. The highlight for many is the Rainbow Tunnel, where you'll be dazzled by bright green and red glowing walls thanks to exposed fluorescent zinc ore. Some mine galleries date back to the 1830s.
Cost: Adults: $12, seniors: $11, children ages 4-12: $9, children under 4: free.
Thomas Edison Center – Edison
Small but mighty, this two-room museum celebrates the spirit of invention. Paying homage to the famous scientist who patented approximately 400 inventions, the museum offers guided tours where visitors will marvel at early innovation. Listen to phonographs that are more than a century old or step inside the newly-renovated Memorial Tower. Explore the 36-acre Edison State Park, which features a scenic nature trail across from the museum.
Cost: $5 suggested entrance fee.
Want to learn more about Edison? Visit the Thomas Edison National Historical Park in West Orange, where you walk through his laboratory and take a tour of his home.
RELATED: Best STEM Classes for New Jersey Kids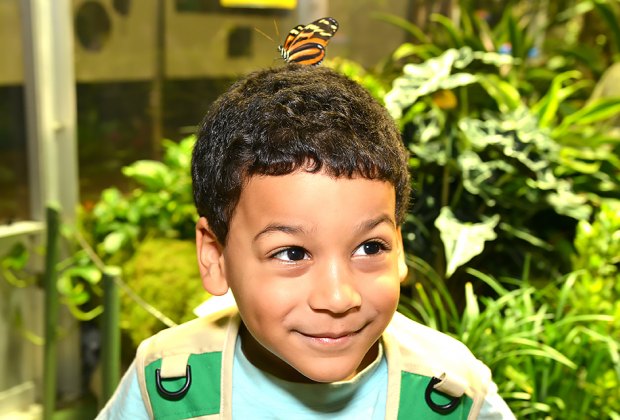 Mingle with up to 500 free-flying tropical butterflies in the The American Museum of Natural History's Butterfly Conservatory.
Beyond New Jersey
American Museum of Natural History – New York City
One of the preeminent natural history museums in all the world, this vast landmark holds something that's sure to appeal to any age group. The beloved Butterfly Conservatory celebrates winged creatures of all colors and varieties amid tropical flowers and lush vegetation. If aqua-loving mammals are more your scene, don't miss the Milstein Hall of Ocean Life, where an enormous blue whale is suspended from the ceiling. The Bernard Family Hall of Northern American Mammals showcases the majestic beasts of the wild west, including moose and a grizzly bear. The Rose Center for Earth and Space is home to the Hayden Planetarium, which is a must-see for budding astronauts.
Cost: Adults: $23; student (with ID): $18; seniors (60+): $18; children (ages 2-12): $13.
NY Hall of Science – Corona, NY
Boasting more than 100,000 square feet of indoor space and 60,000 square feet of outdoor acreage, this science center feature more than 450 exhibits, events, and workshops that beckon young and old to truly engage in science. Take a tour of the universe inside the 3D theater or enjoy a round of Rocket Park mini-golf and learn about the laws of motion and gravity. The Design Lab encourages creative problem solving in each of its five visually and thematically distinct activity areas.
Cost: Adults: $16; children (2-17): $13; students (with college ID): $13; seniors (62 and older): $13
RELATED: Things To Do with Train-Loving Kids in New Jersey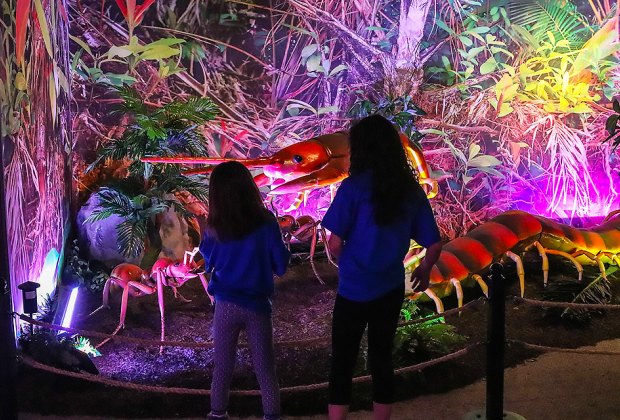 Get up close to a Peruvian Giant Centipede int he Xtreme Bugs Exhibit at the Academy of Natural Sciences.
Academy of Natural Sciences – Philadelphia
Upon entering the building, visitors are greeted by a 42-foot Tyrannosaurus rex, one of the largest predators to roam the Earth. That's just the beginning for dino fans, who will see more than 30 species represented in the Dinosaur Hall. Check out skeletons, murals, dinosaur eggs, and more. Art and science intertwine in the diorama collection, which showcases exotic wildlife in replicas of their natural habitat.
Cost: Adults (ages 13 and above): $19.95 ($17.95 online); children (ages 2-12): $15.95 ($13.95 online)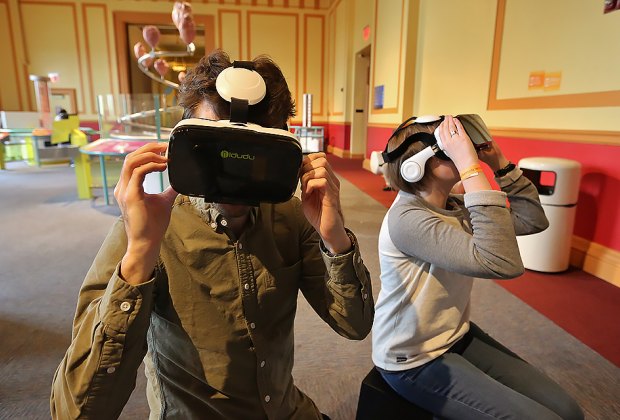 Explore the Franklin Institute through an immersive virtual reality experience.
Franklin Institute – Philadelphia, PA
Named for Benjamin Franklin, this discovery center invites patrons to stargaze at the night skies in the Joel N. Bloom Observatory. The institute's newest attraction harnesses technology to create an immersive experience through virtual reality. The Escape Rooms within the facility are known as Philly's largest and most technologically advanced games. If your family enjoys working with clues, codes, and puzzles, you won't want to miss these challenging rooms teeming with riddles, which take 60 minutes or less to solve.
Cost: Adults (ages 12 and up): $23; children (ages 3-11): $19.
Unless noted, photos courtesy of the museums