10 Reasons You Should Visit the Academy of Natural Sciences this Month
1. Dinosaurs.
Ever met a kid who doesn't like these prehistoric legends? Us neither. Staring into the jaws of a T. rex is otherworldly, and that's one of the first things you get to do when you walk through the doors. Go further into the Dinosaur Hall and see ancient triceratops, raptors, and even, sea turtle fossils. Kids can also jump in front of a green screen and make their time with these "terrible lizards" really come to life.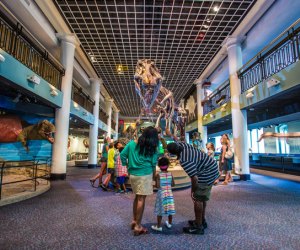 Dinos come alive at the Academy. Photo courtesy of J. Fusco, Visit Philadelphia
2. New exhibits.
The newest exhibit, Xtreme Bugs, will run from May 26, 2018 - January 9, 2019 and features 20 massive animatronic insects so visitors get see these bugs and how they move in grand detail. Throughout the second half of the year, you can meet insect experts, participate in Q&A sessions and say hi to some real, live invertebrates. Previous exhibits included Crocs, Frogs, and Dinosaurs Unearthed.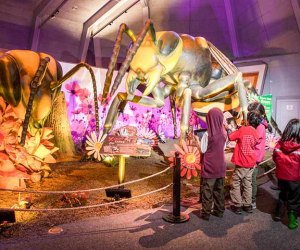 Insects are larger than life in the museum's newest exhibit, Xtreme Bugs. Photo courtesy of the Academy
3. Special events that are sure to please any budding paleontologist or naturalist.
Totally Turtles Weekend in June, a summer of dinosaur themed displays and hands on demos each week, the annual Bug Fest in August make lining up your summer schedule easy, and of course, these kinds special events happen throughout the year - In April, for example, the museum also hosted an Animal Superhero Weekend.
Moms and dads might want to get a sitter for Door 19, the museum's adults only evening that occurs four times a year, each with a different theme. In June, guests can travel back to the time of Prohibition while enjoying nighttime museum tours and engaging demonstrations.
4. Live animal shows.
Learn about some of the museum's residents, including turtles and living dinosaurs (aka birds) during the stage shows that occur at various times throughout the day. See the animals, ask questions and get expert answers in the stadium seating of the auditorium located near Dinosaur Hall.
5. Fun events for any age.
Read to a Reptile. Hang with Dinos After Dark, join in for Scientist Saturdays. From story times to hands-on investigations, the Academy of Natural Sciences provides quite a few regular and ongoing programs to get kids excited about science.
8. Outside In. Kids aged 3-8 and their parents can get up close with real wildlife and different environs at the indoor discovery center. Scorpions, hermit crabs, three-toed box turtles, and many more creatures are there to be watched, studied, and admired. There's also a microscope, library, and a larger-than-life eagle's nest, tree, pond and beach for imaginary play.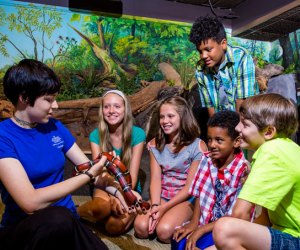 See creatures as close as you dare! Photo courtesy of the Academy
7. Butterflies!
Up to 150 butterflies flourish in the tropical garden exhibit. With new butterflies arriving each week from around the world, what you'll discover here will always be different. Make sure your kids know to look but not touch the butterflies, and also keep an eye on the floor as many of these insects like to rest there.
8. Animal dioramas.
37 realistic wildlife dioramas are housed within the museum, each one setting the scene for a variety of natural life from the Americas, Europe and Africa. Most of these dioramas were created 70-90 years ago but they retain a magical feel. Kids will love spotting their favorite animals, as they can see them up close in what appears to be their natural habitats.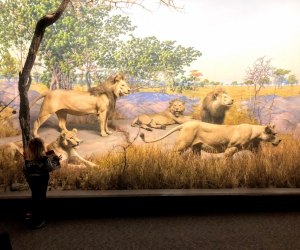 Checking out the lion pride. Photo courtesy of the author
9. Discovery zones.
Walk by the invertebrate cart and see glow-in-the-dark scorpions, dig for dinosaur bones in The Big Dig, and watch scientists prep dinosaur fossils for study and exhibition. Kids will enjoy these opportunities to interact throughout the museum.
10. Free tickets and discounted parking.
Don't let cost deter you from visiting. You can check out passes from your local library for free for quite a few Philly area museums, including this one. There are also several parking garages in the vicinity that offer discounts to visitors who get their parking ticket stamped before leaving the museum.
Things to Know Before You Go:
Right on Logan Square, the Academy of Natural Sciences is easy to access by car or train (Suburban Station is 0.3 miles away).
Depending on how many activities you and your kids do and if you visit one of the special exhibits, expect to spend one to three hours here.
While there is a cafe in museum, there are also plenty of family- and budget-friendly restaurants nearby.
Weekday mornings can be crowded with school field trips so if you can do an afternoon or weekend, you may find the museum quieter and you won't have to jockey for a position around the exhibits.
Top photo courtesy of the Academy of Natural Sciences