The Slime Factory at Menlo Park Mall Is Messy Fun for NJ Kids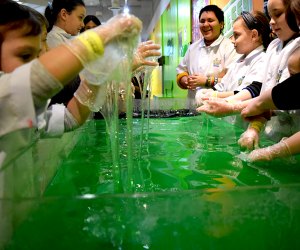 2/12/20
- By
Kaylynn Chiarello Ebner
Got slime-obsessed kids at home? Love a good DIY arts and crafts project? If so, run don't walk to Menlo Park Mall in Edison, where New Jersey's first (and the nation's third) The Slime Factory, Powered by Maddie Rae recently opened.
Maddie Rae is probably a familiar name to slime fans. The 14-year-old Instagram celebrity and entrepreneur from Connecticut has a propriety line of Slime Glue sold nationwide. Her products are used at The Slime Factory "lab," where slime lovers can enjoy a unique sensory experience and make-and-take their very own gooey creations. After hearing lots of great things about The Slime Factory, my daughter and I recently scheduled a visit to see what all the buzz was about.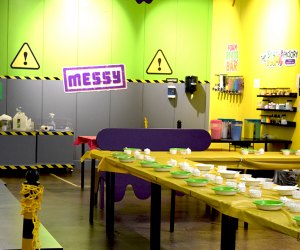 The lab is where the slime magic happens!
The Slime Factory Lab
If you've never made slime before, fear not. The Slime Factory staff makes the process pretty much foolproof, even for young slimers and first-timers. There are also several creative options that even older kids, tweens, and teens will love.
Before your child rolls up her sleeves and dives into the gooey stuff, be sure you do your homework. Tickets are sold for specific time slots and often sell out during weekends and when schools are closed. You'll definitely want to purchase tickets online to avoid getting shut out of your preferred time, and be sure to arrive about 10 minutes before your ticket time. Latecomers may be moved to another time slot if the session has already started.
RELATED: 25+ Art Studios with Drop-in Sessions for NJ Kids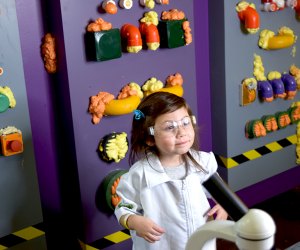 Kids will be outfitted with lab gear before the mess begins.
Once we checked in, my daughter was outfitted in a cute little lab coat and safety glasses. A friendly staff member brought her to the digital photo booth and snapped an adorable (and free!) picture of her in the lab while everyone from our time slot arrived. Then, the whole group of us mad slime scientists entered the work area together.
Let the Goo Begin
The slime-making zone has a classroom vibe, with slime-makers situated in a U-formation surrounding the instructors. The day my daughter and I visited The Slime Factory, I was impressed that four staff members were assigned to our group of about 15 makers. The slime experts provided pre-measured, kid-friendly ingredients (Whew! No borox) and clear instructions to the group. I loved how attentive they were, circulating among the kids to ensure everyone's project was successful.
My daughter had a blast choosing her slime color and mixing her ingredients to make "fluffy" slime, which had a glue and shaving cream base that's way less sticky than the wet, slippery stuff. After about 15 minutes, the entire group had brightly colored slime creations ready for lidding.
RELATED: Stores that Offer Free and Cheap Classes for NJ Kids

Get to work making your own special slime.
Full-experience ticket holders stuck around to make a second jar of slime and add "toppings" (i.e., scents and slime accessories), while we express ticket holders moved on to the foam bead add-in bar.
The last stop on our slimey journey was the gooey slime pool. The kids traded goggles for gloves, and played in the biggest vat of green slime I've ever seen. Every kid in our group happily submerged their hands in the "pool," and it was hard to pry them away!
The unique sensory experience that is The Slime Factory is awesome on so many levels. It's not a huge time commitment (25 minutes for express and 45 minutes for the full experience), and kids of all ages can have a creative, messy fun (without the cleanup of a DIY project). My group included several families with children of diverse ages; while activities are intended for kids ages 4 and up, it's truly an activity that kids of all ages can enjoy, including slightly younger ones with a little help from their caregivers.
Birthday Parties at The Slime Factory
The Slime Factory has all the makings of a unique and super-fun birthday party. While there's no enclosed party room, parties can make use of the party/lounge area. Packages start at 10 kids for a 90-minute party for $30/child on weekdays and $45/child on weekends. Guests receive the full experience and hosts can bring their own pizza and cake.
Photos by the author