Montclair Art Museum Is Perfect for a Kid-Size Culture Fix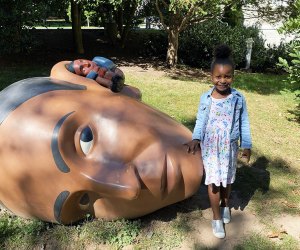 The Montclair Art Museum is a great place to introduce kids to the visual arts. My 6-year-old daughter and I moved to Montclair last year, and when a Sunday afternoon opened up on our calendar recently, we finally got a chance to visit. Even my very active daughter, whose idea of culture is cheese (as in Chuck E.), was eager to go inside the big building she sees on our frequent trips to the Whole Foods right across the street.
To be honest, art museums plus kids doesn't always equal a successful day of art appreciation. For me, it's more about exposing my daughter to art and culture, even in small (or local) doses. That being said, the Montclair Art Museum absolutely did not disappoint! Plus, a visit to MAM makes a great post-brunch stop during a family-friendly day in Montclair.
Read on for our day—well, 90 minutes—at this awesome Northern NJ museum.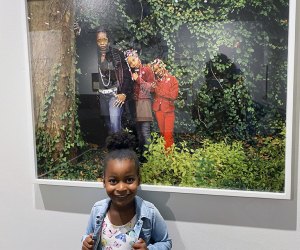 The Constructing Identity exhibit in the main gallery boasts 90 paintings, sculptures, and other works of art.
We entered the museum through the front doors, and I quickly sidestepped the gift shop to make a beeline for the main gallery. Luckily, the Constructing Identity exhibit immediately captured my daughter's attention with bright colors and cool concepts. Consisting of 90 paintings, sculptures, and other works of art—mostly from the Museum's permanent collection—the exhibition helps paint a picture of personal identity throughout American history and culture, from the 18th century to today.
Using this as a unique opportunity for both art and history education, I pointed out Charlie Wilson Peale's Portrait of George Washington. I giddily spotted Kehinde Wiley's name on the wall next to his African portrait Matar Mbaye (Study 1). Wiley is the artist who painted the portrait of President Obama on view in the National Portrait Gallery. Beyond the portraits on the wall, an abstract sculpture partially composed of vintage toys made for a great photo op before we moved on.
We passed through a gorgeous rotunda, home to a striking white statue and floral-tiled ceiling, to one of the museum's new exhibits. Virgil Ortiz: Odyssey of the Venutian Soldiers tracks the 1680 Pueblo Revolt when Pueblo Indians living around Santa Fe, New Mexico, rose up and drove their Spanish oppressors away. The exhibit mixes fact with fantasy, as Ortiz blends this important historical event with sci-fi fantasy storylines. To this point, my daughter was absolutely mesmerized by the Centaurus Kade Cacique of the Horseman Tribe sculpture. Her question: "Why does that woman have four legs like a horse?"
RELATED: Fun Things To Do with Kids in Montclair, NJ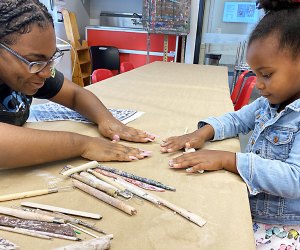 Kids can get hands-on with art materials inspired by the current exhibits at the Drop-In Studio.
As I pondered the answer to this question, we stumbled onto the Museum's Drop-In Studio (phew!). The Drop-In Studio, held every Sunday (September 15 through June 14), is a great way for kids to explore the materials and processes used in the current exhibitions in a hands-on way. Inspired by the Native American art we had just seen, my daughter was given balls of clay to roll and mold. Local high school students were on hand to patiently guide her through both the coil and pinch methods to make two clay pots.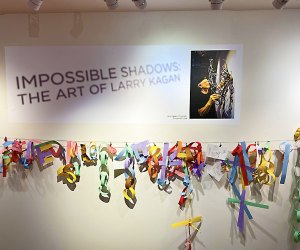 The interactive exhibit Impossible Shadows: The Art of Larry Kagan lets kids add their own paper chain.
Other interactive programs include The Family Learning Lab, where young visitors can create their own self-portrait inspired by the Constructing Identity exhibition, and add it to a community installation. And at our last stop, the Impossible Shadows: The Art of Larry Kagan exhibit, a basket with scraps of paper at the entrance invited kids to add a chain to the wire line to mimic the exhibit's use of twisted steel, light, and cast shadow.
Then we headed outside where—surprise!—we found even more art. Two unique sculptures sit on the grounds outside the museum. There's a giant head lying on its ear, with a miniature version curled up inside the exposed ear. I know, it sounds strange, but trust me, it's very cool. A large metal sculpture resembling a speech bubble doubles as a pretty neat bench.
Overall, I found the museum to have a really nice variety, and it's good to have an actual art museum close by without heading into NYC. For your next visit, I recommend going on a Sunday for Drop-In Studio or when the museum has one of its special programs for kids and families, as this is best way to get the most out of the museum when you have little ones in tow.
RELATED: Find Family Fun for All Ages at the Morris Museum

MAM's artworks feature subjects ranging from George Washington to Spider Man.
Here are some of MAM's upcoming family-friendly events that you'll definitely want to check out:
Home School Day is offered on the third Thursday of the month. These two-hour educational programs include a gallery tour and a studio art project giving home-schooled children the opportunity to be creative and socialize with others in their age group.
CREATEabilities celebrates kids of all abilities the second Wednesday of the month. Led by an art educator and occupational therapist, this inclusive program is designed for early learners, but all ages are welcome to learn and create through sensory play, art-making, creative movement, storytime, and gallery tours.
The Little Read allows kids (preschool–grade 5) to cozy up in the MAM's galleries to enjoy a good story read aloud by Montclair's neighbors, writers, local heroes, and celebrities. FREE
Family Day this year features a shadow puppet performance and magic show inspired by the Impossible Shadows exhibition. Stay after the show to create your own optical illusions, self-portraits using light and shadows, plus participate in a comic drawing station.
CinéKids provides an amazing opportunity to introduce kids to French cinema as two award-winning animated shorts are screened at the museum. Both films are in French with English subtitles so non-French speakers will be able to follow the storyline. Screenings will be followed by an arts workshop inspired by the films.
Classes and Camps. MAM offers a healthy slate of kids classes and workshops. Digital drawing, pottery wheel, and special effects filmmaking are just some of the weekly offerings. Parent/child weekend workshops range from costume making and digital holiday cards to ceramics and photography. And when school's closed, MAM provides programs for kids ages 5 and up, in addition to summer art camp.
Good to Know: Museum admission is $12 for adults; free for kids under 12, but if you have a Bank of America card, admission is free the first weekend of every month!
Photos by the author