Montclair, New Jersey: 21 Things To Do with Kids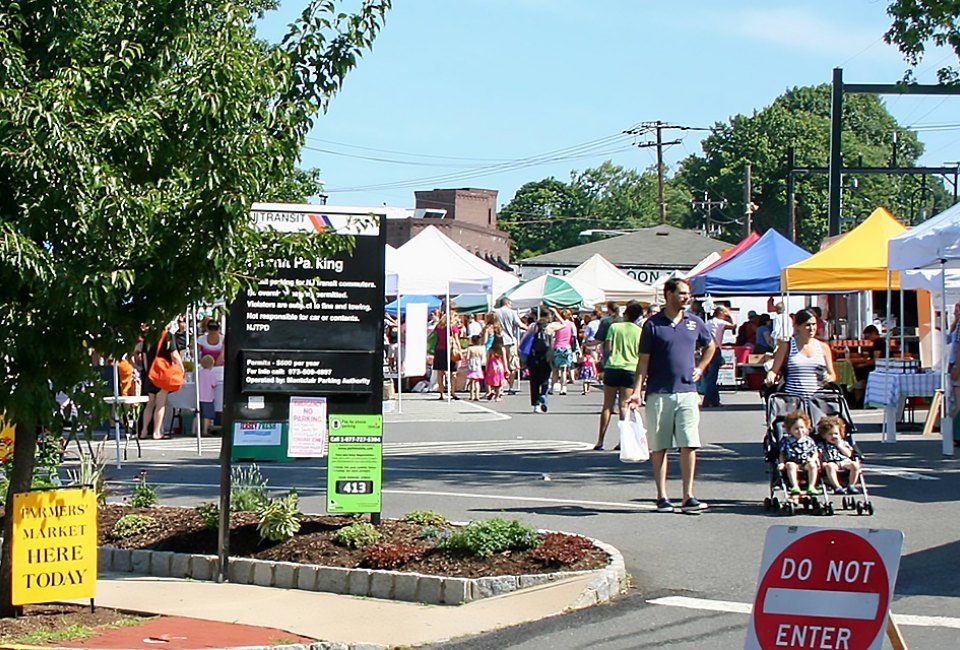 1/27/23
- By
Elaine Paoloni Quilici
Nestled in Essex County, Montclair, New Jersey is located just 12 miles outside of Manhattan. With two busy downtown districts, this walkable suburb is home to Montclair State University, the Presby Iris Gardens, and the Montclair Art Museum, as well as several parks and playgrounds. From the Upper Montclair shopping area to the Church Street storefronts in Montclair Center, the town's eclectic restaurants and kid-friendly activities make it a fun day trip for families in Northern New Jersey.
Read on for the top places to visit and things to do during your visit.
Subscribe to our newsletters to get stories like this delivered directly to your inbox.
Top Museums in Montclair to Visit with Kids
1. Montclair Art Museum
Steps from the downtown, Montclair Art Museum (known as MAM) boasts distinctive exhibitions, educational programs, and American and Native American art. The museum's Yard School of Art offers art workshops and classes for all ages, such as the free-with-admission Sunday Studio, plus Teen Drawing classes.
2. Yogi Berra Museum & Learning Center
Yogi Berra Museum and Learning Center, located on the Montclair State University campus, has become a popular destination for sports fans and educators. Offering a mixture of baseball memorabilia and a look at Yogi's extraordinary life values, this isn't your typical sports museum. Now on display is the traveling exhibit Billie Jean King: Champion. Activist. Legend.
3. Montclair History Center
Overseeing the Crane House and Historic YWCA, Nathaniel Crane House, Clark House and Library, and Charles Schultz House, The Montclair History Center hosts public tours of these buildings and other special events throughout the year. Family programs include crafts, guided walking tours, and farm camps.
RELATED: Easy Waterfall Hikes for Families in Northern NJ

Presby Memorial Iris Gardens is a tranquil spot in Montclair, New Jersey.
Best Parks and Gardens in Montclair
4. Presby Memorial Iris Gardens
Each spring, flower lovers assemble in Montclair's Presby Memorial Iris Gardens for a peek at the annual bloom. With more than 3,000 irises dotting the landscape, the grounds are an ideal place for a peaceful day among local artists and photographers. This Essex County park also offers family-friendly off-season events, including the pumpkin-themed Gardens Aglow and summer movie screenings.
RELATED: 40 Indoor Play Spaces in Northern New Jersey

Van Vleck House & Gardens in Montclair, New Jersey is open year-round.
5. Van Vleck House & Gardens
This once-private villa is now open to the public year-round. Van Vleck is free to roam the almost six acres of landscaped gardens. Take an afternoon to explore the property's natural beauty, and enjoy something new with every season. In addition, there are guided family hikes, programs about animals, and maple sugaring.
6. Eagle Rock Reservation
Take a hike through this 400+ acre reservation that passes through Montclair, as well as West Orange and Verona. Explore trails of all levels, playgrounds, and scenic views.
7. Brookdale Park
There's so much to do at this massive park that spans through Montclair and Bloomfield, including trails of all levels, lush groves, playgrounds, and sports fields. In the warmer weather, craft shows take place at the park.
8. Edgemont Park
An oasis in the center of town, the picturesque Edgemont Park houses a pond, a World War One Memorial, a playground, ice skating, and walking/biking paths.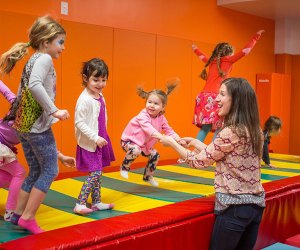 Jump around at Kidville Montclair. Photo courtesy of Kidville
Things to Do Indoors and Family-Friendly Stores in Montclair
9. Kidville
The indoor plays pace at Kidville features gym, music and art classes, summer camp, and birthday party options.
10. East Side Mags
Introduce your kids to comic books at East Side Mags with their favorite superheroes such as Spider-Man, or silly heroes like Daffy Duck and Scooby-Doo. If you need some guidance, a helpful staff member can point you in the right direction. Pokemon and other trading cards are also available, as are comic-themed toys and collectibles.
11. Just Kidding Around
This independent toy store sells toys that are a step up from those at your run-of-the-mill chains. Just Kidding Around offers wooden toys, musical instruments, marble runs, craft kits, board games, plush items, creative play sets, outdoor toys, books, and more. Fun backpacks, jewelry, umbrellas, and other accessories that kids love are also available.
12. Doin' Dishes
Get creative with some pottery painting. Choose your piece from an array of more than 150 pre-crafted ceramic items—from jars and decorative objects to cups and dishes—then select a paint palette. Use various-sized brushes, sponges, stencils, and stamps to decorate your work. Doin' Dishes also hosts birthday parties, camps, and storytimes.
13. The Wellmont Theater
Located in Montclair Center, just off Bloomfield Avenue, The historic Wellmont, originally opened in 1922, now hosts popular music and comedy shows. Though most acts are more appropriate for teens, there are occasional kid-friendly performances, too.
14. Montclair Public Library
The library hosts various events for families, including family storytimes and special events, many of which do not require registration.
15. Clary Anderson Arena
Perfect for a winter activity, Clary Anderson Arena hosts public skating sessions every afternoon. Registration is required.
Montclair Eats and Treats
16. Family-Friendly American Fare
In the center of town, the Montclair staple Raymond's serves up breakfast, lunch, and dinner, featuring a varied selection of omelets, pancakes and waffles, burgers, sandwiches, and a few Mexican favorites. Stop by the popular chain Bareburger, where guests can grab a standard burger with topping choices, or opt for a meatless variety. A children's menu is available. There's no shortage of fun fare at Toast City Diner, with everything from omelets and Belgian waffles to sandwiches, burgers, and wraps. The children's menu offers treats like chocolate chip pancakes and chicken nuggets.
17. Dining with an International Flare
Can't go wrong with a slice of Ah'Pizz wood-fired brick oven pizza, including Neapolitan pizza with fresh ingredients plus other Italian dishes. Kids will love the festive atmosphere at Cuban Pete's, serving up Cuban classics, sandwiches, tapas, and a children's menu. Fill up on ramen bowls at Ani Ramen. Enjoy sweet or savory empanadas at Empanada or Nada. A huge menu of Greek delights, like souvlaki, gyro, and moussaka can be found at Greek Taverna.
18. Sweet Finish
Housed in an 1800s farmhouse, Applegate Farms serves up homemade ice cream with a mouthwatering list of flavors, like black forest crunch, maple walnut, and cotton candy. Treat the family to Asian-inspired donut treats at Mochinut with flavors like Oreo and Strawberry Pebbles. Healthy, fruity snacks can be found at Montclair's Playa Bowls and Boomchia.
Favorite Annual Events in Montclair, New Jersey
19. Montclair Farmers' Market
Set up next to the Walnut Street train station, the Montclair Farmers' Market is open Saturdays year-round from 8am to 2pm June to November and 8am to 1pm December to May. This social marketplace is home to dozens of food and drink artisans, including Shore Catch, Ester's Treats, and Circle Brook Farm. Check out the locally grown fruits and vegetables, fresh cheese, and pickle bar.
20. Montclair Film Festival
Created to nurture and showcase the talents of filmmakers from around the world, the Montclair Film Festival has been a hit with the community since its inception in 2012. It continues to offer first-rate screenings and symposiums during its signature annual event in the fall. The organization also holds programs throughout the year, including screenings at its own 505 Cinema. For older kids, there is an Emerging Filmmaker Competition for 6th to 12th graders and a 505 Films + Friends Club for teens.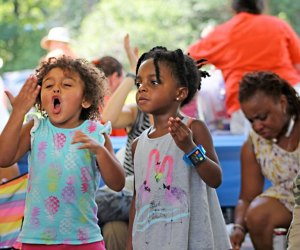 Get in the groove at Montclair's free summer Jazz Festival. Photo courtesy of the festival
21. Montclair Jazz Festival
Thousands of music fans from the NY/NJ area attend this free summer jazz festival, featuring local and regional artists on four stages, plus 150 food and craft vendors along Bloomfield Avenue.
Originally published 2012; updated January 2018
Sign up for the Mommy Poppins Newsletter today!