A Bite-Size Trip to Asia at New World Mall Food Court in Flushing, Queens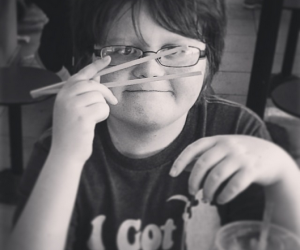 Last summer when my family and I were lucky enough to visit Singapore for a whole week, one of our favorite activities was going to the hawker food stalls, which are just what they sound like: stands in a sprawling indoor market. Going to the hawker stalls is quite an event; they are hot and crowded, and there's exotic, interesting, amazing food everywhere you look.
Our travels in Asia were fantastic, but NYC never lets us down. It seems like no matter what adventure we enjoy around the globe, there's a version of it right here at home. Yes, Queens, the undisputed center of the universe for international cuisine, has its own take on hawker stalls in Flushing's Chinatown. It's the New World Mall Food Court, which offers incredible, inexpensive eats from China, Taiwan, Japan, Malaysia, Vietnam, Korea and Thailand all under one roof.
With so many choices and lots of menu items not listed in English, the food hall can be a bit overwhelming and chaotic. We took a visit to share some tips on how to make the most of an ethnic food adventure in the Asian food halls of Queens with your kids.
The New World Mall Food Court is the largest of Flushing's Asian food halls with 32 stalls in one big room. To get there, take the 7 subway to the end of the line. It's a pretty ride above ground for much of the way, and the stop is just half a block from the mall. The food hall is down the escalators. Try to arrive before 11:30am to grab a table and take turns getting up to order food from different stalls. The food courts get very crowded and after noon it can be difficult to find a table.
There are so many things to try that it's hard to choose, especially since it would be impossible to try everything on one trip. A favorite of many regulars is the hot pot, a stew served in a giant metal bowl and filled with various ingredients. The Cantonese hot pot is served by several vendors, but if you want to eat it where Anthony Bourdain fell for the dish, look for the video of the famous chef playing in the Xi'an Famous Foods stall.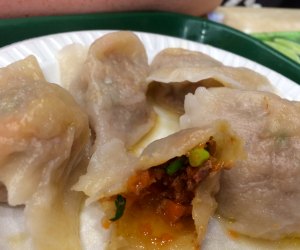 The dumplings were amazing, and there were many varieties to choose from.
Dumplings are always popular and the stalls serve varieties your kids (or you) may never have tried, like the lamb and green squash dumplings from Szechuan Dish. Watch the nimble fingers of the women forming the dumplings while you wait for the tasty morsels.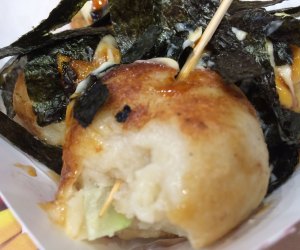 We couldn't wait to dive into the Japanese takoyaki!
We were excited to find Japanese takoyaki at the Mojoilla Fresh stall. The ball-shaped pancakes are filled with octopus and covered in a sweet sauce. They're hard to find in NYC and my kids love them.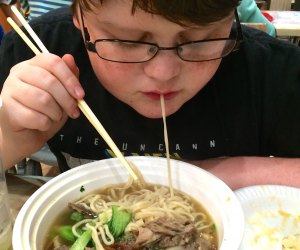 Delicious hand-stretched noodles.
The hand-stretched noodles from Lanzhou Handmade Noodle are as fun to watch being made as they are delicious to eat. Servers toss the dough in the air, swinging, folding and pulling the noodles super long before cutting and tossing them right into a bowl of broth. You can add roast duck, beef, pork or tofu to complete your meal.
There are lots of kid-friendly snack foods too, from scallion pancakes and savory crepes, to bubble teas and shaved ice. You can hardly go wrong, just jump on almost any line and order whatever looks good. After you eat, visit the giant Jmart Asian grocery store on the main level to take some goodies home.
New World Mall Food Court is located at 136-20 Roosevelt Avenue between Union and Main Streets in Flushing, Queens. It's open daily from 9am-10pm.
For more tasty eats, check out these delicious stops my family and I made on our Queens Global Food Crawl.