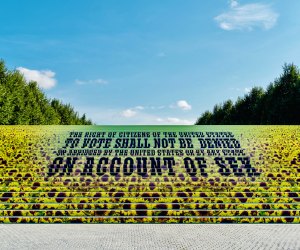 16 Pieces of Public Art to See During Summer 2020 in NYC
Looking to get out of the apartment, but in need of an out of the ordinary destination? This season's crop of public art displays in NYC might be just what you need to spice up your next socially distant adventure and provide a bit of culture in a time when museums have been shuttered for months. From a fresh crop of Black Lives Matter murals in every borough to site-specific pieces in Queens, a giant gorilla on the west side, and even an augmented reality installation in the Rockaways, we've rounded up 16 cool pieces of public art to check out this summer.
Some are in familiar locations, like the newly reopened New-York Historical Society while others are off the beaten path, in spots like LaGuardia's new Terminal B. Whatever the location, you're sure to see something new.
For more family-friendly diversions, be sure to check off all the fun things to do on our list of 50 top summer activities to do before school starts, and find lots of seasonal fun in our Summer Fun Guide.
Sign up for our free newsletters to get posts like this delivered to your inbox.

The New-York Historical Society reopens Friday, August 14, with a FREE outdoor exhibition in its rear courtyard entitled Hope Wanted: New York City Under Quarantine. Photo courtesy of the museum
OUR LATEST VIDEOS
This exhibition, at the New-York Historical Society, takes place outdoors in the museum's courtyard and is free of charge, though timed-entry tickets must be booked in advance. The exhibition showcases more than 50 photographs from Kay Hickman and 14 audio interviews conducted by journalist Kevin Powell, which aim to tell the story of the city at the height of the pandemic. The footage was collected during a two-day odyssey across the city in April.
The always worth a visit Socrates Sculpture Park debuts this new two-part exhibition, with large-scale works meant to commemorate underrepresented voices in the art world. Part I of the exhibition includes works by Jeffrey Gibson, Paul Ramírez Jonas, and Xaviera Simmons. Part II follows in October, and Part III is in the works, too.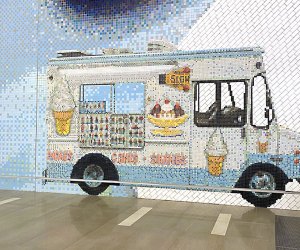 Laura Owens' tiled mosaic mural transforms the airport's large interior wall into a celebration of New York City. Photo by Jody Mercier
The Public Art Fund teamed up with LaGuardia Gateway Partners to commission a series of public art installations welcoming visitors to the city, and even my hardened mini New Yorkers got a kick out of the new pieces during our summer travels. You'll find whimsical balloons and benches from Jeppe Hein, a stained glass installation from Sabine Hornig, a larger than life tile installation from Laura Owens, and a spectacular hanging sculpture from Sara Sze. All together, they make for an infinitely more interesting experience as you await your departure or your luggage. Shoutout to the Southwest customer service agent who told us to go down to baggage claim to peek up at Sze's installation for a completely different, mesmerizing view.
Find this installation on the beautiful grounds of Wave Hill. Artist Ana Flores' piece invites visitors to make themselves comfortable in a pair of bronze chairs, which take on the characteristics of their natural surroundings nestled amongst the trees.
RELATED: Storm King Art Center Reopens for Summer 2020 Visits

Davina Semo: Reverberation, will be on view at Brooklyn Bridge Park Pier 1 through April 18, 2021. Photo courtesy of Public Art Fund.
Brooklyn Bridge Park offers a stunning backdrop for this sound installation. A series of five elongated sculptures serve as ringing bells when hung from steel frames along the water front. Visitors can activate each of the five sculptures—entitled Reflector, Singer, Dreamer, Listener, and Mother—with a foot pedal.
6. Cover Crop – Floral Park, Queens
The Queens County Farm Museum offers an escape from the every day with its farm-inspired fun and has reopened with its first site-specific art installation. Cover Crop, from artist Aaron Asis. It covers a half-acre of land, with criss-crossing paths that allow visitors to traverse a field planted with buckwheat, rye, and sweet peas.
RELATED: Fun Outdoor Classes for Kids Around NYC

Chloë Bass: Wayfinding is the conceptual artist's first institutional solo exhibition. Photo by SaVonne Anderson
Though this exhibition, presented by the Studio Museum, and spread across the grass and greenery of St. Nicholas Park, has been on view for a while, the messages are apropos to the pandemic. Twenty-four sculptures dot the landscape, asking poetic questions on larger-than-life mirrored billboards. Though many trees came down during last week's tropical storm, and some restoration is underway, the exhibition remains open to the public.
Before you head out to find this piece, download the FREE 4th Wall app, which allows you to experience the augmented reality drawing in 360 degrees. The piece is being concurrently presented in six cities, including Boston, Washington, D.C., Philadelphia, Charleston, South Carolina, and Selma, Alabama. The AR drawing, which depends on geolocation, hovers in space and its tolling adds a vibrant, changing soundscape to the immersive experience.
RELATED: 50 Top Summer Activities in NYC to Do Before School Starts

Black Lives Matter murals have been painted in all five boroughs, so there's one to explore near you. Photo courtesy of NYC.gov
While the Black Lives Matter mural outside of Trump Tower has gotten the most news coverage, the murals have been painted in all five boroughs, so there's likely one to explore near you, and no two are the same. Manhattan has a trio of murals, one is located on Centre Street between Worth and Reade; there is one located on Adam Clayton Powell between 125th and 127th Streets in Harlem; and the aforementioned one outside of Trump Tower covers Fifth Avenue between 56th and 57th. Brooklyn is home to a pair of murals, one outside the Billie Holiday Theatre on Fulton Street, and another on Joralemon Street between Court and Boerum Place. In Queens, you'll find a mural in front of the Family Courthouse on Jamaica Avenue from 150th to 153rd Streets. The Bronx BLM mural is outside the Bronx Hall of Justice on Morris Avenue between 161st and 162nd and the Staten Island mural is in Richmond Terrace between Hamilton Avenue and the Ferry Terminal Viaduct.
In the same vein, the Africa Center honors the Black Lives Matter movement with a 45-foot-installation on its facade. Decals emblazon three floors of the building with the names of Black people who have been killed by law enforcement and pays homage to the frontline workers of the pandemic, plus the Black people whose lives it's taken.
RELATED: NYC Playgrounds With Shade: Play It Cool at These Shady Parks in NYC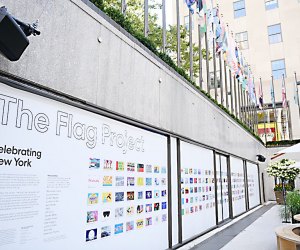 The public art initiative "The Flag Project" celebrates New York City as it continues its fight against the coronavirus pandemic. Photo courtesy of Tishman Speyer
11. Flag Project – Rockefeller Center
A word to the wise: Act fast if you want to see this installation, which overtakes the iconic flag poles at Rockefeller Center; it closes on August 16! If you have the time to squeeze in a weekend trip, you'll see 193 unique flag designs honoring the strength of New York. While plenty of big-name artists contributed designs to the exhibition, many are from regular people all over the world who responded to a call for designs earlier this spring. Many local artists are represented and the end result provides a lot of love for NYC and its diversity.
This piece, located in Finn Square, evokes the folded planes of a piece of origami artwork and changes with the movement of the sun.
RELATED: Family Fun Night: 10 Screen-Free Activities to Entertain Your Crew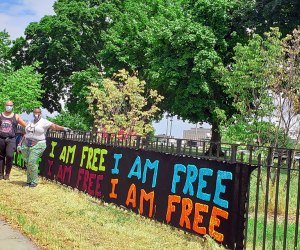 Harlem Needle Arts presents 'We the People | Disrupting Silence,' a public art installation that pays tribute to the ingenuity, creativity, and sacrifices of African Diaspora. Photo courtesy of NYC Parks
Presented by Harlem Needle Arts, this textile piece takes over a section of Col. Charles Young Triangle Park and invites visitors to reflect in its midst. It's part of the "We the People | Disrupting Silence" exhibition.
The Lower Manhattan Cultural Council's annual River To River festival features works from four diverse artists. Curated by Lili Chopra and Nanette Nelms, the works from artists Asiya Wadud, Jean Shin, Muna Malik, and Mona Chalabi take over window displays, parks, plazas, and even the Winter Garden at Brookfield Place. A fun mini-art tour in its own right, you can read striking poety or marvel at the Floating MAiZE as you gaze up into it.

King Nyani, Swahili for gorilla, is making its way to Hudson Yards in NYC. Photo courtesy of Gillie and Marc Schattner
Debuting August 24, King Nyani lets New Yorkers enjoy a King Kong moment of their own. This larger-than-life bronze gorilla from artists Gille and Marc (the largest in the world, in fact) takes up residence in Bella Abzug Park in a stretched out, side-lying position, with his hand cupped and ready to welcome visitors into a loving, protective embrace. Two to three people can climb in his hand at once, and visitors are encouraged to do so and snap a picture to share on social with the hashtag #lovethelast, which helps spread awareness and raise funds for the endangered species. King Nyani is just the latest project in a long line of monumental animal sculptures from the artists.
This exhibition, at Roosevelt Island's Four Freedoms Park commemorates the centennial of women's suffrage in dramatic fashion. The monumental staircase in the park has been transformed into a field of sunflowers framing the words drawn straight from the amendment: "The right of citizens of the United States to vote shall not be denied or abridged by the United States or by any State on account of sex." The piece is on display through August 20, though the actual anniversary of the amendment's ratification is two days prior.