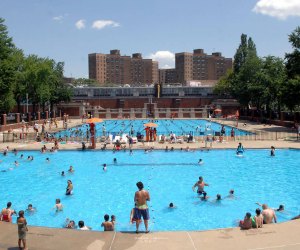 50 Top Summer Activities in NYC to Do Before School Starts
Before long, we'll be singing the back-to-school blues, but in the meantime, NYC parents are staring down a few more weeks of unstructured time with kids who—like their parents—are tired of being cooped up. We know the struggle and have rounded up 50 summer activities in NYC for kids that are sure to take the edge off a little.
Though many of our favorite summer haunts (like industrially cooled museums!) are still dark, we've managed to find plenty of things to do in NYC with kids this summer. From fun, at-home summer activities for those rainy days, to plenty of action in our favorite playgrounds, and enjoying the sand and surf on our newly reopened seashores, here are 50 summer activities in NYC. Find more seasonal fun in our Summer Fun Guide for NYC Kids.

You might not be able to jump in the fountain in Central Park's Conservatory Garden, but you can enjoy its mist and the nearby shade trees. Photo by Jody Mercier
Summer Activities in NYC Parks for Kids
1. Explore the playgrounds of Central Park and let us know if your rankings match our own.
2. Pack your picnic blanket and head out for an alfresco meal in one of our favorite underrated parks.
3. Pedal your way through NYC's five boroughs on one of these family-friendly bike paths.
4. Explore the paths and piers of Brooklyn Bridge Park. Don't forget about the ultra-cool playgrounds.
5. Visit one of the 18 playgrounds in our playground hall of fame.
6. Explore the large-scale art installations at Socrates Sculpture Park on the LIC waterfront.
7. Hit up the greenmarket at Grand Army Plaza, or one of the city's other farmers markets to pick up supplies for a farm-to-table meal.
8. Explore a new-to-you corner of Central Park. We're partial to its northern edge!
9. Brooklyn more your style? Spend a day exploring Prospect Park with kids, and check out its cadre of cool playgrounds.
10. Stroll along the Long Island City Waterfront, enjoying its kid-friendly perks, playgrounds, and stunning skyline views.
11. Catch the ferry to Governors Island to explore its wide-open shores, plus plenty of summer fun.
12. You can even nab a FREE bike rental to pedal along its car-free streets.
13. Scale The Cliffs at Dumbo now that they've reopened.
14. Book your timed-entry tickets for a crowd-controlled stroll along The High Line.
RELATED: 15 NYC Pools Set to Reopen by August 1 for Summer 2020 Swimming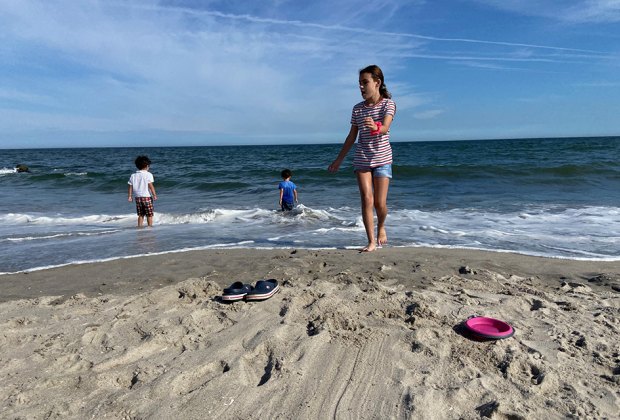 Hit the shores at NYC's beaches, which reopened July 1. Photo by Sara M.
Things To Do in NYC During a Summer Heatwave
15. Cool off in one of our favorite play fountains where kids can get totally soaked.
16. Dive into these newly reopened local pools.
17. Enjoy the sea breeze by taking one of these kid-friendly ferry rides.
18. Explore one of our favorite shade-drenched playgrounds.
19. Hit up a scoop shop for a refreshing treat.
20. Splash your way through these Brooklyn spraygrounds.
21. We've got best-of sprinkler lists for Queens and the Bronx, too.
22. Explore one of our favorite city shores; NYC has 14 miles of beachfront to visit, after all.
RELATED: 8 Fun Popsicle Recipes to Make With Kids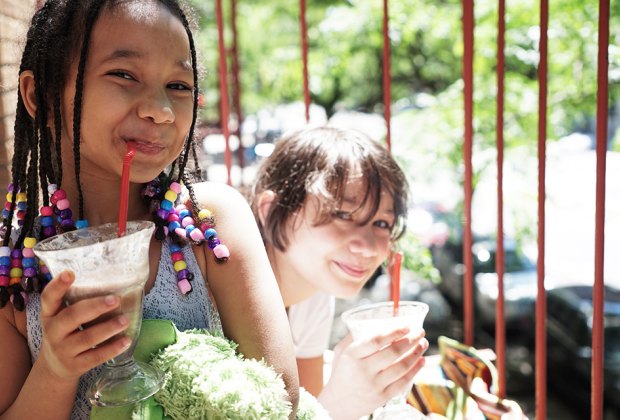 Fake a getaway by taking advantage of your fire escape for an impromptu picnic. Photo by Jody Mercier
Local Activities in Your NYC Neighborhood
23. Take the night off from cooking and visit one of these 20 restaurants with outdoor dining across NYC.
24. Explore the Cool It! NYC map, which details the city blocks with the most shade, drinking fountains and water refilling stations, plus spraygrounds, and open hydrants.
25. Whip up an icy fresh summer cocktail and matching mocktail, and enjoy it on your fire escape.
26. Walk, scoot, skate, or bike down the more than 40 miles of open streets citywide. Some of these now closed-to-traffic blocks will even serve as dining plazas.
27. Conquer the no-touch obstacle course at the Red Hook Play Street, which is open on Tuesdays throughout August.
28. Harlem's Marcus Garvey Park and Thomas Jefferson Park are each hosting socially distant, ranger-led activities on select dates to get kids out and active.
29. The Fresh Air Fund's Summer Spaces offers supervised activities on city streets throughout the five boroughs. Register in advance for a two-hour slot.
Summer Activities at Newly Reopened Culture Spots
30. Survey the city streets from the sky-high vantage points at the Top of the Rock or the Empire State Building.
31. Get facetime with friends furry and scaley at the Bronx Zoo, Central Park Zoo, Prospect Park Zoo, Queens Zoo, and New York Aquarium, which have all reopened and require reservations.
32. Stroll the famed grounds of the New York Botanical Garden or its lesser-known (but equally beautiful) neighbor Wave Hill.
33. Enjoy the alfresco exhibit at the New-York Historical Society, which reopens on Friday, August 14.
34. Walk the grounds of the Queens County Farm Museum and enjoy its first site-specific, interactive art installation.
RELATED: Explore the Mommy Poppins Online Summer Camp Fair

Brighten the gloomiest of days with this DIY rainbow. Photo by Ally Noel
Indoor Summer Activities for Rainy Days
35. Clear the clouds up by crafting a walking rainbow indoors.
36. Curl up on the sofa and watch a family-friendly movie.
37. Get in the kitchen and whip up one of these famous restaurant eats.
38. Make some good, clean slime with this soap silly putty recipe.
39. Grow some tasty rock candy crystals in your kitchen.
40. Work your way through all 64 of our favorite science experiments. Bonus: No trip to the store necessary; these all require everyday household items!
41. If you've got little kids, this list of at-home STEM activities is perfect for preschoolers.
42. Invest in one of these time-tested toys that occupy kids for hours.
43. Put on your creative hat and craft one of these awesome projects.
RELATED: Epic East Coast Road Trip Ideas for Summer 2020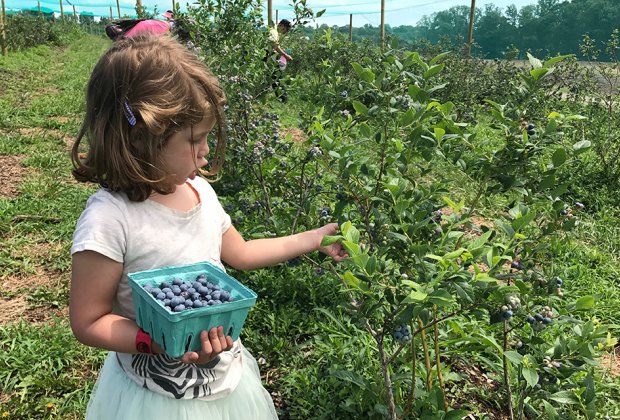 Escape the city for a day of fresh air and farm-fresh berry picking. Photo by Rose Gordon Sala
Summer Activities Near NYC for a Quick Day Trip
44. Pack up the family station wagon for a wild safari at Six Flags in New Jersey. You might even be able to score tickets to the theme park, which has reopened.
45. Venture out to Long Island's East End to explore one of these family-friendly wineries.
46. Or, wait for the peaches to ripen and pluck the perfect juicy pick from the branches.
47. Hit up a drive-in movie theater for a retro family movie night; there are even popup options within city limits.
48. Hike to the top of Bear Mountain and explore the rest of this state park's perks.
49. Take a family dip at one of these swimming holes nearby or a bit further afield.
50. Explore our nearby state parks on a family-friendly hike.