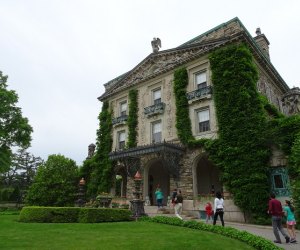 Kykuit: Touring the Rockefellers' Westchester Estate with Kids
Though castles and palaces are typically found abroad, Westchester and the Hudson Valley boast their fair share of grand estates that are open to the public and worth touring. Not coincidentally, many of these are peppered along the Hudson River, affording the original homeowners glorious views, river access and, eventually, nearby train transportation to Manhattan. It's no wonder that tours of the homes of America's aristocracy made Mommy Poppins' list of 100 things to do in New York with kids.
Previously, we gave you a broad overview of a half-dozen of these stately local mansions, all but one of which I've brought my kids to without hesitation. The one I had shied away from was Kykuit, former home of the Rockefeller family, owing to the comparatively pricey admission and longer tour duration. I recently took my tweens, however, and I'm pleased to encourage other families to plan a visit. Though our particular tour guide unfortunately made no effort to tailor his narrative to the younger set, my kids happily gawked at the grandeur they wished was theirs.
Looking for more day-trip inspiration? Consult our Event Calendar and follow us on Facebook.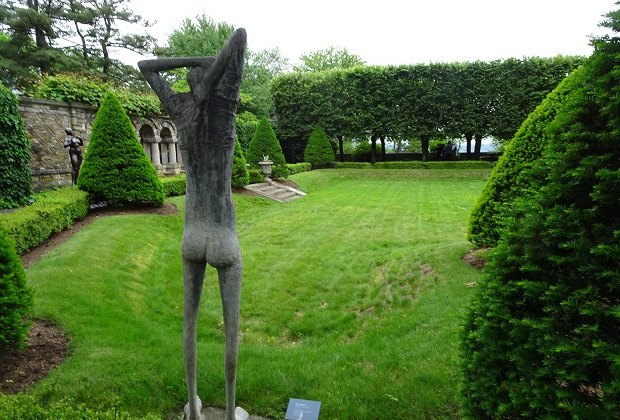 Even the artwork looks ready for a swim.
Designated a National Historic Landmark by the National Trust for Historic Preservation, Kykuit was previously home to four generations of Rockefellers, beginning with oil tycoon John D. and culminating with politician Nelson D—the latter being largely responsible for the art collection amassed there. The estate is situated in Sleepy Hollow, near Tarrytown, on 250 acres of land and boasts 40 rooms.
Multiple options for touring Kykuit are offered, allowing visitors to choose (and pay for) the extent of the estate they wish to see. This is done because even a tour of the basics takes 90 minutes, and the most extensive tour requires a three-hour commitment (though even this option does not include all attractions). Part of this owes to the need to meet at the visitor center at Philipsburg Manor and travel via a mandatory shuttle bus to and from the estate. Though a short jaunt, the journey adds a little time and, according to one representative I spoke to, accounts for why the admission rates are considerably higher than for the other sites operated by Historic Hudson Valley; moreover, the children's admission is not as heavily discounted as is the case with the other sites because each must have his or her own seat on the bus.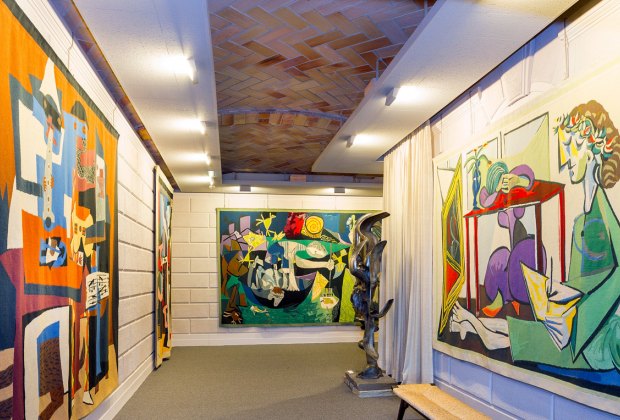 The underground art galleries contain Rockefeller's collection of Picasso tapestries. Photo © Jaime Martorano, courtesy of Historic Hudson Valley.
The house tour does not include the upstairs, but the first floor offers much to gawk at in the dining area, sitting rooms and grand entrance. An entire room—albeit a small one, by Rockefeller standards—is devoted to housing china sets, some hailing from royalty. Notable artwork throughout the estate includes portraits by John Singer Sargent and pottery from the Tang dynasty. Other highlights include an early Otis elevator and the vice presidential flag, awarded to Nelson Rockefeller for his service in this post during the Nixon administration.
Then there's the basement—or, as Historic Hudson Valley calls it, the "subterranean art galleries." A little name dropping includes Alexander Calder, Toulouse-Lautrec and Pablo Picasso. In contrast to the conservative style of the home's architecture and gardens, these galleries include contemporary artwork that would have likely turned heads back in the day—things like a work resembling a funhouse mirror and a shower-curtain sculpture.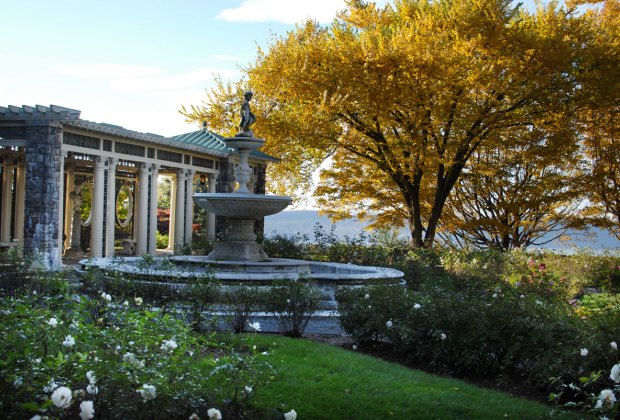 The Rose Garden, as seen in the fall. Photo © Bryan Haeffele, courtesy of Historic Hudson Valley.
The gardens are, expectedly, grand. Landscaping was done by the Olmstead brothers of Central Park fame and features an extensive outdoor sculpture collection reminiscent of Storm King.. A tour of the Inner Garden revealed cavities in the ground where two swimming pools were once situated—one for adults and one for children. Surrounding these are statues of figures designed to look like they're getting ready to take a dip themselves. The West Terrace affords captivating views of the expansive grounds, rose garden and the unencumbered view of the valley and river beyond.
A visit to the Coach Barn—not included on all tours but the highlight of the Classic Tour, which my family took—is highly recommended and will likely appeal to kids of all ages. The first room that visitors pass through houses a bevy of carriages and sleighs used by the Rockefeller family. The sight of these stimulates the imagination to hear the horses neighing and see the coachman grasp the reins. If only we could climb aboard! Our tour guide reported that a sled-like vehicle was used by kids to help them learn how to drive. This leads to a passageway that includes period riding attire and a saddle given to David Rockefeller by the king of Morocco, followed by a garage of vintage cars from various eras and even the Rockefellers' own gas tank.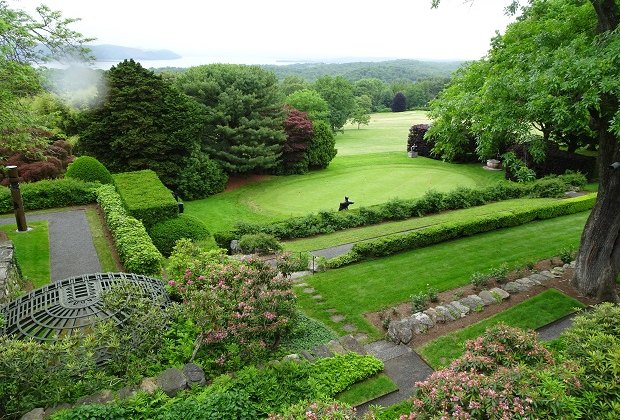 Kykuit's sprawling grounds and sweeping view of the Hudson River in the distance.
What to Know Before You Go
Kykuit is open to visitors May-November.
Food, beverages and strollers are not permitted.
The sweet spot is probably the tween age. My kids weren't enthralled the entire time, but the variety of attractions helped break up the monotony. That said, our family has done a lot of estate tours, so use your judgment if your kids are less suited to this type of activity.
Tours are offered on a scheduled basis; visitors may not tour at unscheduled times or in a self-guided manner.
Various tour options are offered; prices vary accordingly. For most tours, rates are higher Friday-Sunday.
Rates are considerably discounted for members of Historic Hudson Valley, an option well worth considering if you plan to tour its sister sites or to attend such notable events as the Great Jack-O'-Lantern Blaze, CORNucopia, Sheep-to-Shawl or From a Child's Perspective, to name a few.
In response to the drizzle we experienced during our visit, staff appeared at the garden entrance to provide us with umbrellas for use during our visit.
Photography is permitted in outdoor areas only.
Bathrooms are available at the visitor center, which includes a nice gift shop.
If traveling by train, take Metro-North via the Hudson line to Tarrytown and a taxi from the station. Take advantage of savings with a package purchase.
All photos by the author unless otherwise noted.