17 Stunning Long Island Fall Foliage Nature Walks for Families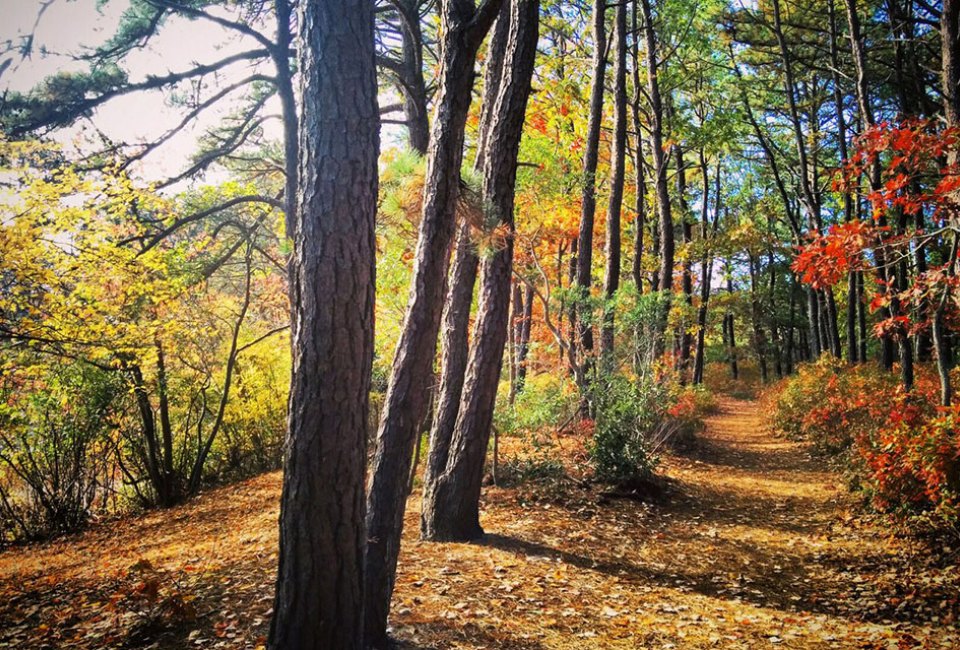 9/26/22
- By
Thien August
Looking for the best nature walks on Long Island to view fall foliage? Read on for our top picks throughout the island.
As the leaves change, Long Island is at peak beauty. Nassau, Suffolk, and the East End have many gorgeous nature trails that are ideal for fall foliage walks. These lovely backdrops lend themselves to great family photos that will put you ahead of the game for upcoming holiday cards. Strike a pose and take some candid shots of the kids. Fall on Long Island is perfect for memory-making.
So, strap on your hiking shoes, pack a few snacks, and head out to one of these destinations for fresh air and a splendid fall foliage walk amid oranges, reds, and yellows. For more kid-friendly activities, be sure to check out our Fall Fun Guide, and bookmark our frequently-updated Long Island Family Activity Calendar for more must-dos.
Long Island Fall Foliage Nature Walks in Nassau County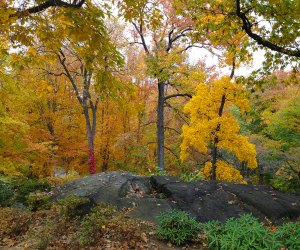 Clark Botanic Garden is a 12-acre sanctuary for birds, plants, and visitors to enjoy.
Check out the collection of rock garden plants, herbs, butterfly plants, conifers, day lilies, and roses at the fragrant Clark Botanical Garden. Admission is FREE, although a voluntary donation is appreciated. The garden is open every day from 10am to 4pm. There is a gift shop on the premises, at which garden members receive a 10% discount.
Bethpage State Park, well-known for its golf courses, also features family-friendly hiking trails to explore. In fact, there are 5 miles of paths that cut through the Long Island Greenbelt Trail. It also offers biking trails for the little cyclers in your family. Bring along lunch so you can stop at one of the many picnic areas along the way. The park is open 7 days a week from sunrise to sunset.
With more than 4,000 trees on the grounds alone, this is one of Long Island's most scenic college campuses. Each tree in the 20-acre arboretum is labeled with interesting facts, making for a great learning experience. The self-guided walking trail leads you around campus to view the foliage, horticulture, and historic buildings. The arboretum is open seven days a week. It is absolutely FREE.
Nassau County's largest nature preserve spans more than 550 acres and includes a historic estate. The terrain is varied with meadows, streams, and woodlands that are home to birds, small mammals, and many different types of native plants and trees. Maps are available for self-guided tours. Adventure seekers can even look for the abandoned ruins of a former king's mansion.
This 52-acre preserve has 3 miles of trails complete with a 500-foot fishing pier that juts into Merrick Bay. At the highest point in the park, guests are afforded views of the Jones Beach tower and Manhattan's skyline. During your visit, keep your eyes open for Nigerian dwarf goats that are employed to control weeds and brush in a sustainable way. Norman J. Levy Park is open 7 days a week.
RELATED: Great Biking Trails for LI families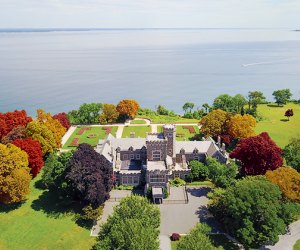 Sands Point Preserve offers stirring fall colors and unmatched Long Island Sound views.
The Sands Point Preserve offers six marked trails through 216 acres of diverse habitats, including woods, fields, a pond, and even a beachfront along the Long Island Sound. The preserve has guided nature walks, or you can grab a trail map and find your own way. It offers a variety of programs and activities for children throughout the year. Bookmark its calendar and plan to visit during a special event day. The preserve is closed Mondays and Tuesdays.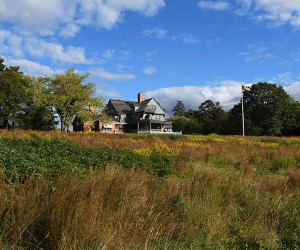 The free grounds and trails at Sagamore Hill National Historic Site are open every day year-round. Photo courtesy National Park Service/Tyler Kuliberda
Explore the grounds of former President Theodore Roosevelt's home, also known as the "Summer White House." Paved paths meander around the main house, orchard, and other structures while nature trails lead down to a waterfront that features lush foliage and expansive views of Long Island Sound. It's free to visit the grounds and tours of the home are available although tickets must be purchased in advance.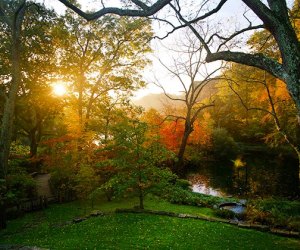 Take in the solitude of nature at Avalon Park and Preserve in Stony Brook.
Long Island Fall Foliage Nature Walks in Suffolk County
Between dusk and dawn, enjoy the gifts of nature at this preserve, which features 8 acres of hiking trails, including a boardwalk and crushed stone paths. There is also a paved hiking trail, as well as a labyrinth to explore. The park is closed Mondays.
Explore more than eight marked trails at Bayard Cutting Arboretum, winding through gardens along the Connetquot River and around the pine barrens. The arboretum is open from 9am to 4pm Tuesdays through Sundays.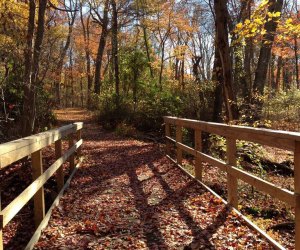 Easy walking paths make Caleb Smith State Park a good park for little hikers.
Caleb Smith features 543 acres of woodlands with marked trails ideal for exploring with a family. A nature museum is housed on the premises. Along the trails, spot rare plants, including the pink lady slipper, trailing arbutus, and Indian pipe. The park and museum are open from 9am to 4pm Wednesdays through Sundays.
The historic, 1,750-acre Caumsett State Park offers 13 marked trails, from less than a mile in length to 6 miles. The paved 3-mile loop is perfect for strollers. Pack a snack and stop at the mansion located at the halfway point for some rest and take in some spectacular views of Long Island Sound. The park is open 7 days a week from sunrise to sunset.
Set in the wetlands of Riverhead, this 165-acre park is located on what remains of an abandoned cranberry bog. Remnants of the operation can be seen along the 1.1-mile loop, where you might encounter birds, reptiles, and other wildlife.

Laurel Lake Park and Preserve has easy walking trails for little legs and a lake for boating and fishing. Photo courtesy of the Peconic Land Trust
Just north of Route 25 in Laurel is the 500-acre Laurel Lake Preserve, which features 14 miles of well-groomed nature trails clearly marked for your family to follow. The lake is also a popular spot for canoeing, kayaking, and fishing. Pack a lunch: There are several picnic tables and a playground to enjoy.
The Mashomack Preserve is a Long Island nature lover's dream, with more than 2,000 acres of tidal creeks, oak woodlands, lush foliage, fields, and freshwater marshes. The flat landscape makes it a great hike for kids.
RELATED: Fall Day Trips for LI Families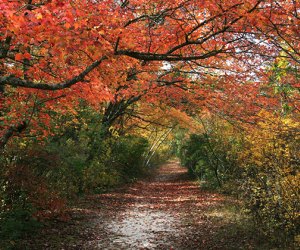 Trails are well-marked for grown-ups and kids alike at the colorful Quogue Wildlife Refuge.
The Quogue Wildlife Refuge features 305 acres of marked trails that wind around ponds surrounded by fall colors. The site's trails are all marked. Kids will love the nature center, where they can see a variety of animal exhibits.
Sears Bellows features several marked trails in the pine barrens, ideal for both advanced hikers and those just starting out. The easiest trail winds around Bellows Pond. If you and your family feel like walking farther, continue to Sears Pond.
The North Shore Trail Rail, a project 50 years in the making, opened to visitors recently, connecting Mt. Sinai to Wading River in a traffic-free environment. The abandoned railroad line now has a new life, providing walkers, runners, and bicyclists with a paved path to recreational fun.
Bonus: If you don't have the time to go for a hike, but still want to see fall colors before they're gone, consider taking a pleasure drive along Route 25A. In Nassau, Northern Boulevard (aka 25A) takes you through scenic spots such as Brookville and Oyster Bay. In Suffolk County, 25A offers colorful views through Kings Park, Stony Brook, and Rocky Point.
Unless noted, photos courtesy of the preserves, parks, and gardens
A version of this post was originally published in 2014. Writer Kristen Markel contributed to the 2022 update.