Baby Swimming Lessons on Long Island: 11 Top Spots for Babies and Toddlers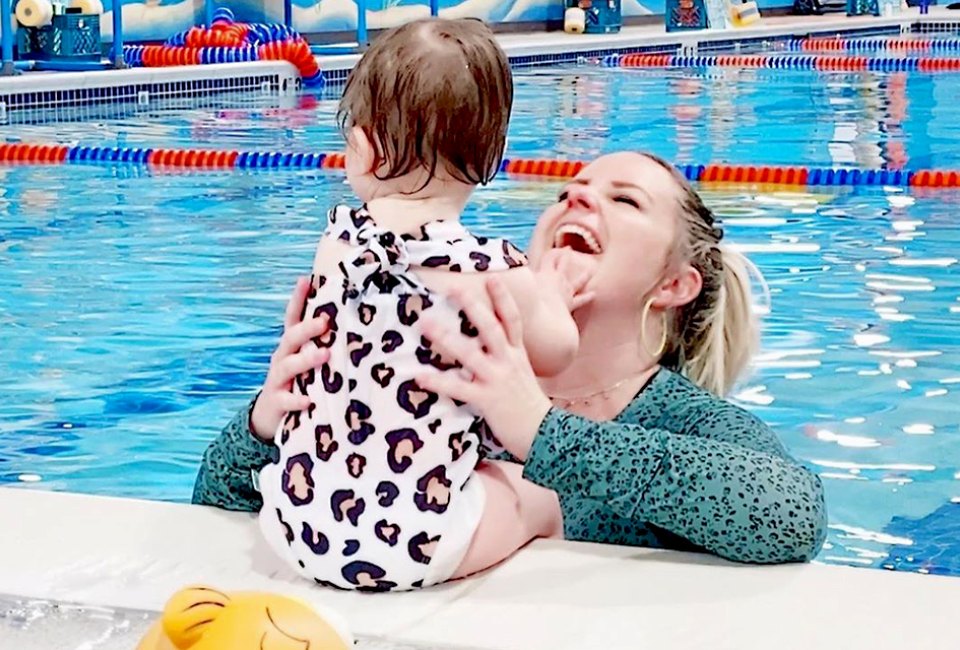 7/10/22
- By
Gina Massaro
Baby swimming lessons on Long Island exist because babies and toddlers love to splish and splash in the water. Whether it's tub time, romping at a splash pad, or even dipping toes into the pool, it's important to keep our precious little ones safe while having fun. Swimming lessons aren't just for the big kids. In fact, there are specialized swimming classes made just for our tiniest and most precious family members, and we've rounded up 11 top swimming lessons for babies and toddlers across Long Island.
If you're looking for more mommy-and-me classes, check out our Long Island Baby Guide. You can find more great things to in the warmer months in our Summer Fun Guide, and be sure to bookmark our frequently-updated Long Island Family Activity Calendar.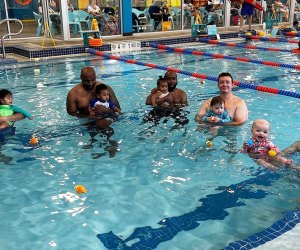 Forget mommy-and-me swimming lessons—the dads are taking over at Goldfish Swim School Centereach.
Baby and Toddler Swimming Lessons Across Long Island
Baby and toddler swim lessons at Goldfish Swim School are called "mini lessons." They are broken up by age group: 4-15 months,16-35 months, and 24 - 35 months. There are two different class styles you can choose from, one where a parent or caregiver is in the water with the child, and one where they are only in with the instructor. In order to do an instructor-only class, the child must be comfortable being in the water without their caregiver. Lessons are 30 minutes and focus on basic swim and water safety. Find your local Goldfish Swim School and check their site for a class schedule and sign-up information.
2. Saf-T-Swim — Multiple Locations
Babies as young as 2 months can get in the water at Saf-T-Swim. Their mommy-and-me class is for caregivers and children ages 2 months-3 years. It is a small-group class, and adults must get in the water with the child. Lessons work on swimming movements and coordination. They also offer private one-on-one classes. Find a location here to check out their class schedule.
3. YMCA — Multiple Locations
The YMCA offers two parent-and-child classes. The first is the beginner course, which introduces babies and toddlers to the water while simultaneously teaching caregivers about water safety, such as drowning prevention. The second course, which you register for separately, introduces swimming techniques and blowing bubbles. You must be a member to register for a class.
RELATED: 15 Great Stroller-Friendly Park Walks on Long Island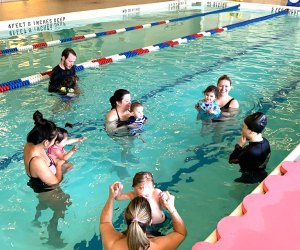 Babies and moms have fun in a group class at Take Me to the Water.
Baby and Toddler Swimming Lessons in Nassau County
This swim school is set to open summer 2022. It offers a mommy-and-me swimming lessons for babies 6 months-2 1/2 years. The lessons feature fun and creative games to teach toddlers swimming skills. Fees are $35 per class.
Caregivers join their babies and toddlers ages 6-36 months for swimming lessons at the Freeport Recreation Center. Little ones will learn how to float, control their breath, and exit the water. Swim lessons run in 10-class sessions and cost $100 for Freeport residents and $140 for non-residents.
Long Island Swim School offers swim lessons to toddlers ages 22 to 36 months. Parents are not required to get in the pool and the student-to-teacher ratio is 1:1. Toddlers will learn how to safely enter and exit the pool, as well as to begin swimming with a floatation device.
This parent-and-me swim class is for babies and toddlers ages 6-36 months. Little ones will learn water basics and aquatic safety while associating water with fun. Lessons are run in 10-week sessions and cost $90 per session. The class is capped at 10 children. They also offer a class for 3- and 4-year-olds who have a fear of water or have separation anxiety.
Sid Jacobson JCC has parent-and-me classes for ages 6 months-5 years. Children are taught the basics of swimming, such as blowing bubbles, floating and kicking. Note that all persons over age 12 who enter the facility must be fully vaccinated. Sessions run for six classes and are $150 for members and $250 for nonmembers.
9. Swim Stars — Rockville Centre
Parent-and-me classes are offered on Saturdays and run in 6-week sessions. They are for children 36 months and younger, teaching the basics of swim safety and swim skills. Each session is $198. Swim diapers are required.

Having fun in the water is a must when learning to swim at British Swim School.
Baby and Toddler Swimming Classes in Suffolk County
There are three class offerings for babies and toddlers at British Swim School. The Tadpole and Swimboree program run as parent-and-me classes.These classes are for children 3-36 months. In order to enroll in Swimboree, children must have mastered the skills taught in Tadpole first. The final class, Seahorse, is a one-on-one class for toddlers 18-36 months who have mastered the Swimboree skills. The Lindenhurst location runs out of LA Fitness, while Bay Shore is at Long Island Health and Racquet. There is also a Levittown location at LA Fitness.
11. UrSwim — Huntington
Similar to British Swim School, UrSwim operates out of an LA Fitness. The baby-and-me class is for caregivers and babies 9 months and up. Babies will play games and use pool toys to gain motor skills needed for swimming. While you don't need a gym membership to attend, you do need a UrSwim membership.
Photos courtesy of the schools
Sign up for the Mommy Poppins Newsletter today!
i